Hyderabad's aspiring footballers prove their mettle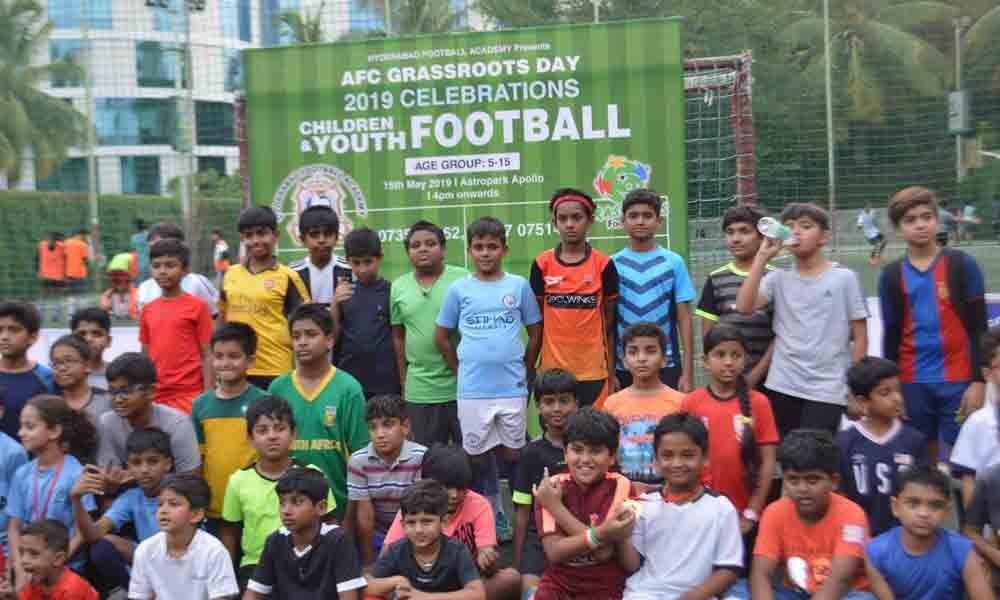 Highlights
Grassroot level football is catching up in the city More than 20,000 footballers at grassroot level are learning football: experts
Hyderabad: Hyderabad Football Academy the official grassroots partner of Kerala Blasters is Hyderabad's first professional football academy for all age groups. It celebrated AFC Grassroots Day 2019 on Wednesday in the city at Astra Park in Apollo Hospital premises.
As part of this children and youth football matches were played by kids and youth in the age group of 5 to 15 years and above here in the city today at Astropark Apollo.
On the whole 30 friendly matches held between Astro Park, Turfside, Street Madhapur, R-Spot Kukatpally, Secunderabad Club, Central Park and Allianz Arena— various branches of Hyderabad Football Academy.
Over 100 players participated to mark the occasion. It began at four in the evening. Children under 9, 11 and 13 payed first. Later Jerseys of different branches launched. Certificates were presented to kid footballers. Later Under 15 kids and youth played their matches till late into the night.
FIFA's grassroots football programme targets boys and girls aged 6-12 years through school, community and club initiatives. The key concept of the programme is to bring together as many people as possible through football. Grassroots sports clubs in each city play a very significant role. They help people stay healthy, fit, agile. It also helps develop an individual's sporting talents.
Hyderabad Football Academy has been training 400 footballers from Age group 4 to 19 years and above. "Hyderabad football had a glorious past. We want to get that pride again by nurturing young talent" commented Ananth Tejo, Director of Hyderabad Football Academy. More than 20,000 footballers at grassroot level are learning football in the city. The game is catching up among the young age groups commented experts at the event
Subscribed Failed...
Subscribed Successfully...