CM KCR showing fake love towards farmers: MP Bandi Sanjay Kumar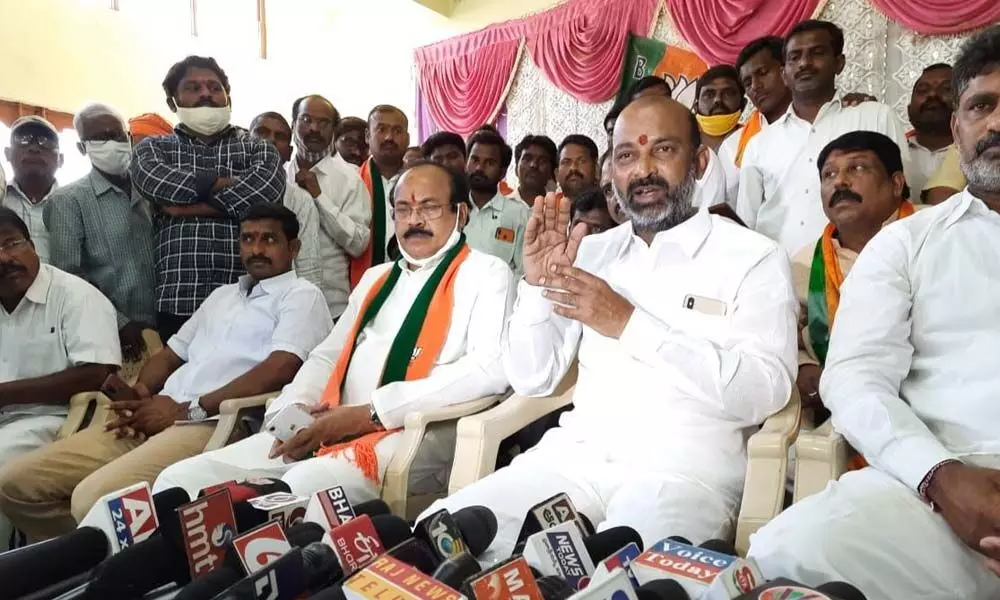 Highlights
Chief minister K Chandrashekar Rao ruling the State cruelly and showing fake love towards the farmers, alleged BJP State president and Karimnagar MP Bandi Sanjay Kumar
Karimnagar: Chief minister K Chandrashekar Rao ruling the State cruelly and showing fake love towards the farmers, alleged BJP State president and Karimnagar MP Bandi Sanjay Kumar. Speaking at a press meet at Jammikunta Krushi Bhavan in Karimnagar on Wednesday, Bandi Sanjay came heavily on the CM and alleged that without doing soil testing, the CM ordered the farmers to cultivate fine variety of paddy.
Stating that the Central government had sanctioned Rs 120 crore for soil testing, the MP questioned KCR as what he did with that money and he should tell the public. Following KCR's orders, farmers cultivated fine variety of paddy in about 30 lakh acres and facing problems as the government was not paying minimum support price of Rs 2,500, he added.
Bandi Sanjay said that led by BJP Kisan Morcha, movement will be taken up demanding the State to solve issues of farmers while Yuva Morcha will fight over the issues of unemployment.
The MP questioned the TRS why it was opposing the new agriculture bills introduced by the BJP government. He wondered what's wrong in giving the right to the farmers to fix price for the crop they produced; or providing facility to farmers to sell their produce anywhere in the country. The State government was behaving cruelly with journalists and with shop owners, even the TNGO members were behaving cruelly. They have suspended an employee, who took a selfie with him, he criticised.
MP Sanjay Kumar demanded the State government to provide MSP of Rs 2,500 for fine variety of paddy and to waive off farm loans at one go.