Gadwal Collector concerned over thin attendance in schools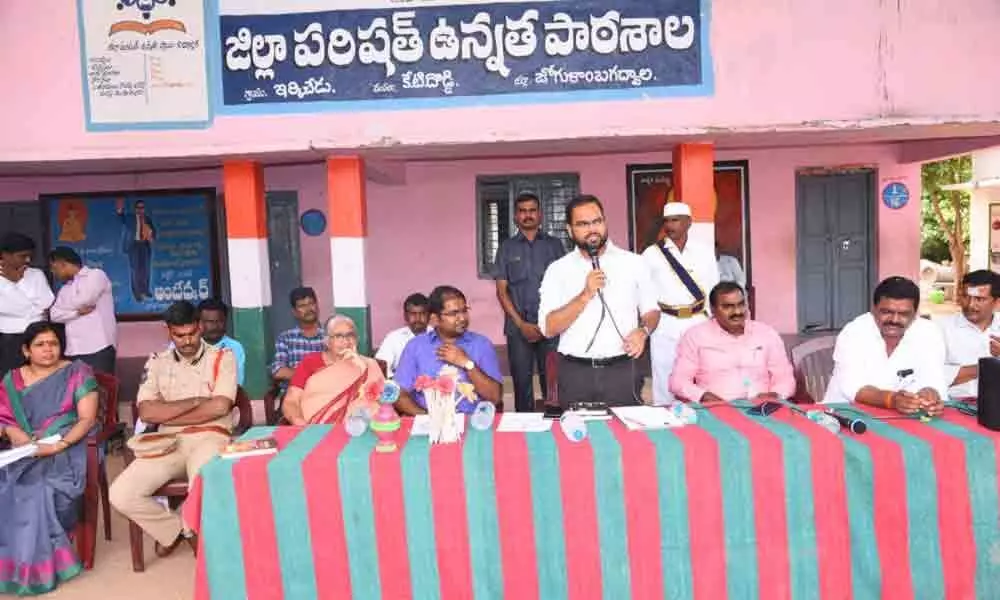 Highlights
Asks parents to send children to school not for work
Gadwal: Expressing his concern over the menace of child labour in the district, Gadwal Collector K Shashank urged the parents to send their children to schools and not to work.

The Collector also warned people of strict legal action if they are caught employing children below 14 years of age as labourers.
The Collector visited Irkuchedu village of KT Doddi mandal of Gadwal district on Tuesday to take part in a School Management Committee (SMC) meeting held in the village. While addressing the meeting the District Collector specially focused on the issue of low attendance percentage of students in the government schools across KT Doddi mandal. He expressed his displeasure over the insensitive attitude of the school authorities, the parents, the local representatives.
He said they are least bothered about the education of children. "I have come to know that the parents are sending their children to work as labourers in the seed cotton farms. This is against the law and if anyone is found doing this they must immediately stop it and send their children to school or else we will be forced to take legal action against anyone who is encouraging child labour in the district," he said. Turning to the school teachers and giving clear cut instructions to the head masters and sarpanches of villages, the Collector directed the teachers that each classroom should have at least 25 students and ensure cent percent attendance. He put the onus of ensuring full attendance of students in the schools on the headmasters of concerned schools. He advised them to regularly check the attendance of their school and if any discrepancy or low attendance percentage is seen, they must immediately conduct an enquiry and take necessary corrective steps so that no student is absent to the school.
"The State and central government are providing all necessary facilities in the government schools and giving free food, free cloths and free books to the students. We have highly qualified and well trained teachers. There is no dearth of facilities, only what we are lacking is commitment and dedication. The responsibility lies on school teachers, the sarpanches in the villages to conduct awareness programmes and encourage the parents of the children to send their children to schools for a better future," said the Collector.
The Collector said that childhood is most precious in everybody's life, he urged the parents to send their children to school and not force them to do labour work in the seed cotton farms. If anyone is found to be working in the seed cotton farms, the Collector said, action would be taken against the parents, the school teachers, headmaster and the mandal education officer.