Hanamkonda: Call to protect childhood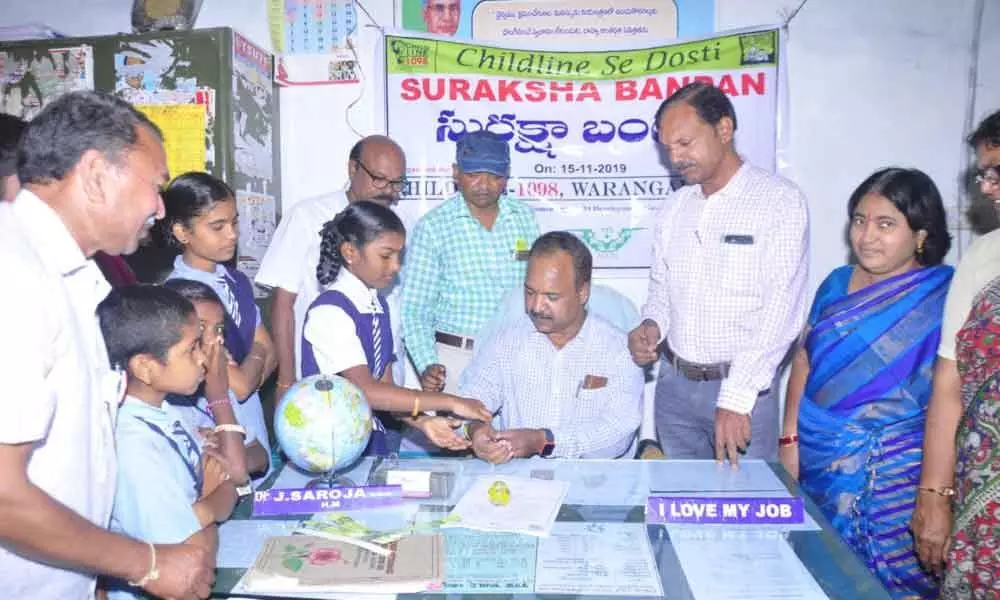 Highlights
Protection of child rights is a collective responsibility that everyone should oblige, Warangal Urban District Education Officer K Narayan Reddy said. Speaking at the 'Childline Se Dosthi' programme organised as part of Child Rights Week by the Childline-1098
Hanamkonda: Protection of child rights is a collective responsibility that everyone should oblige, Warangal Urban District Education Officer K Narayan Reddy said. Speaking at the 'Childline Se Dosthi' programme organised as part of Child Rights Week by the Childline-1098 at Government High School in Subedari, Hanamkonda on Friday, he termed children as most precious asset and a symbol of bright future of the country.
He emphasised the dire need for implementing free and compulsory education to children in letter and spirit. The DEO also emphasised the need for organising awareness programmes for sensitising people on child rights, education, health and hygiene etc. He urged the people to allow their wards educate and excel in their careers instead of languishing in penury.
Speaking on the occasion, Warangal (combined) District Child Welfare Committee (CWC) Chairman Mandala Parashuramulu said that mission of protecting child rights requires the participation of government and people. "It's time to reaffirm the commitment to implement the child rights," he said, appealing to people to inform the authorities about social maladies such as child marriage, child trafficking, illegal adoption etc.
Childline Warangal Coordinator Ragi Krishnamurthy said that they have been organising several programmes as part of Childline Se Dosthi to sensitise people about the child rights. Later, the participants took a pledge to lend a hand to Childline in helping children in distress.
Government High School Headmaster A Saroja, Ramadevi, Childline nodal coordinator Md Iqbal Pasha, Ramesh and students participated in the programme.