Harish tears Congress allegation to shreds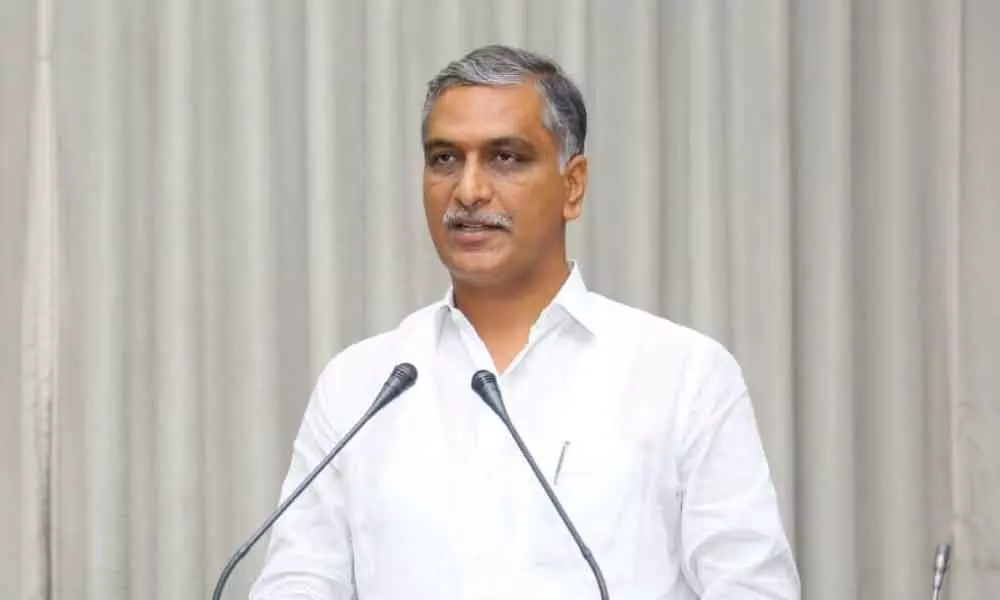 Highlights
Finance Minister comes down heavily on the Congress for protecting its own interests while ignoring State problems
Flays Congress for supporting national status for Polavaram while neglecting Pranahita project
Says BJP government at the Centre has dubious distinction of not releasing any funds ever after NITI Aayog's recommendation
Hyderabad: Finance Minister T Harish Rao tore into the allegation of the opposition Congress party that the State government has failed to get national project status to the Kaleshwaram Lift Irrigation Project (KLIP).
Making a brief intervention during the budget discussion in the Council on Saturday, Harish Rao lashed out at the Congress party for being more working to protect its political interests than the interests of Telangana.
He said the Congress party in the State which had included national project status to the Polavaram project at the time of reorganisation of the united Andhra Pradesh has not bothered about getting similar status to the Pranahita project.
Otherwise, "Telangana might have got national project status to the KLIS on part with Polavaram project," he pointed out.
The Finance Minister reminded that the separate state movement was launched against the deprivation of Telangana its due water share. While crops were growing the Telangana's agriculture suffered due to lack of water.
Yet, the Congress party which had given national project to Polavaram had not included any project from Telangana. "The injustice fell on the Telangana is the outcome of the sins committed by the Congress," he added.
Harish Rao dismissing the allegation of the Congress leader T Jeevan Reddy said Chief Minister K Chandrashekar Rao had met Prime Minister and represented for according national project status for KLIS.
Secondly, "Earlier, being an irrigation minister I had raised the issues at the National Water Development Authority (NWDA) meeting chaired by the Union Minister Nitin Gadkari.
That apart, several letters have been written to the Centre requesting for national project status to the KLIS," Harish Rao said.
Dismissing the allegation of not submitting details in preformed format, the Finance Minister said that the State government had submitted its application to the Centre with all required documents and clearances and sought national project status for KLIS.
Further, the present government at the Centre is the only one have the dubious distinction of not releasing even a single rupee even after NITI Aayog recommending for the release of funds, he said.
Asking the senior Congress leader not to mislead the house, the Finance Minister said that while opposition parties in other states work for the interests of their respective states, Congress is the only one which works for its political interests.
The party should be ashamed for lodging complaints, filing cases in the green tribunals and the high court to stall the progress of the irrigation projects in the State, he said.