Hydel power stations going full throttle, thanks to heavy inflows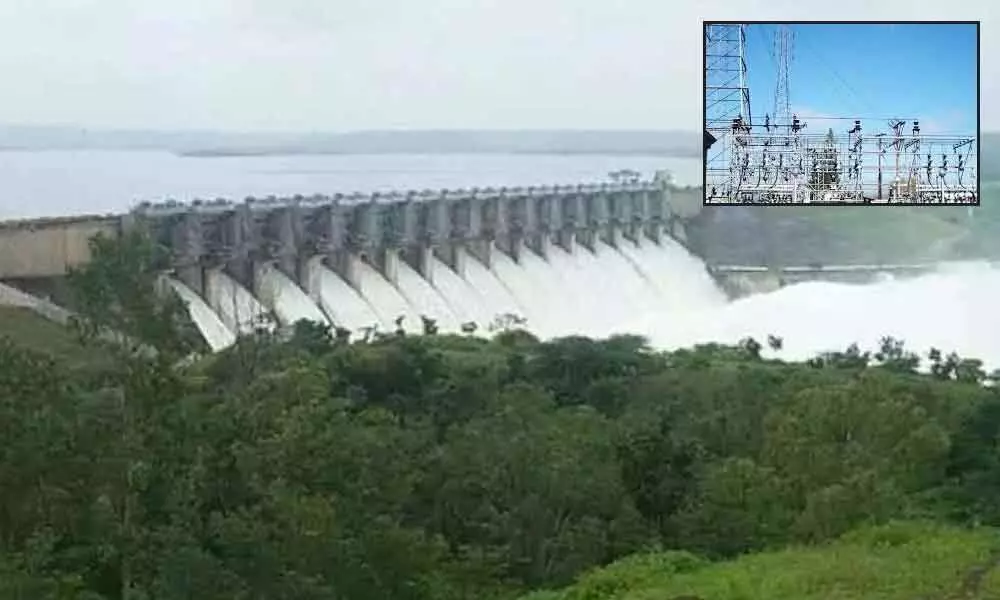 Highlights
Hydel power generation to the capacity gives lot of relief to the power distribution companies
Hyderabad: The hydel power generation stations of the TS Generation Corporation (TS Genco) have been working with full capacity bringing cheers in the power sector.
The continuous generation of hydel power has not only reduced the burden on the thermal stations but also saved precious money of the Distribution Companies (Discoms)
Telangana Transmission Corporation (TS Transco) joint managing director C Srinivasa Rao told The Hans India that the hydel power generation to the capacity has given lot of relief to the power distribution companies.
He said that as the hydel power comes at cheaper cost, the burden of purchasing the power has come down. He said that it was for the first time in this year that the hydel stations generated power with full capacity for more days in year after the formation of the state.
He said that they would calculate the money saved by the distribution companies with the continuous hydel power generation. He said that purchase of hydel power depends on the demand of the day.
The hydel stations of the Genco at Jurala, Srisailam and Nagarjuna Sagar have produced power for more than 20 days, which was just a week or 10 days in the previous years.
The dams at Jurala, Srisailam and Nagarjuna Sagar have been receiving flood since August 2.
Since then, except for two weeks, the hydel stations have been running with full capacity. About 40 MUs of power is being generated on the average in the stations when flood was there. The generation reached 50 MUs in the last few days.
The dams on the Krishna have been receiving more than one lakh cusecs of flood in the first week of August, and in second week of September and this is enough to run the hydel stations throughout the day. As the reservoirs are full to the brim, the irrigation officials have been releasing water downstream enabling the hydel generation.
So far at Jurala 247 MUs, at Srisailam 807 MUs and at Nagarjuna Sagar 633 MUs of power has been produced. In the past 40 days 1766 MUs of power has been generated at the hydel stations.
The full generation capacity of the hydel stations has come to the use of the distribution companies at time when they have been witnessing unprecedented demand for power.
The demand rose to 11,638 MW on August 29 and the consumption recorded on the same date was about 241 MUs. The Discoms have been forced to buy power from the exchanges at higher rate to meet the demand.
As there was no flood to Krishna in the last week of August, the production of power at hydel stations has been restricted to 3 MUs per day. The flood has begun again from September 5 and the officials resumed maximum generation of the power.