Hyderabad: commoners fume as prices triple: Lockdown sets veggie prices on fire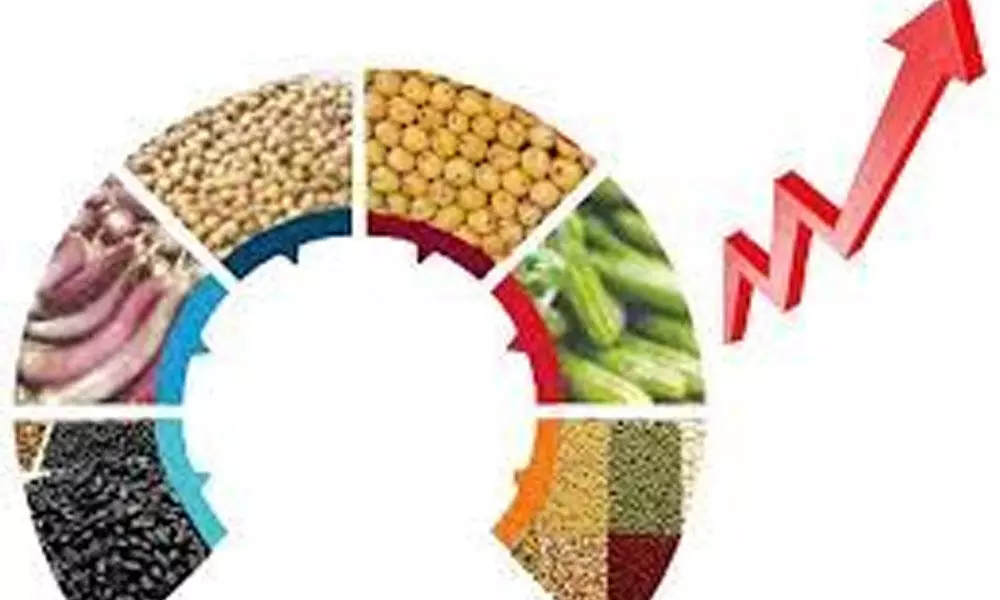 Highlights
Rumours of shortage trigger panic buying across city: Hoarders, vendors all smiles as prices are north-bound
Hyderabad: The fallout of lockdown has hit almost every sector and vegetables are no exception. In a span of four days, vegetable prices have tripled. A day after Janata Curfew, people from early hours on Monday headed to Kirana stores and supermarkets. Serpentine queues were noticed at several supermarkets in the city.

Despite instructions from the state government for one person from a family to go to purchase essential commodities, families in tow were seen at supermarkets.
Rumours that the Janta curfew could be extended were the reason for panic buying say staff at supermarkets. "The locals are unnecessarily panicking due to fear that the stock would be finished in stores, As soon as we have open people started rushing inside the supermarket stores, "said Srinivas, manager of D mart, Kompally. Keeping the current situation in the mind, they were requesting customers to keep some distance and advising them to cover their faces with masks. Supermarkets such as D Mart and Metro were seen using thermal scanners to find out if anyone was suffering from fever.
Tomatoes that cost Rs 17 a few days ago was sold at Rs 100 per kg on Monday. Capsicum is costing Rs 65 per Kg which was sold at Rs 35 to Rs 45. The price of chillies and onions to has risen drastically. Chillies is Rs 120 per kg and onions Rs 140 kg.
Groundnuts are costing Rs 80 kg and Hari Mirchi (Green paper) is costing Rs 300 kg.
"Four days ago, I sold tomatoes for Rs 10- Rs 15 and today I am selling the same tomatoes for Rs 80-Rs 120," said Anurag, a vendor at the local vegetable market in Yousufguda. He says that he is forced to sell vegetable at almost triple the original price due to the lockdown which have hit the supply from different states. "Higher demand of vegetables and poor supply at the same time creates an impact on the price of the produce. As transportation is affected, supply is affected, thus the prices are increasing gradually," said N Praveen, Chairman, Gudimalkapur market.
"Today the tomato price is Rs 80 to Rs 100 depending upon the quality and soon the prices will rise more if this situation continues. The same goes with the prices of onions. We sold it for Rs 15 a few days ago and now we are selling it for Rs 80 to Rs 100," said another vendor K Kala in Yousufguda Checkpost.
Punish greedy traders
The government needs to closely monitor production, distribution and retail prices of essential commodities. It has to declare a price cap on these products. Traders are jacking up vegetable prices and they should be booked under the Essential Commodity Act, demand commoners on the street, aghast as they are at the skyrocketing of prices.
People express worry stating that the prices have gone up in a day after the announcement of lockdown till month-end. Manasa, a homemaker, said in Ibrahimpatham that one-kilo tomatoes cost Rs 10 on Sunday and today it surged to Rs 50 per kilogram. Mahender Reddy, another buyer, said that the common man was facing hardships due to the rise in prices at the Ibrahimpatnam vegetable market. "Officials are not paying heed to our woes."
Even rotten veggie looted
People barraged at the Erragadda Rythu Bazaar on Monday and made away with 5 kg of ridge gourd. Vendors said the vegetables were rotten and were kept aside but a few persons took the lot and ran away. One can understand the gravity of the situation due to shortage and a consequent spike in prices.
Lockdown purpose peters out?
Panic-stricken people swarm markets, ignoring the very crucial point of maintaining social distance to keep off the dreaded COVID-19. Serpentine queues were witnessed at several supermarkets in the city