Hyderabad: Follow norms & avoid 'shock' at petrol bunks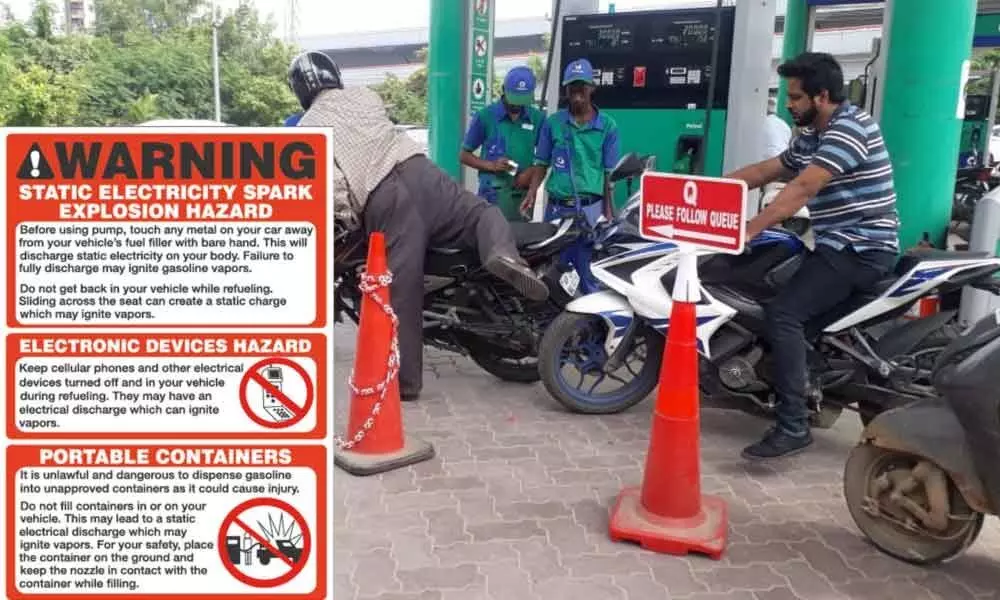 Highlights
• Not getting off vehicles during filling up and coming into contact with metal would result in a mild electric shock. • Filling up fuel by keeping...
Rajendranagar: Overlooking of precautions by consumers at filling points in city and outskirts is leading to a number of incidents of people receiving static electric shock that often result in a flare-up of fire.
What causes static electric shock
Static electricity is the buildup of electric charges on a material. An electrical charge can build up through frictional contact between two materials that are both insulators. One object will lose electrons and have a positive charge, while the other will gain electrons and have a negative charge. The charges are desperate to balance themselves back out again, so if you touch a conductor, like a metal doorknob or a tap or a nozzle, the charge will discharge itself and let out a zap.
It is widely believed that fires caused by static electricity at retail petrol stations are uncommon. This is because the open air environment of petrol stations is not conducive to the conditions required for static to ignite the fuel vapours. However, there have been a small number of cases that have demonstrated that static-ignited fires at petrol stations do occur.
According to investigations conducted by the oil company BP, the fires have been caused by a discharge of static from the motorist's body. "During refilling of fuel in tank, a number of consumers avoid getting off from their vehicles and ask the delivery boy to fill the fuel in a hurry. At this point of time, any contact with the metal would result in a mild electric shock, catching both the consumer and the pump attendant completely unawares," said an owner of the filling point under PVNR Expressway.
Customer need to get off from two-wheeler
At some petrol pumps, staff, especially pump attendants, were asked by the managements to inform the consumers about the unintended mishaps in the oblivion that may not go well for anyone. "To educate people about the chance of getting effected with static electricity we often ask consumers on two wheelers to get off from the vehicle for a moment until the refilling completes. Though, this often not well received by the customers who are in hurry, but we deal with the situation affably to avoid any kind of harm or trouble the consumers during refilling their vehicles," said Mateen Husain, the owner of Fidalis' Reliance petrol pump, at Pillar No 203, Upperpally.
"Filling up fuel by keeping the engine on would lead to static electricity incidents like igniting a fire. Similarly, body-to-body contact between the customer and the pump attendant filling the vehicle would also lead to a mild shock to any of them as there is a maximum possibility of static electricity may get into contact with each other at this point of time," he explained. Static electricity, that has been generated usually, discharges when the motorist touches the metal car door on exiting. However, if the first point of contact with metal happens to be the fill point of the fuel dispenser nozzle, the spark can ignite the petrol vapours and cause a brief flash fire.
Subscribed Failed...
Subscribed Successfully...