Hyderabad: Protest at Nizamia Tibbi College enters 2nd month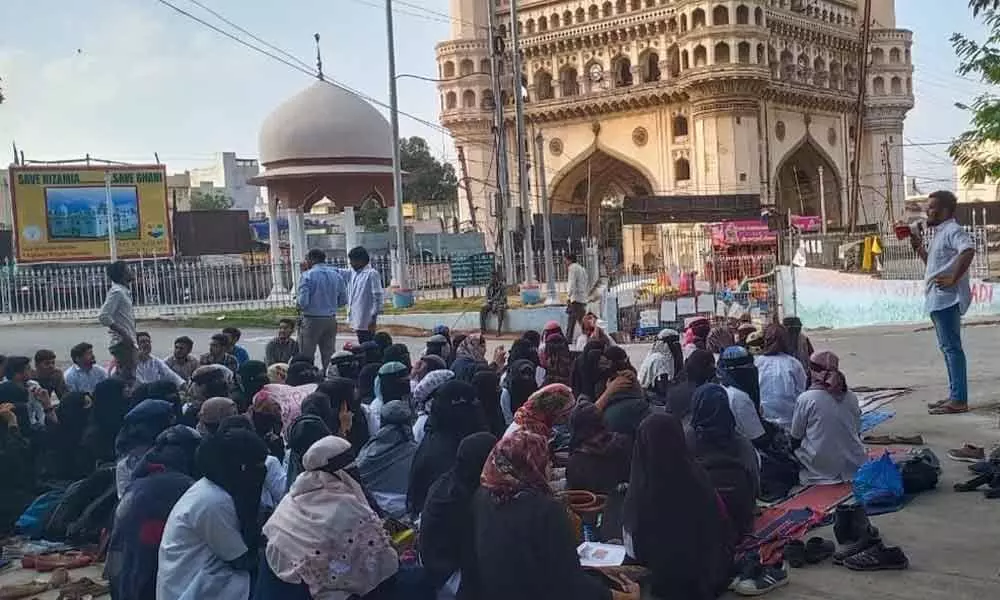 Highlights
It began with a demonstration following announcement of solidarity to students of Jawaharlal Nehru University (JNU) who were attacked in broad daylight, sparking protests across different campuses across the country including Aligarh Muslim University (AMU) and Jamia Millia Islamia in Delhi
Charminar: The protests against CAA-NPR-NRC at Government Nizamia Tibbi College (GNTC) which started in the first week of January entered the second month. It began with a demonstration following announcement of solidarity to students of Jawaharlal Nehru University (JNU) who were attacked in broad daylight, sparking protests across different campuses across the country including Aligarh Muslim University (AMU) and Jamia Millia Islamia in Delhi.

On Thursday, former president of JNUSU (Jawaharlal Nehru University Students Union), N Sai Balaji added some zest to the ongoing protest, near the iconic Charminar, marking completion of a month-long uninterrupted demonstration by students of Unani medicine.
Sai Balaji expressed support to GNTC students who were part of protest and raised the slogans against the unconstitutional laws passed by central government. He also echoed the 'Azaadi' slogan famously coined by CPI leader and former JNU leader Kanhaiya Kumar.
According to students, the protest would continue till the Central government scraps the 'draconian law' of CAA. "Since the law was promulgated, we staged protest on college premises and requested government to roll it back, as CAA, when adopted along with NCR would strip millions of their citizenship. While on the other hand, the Chief Minister announced that he would pass a resolution in assembly, it is yet to get materialised. We request the CM to pass the resolution against these unconstitutional laws", said a girl student, who is active in the protest.
"We request the CM to participate and lead the protests like West Bengal CM Mamata Banerji and other CMs and give people permission to protest peacefully, said another student.
SIO Telangana also extended its support to the students of Tibbi College. The students' body held that the Hyderabad City Police shamefully barged into the campus and threatened to book cases against students. Even the Principal of the college was harassing and misguiding students to stop their peaceful symbolic protest. Describing the Tibbi college students as 'torch bearers', they questioned the use of police force, when protesting was fundamental right.