Hyderabad: Yakutpura gets its first Basti Dawakhana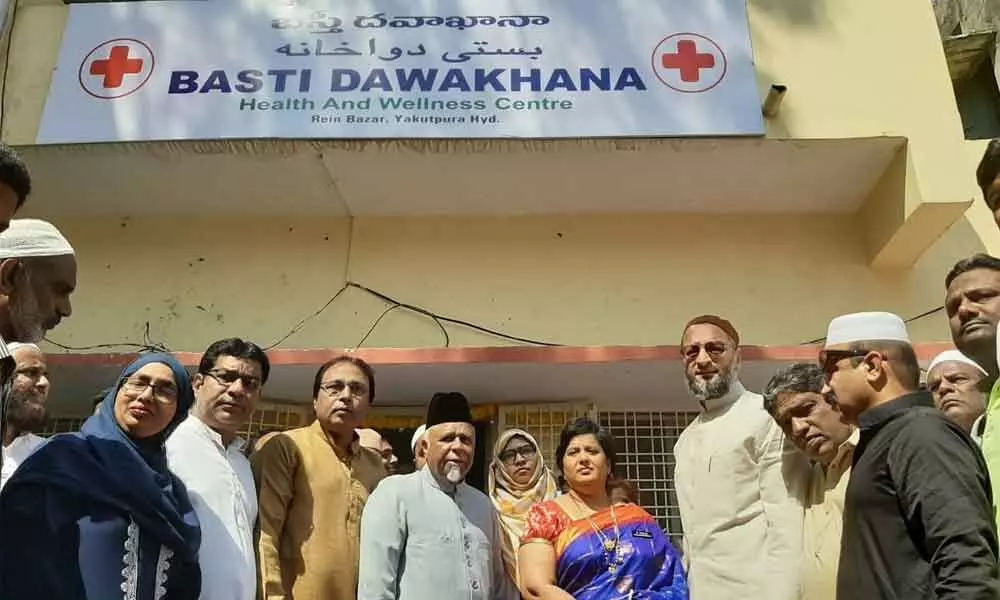 Highlights
Authorities gearing up to open more such clinics in the constituency
Rein Bazar: After almost two years, the Yakutpura constituency gets its first Basti Dawakhana in Rein Bazar and the authorities are gearing up to open more totaling about a dozen in this year.

According to officials, each such clinic would have two to three rooms, a consultation-cum-examination room and a pharmacy. The staff includes a specialist doctor, a staff nurse, and one maintenance worker. The facility would function from 10 am to 4 pm. It also provides free diagnostic services for slums and vulnerable populations. There are around 150 Basti Dawakhana functioning across the city. A handful of them which were opened in 2018 and 2019 in Old City areas are serving the local population and receiving between 100 to 200 patients per day. This prompted the GHMC to increase their numbers in the localities, particularly which are having more slums. "Basti Dawakhana initiative was launched by the Greater Hyderabad Municipal Corporation (GHMC) in Telangana state in April 2018. Basti Dawakhanas are proposed to be located mostly in slums," added the official.
On Friday, AIMIM Chief and Hyderabad MP Asaduddin Owaisi inaugurated basti dawakhana in Rein Bazar Chaman. Speaking to media persons Yakutpura MLA Syed Ahmed Pasha Quadri said that following MP's representation, the government has sanctioned Basti Dawakhana for catering to slum-dwellers of Rein Bazar. "The locals living in slums are in dire need of healthcare clinics or else they are forced to visit any private clinic or hospital which are not affordable and it's a government responsibility to provide free medical service to the poor", he added.
Rein Bazar division corporator Mir Wajid Ali Khan said it was the first Basti Dawakhana in Rein Bazar division and also in Yakutpura constituency. He said that each division would be having two dawakhanas and soon one more Dawakhana would be opened in the division. A total of 12 Basti Dawakhanas would be opened in the entire Yakutpura constituency, he added.
MLC Mirza Riyaz-ul-Hassan Effendi and Corporators Mohammed Muzaffar Hussain (Santosh Nagar), Nasreen Sultana (Talabchanchalam), Dr Sameena Begum (Kurmaguda), Syed Sohail Quadri (Pathargatti), Mir Basith Ali (Dabeerpura), GHMC officer and medical staff were among those present.
This clinic provides free medicines and diagnose services for free which benefits the locals, and the cases which are critical, or emergency are referred to UPHCs and Government hospitals.