Ministers KTR and Jagadish Reddy inaugurated TIF's Skill Development Center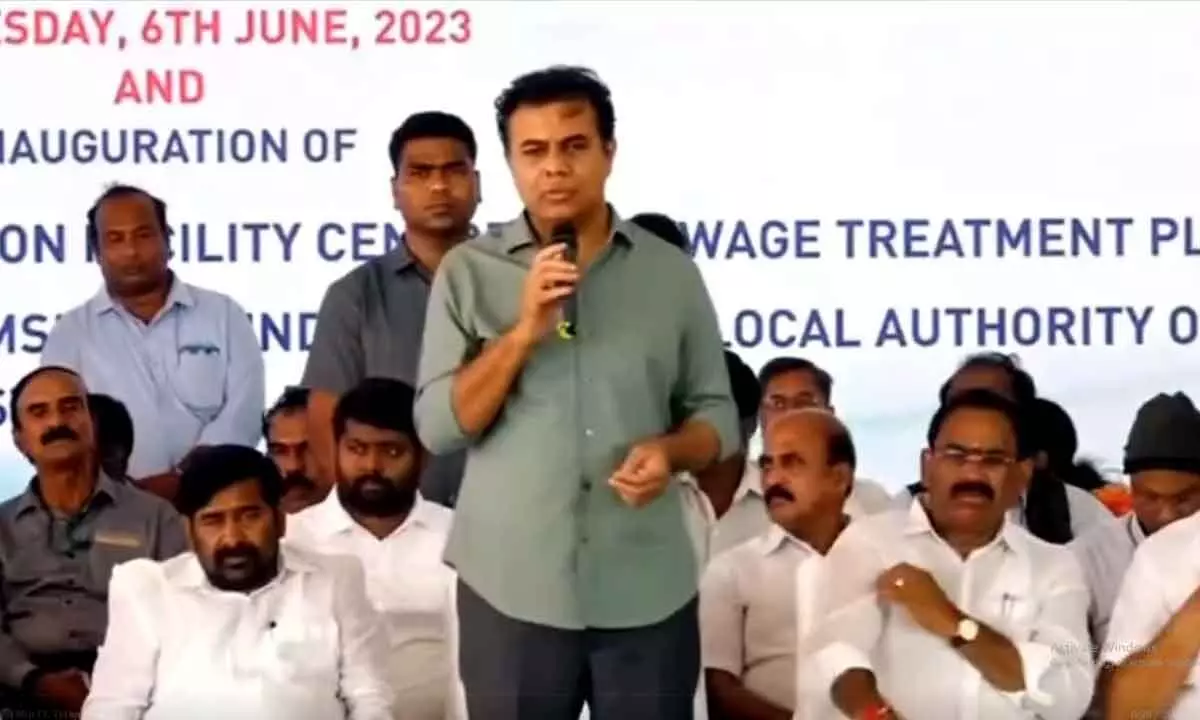 Highlights
Skill Development Center, TIF MSME Green Industrial Park, Dandu Malkapur, KT Rama Rao, Jagadish Reddy, Chief Minister K Chandrashekar Rao, CM KCR, Telangana News, Telangana, KCR, KTR, Revanth, Bandi, Revanth, BRS, BJP, Hyderabad
Hyderabad: Telangana Industrialists Federation's (TIF) Skill Development Center and Common Facility Centre at TIF MSME Green Industrial Park, Dandu Malkapur, was inaugurated by Industries Minister K.T. Rama Rao and Energy Minister G. Jagadish Reddy on Tuesday.

The Ministers have also inaugurated 51 industrial units (MSMEs), Industrial Area Local Authority office, Telangana Industrialists Federation's office.
Under the visionary leadership of Chief Minister K Chandrashekar Rao, the State of Telangana achieved remarkable progress in all fields. This was highlighted by IT and Industries Minister K.T. Rama Rao during his speech at the Telangana Industrial Pragathi Utsavam held at the Dandu Malkapur Green Industrial Park.
KTR emphasized the significant advancements made by Telangana in the areas of environment and industry. The State has witnessed comprehensive, equitable, and inclusive development, becoming a shining example for others to follow. Telangana takes pride in its transparency when it comes to setting up industries, surpassing even some international standards. The state's TS i Pass system has streamlined the process, granting permissions within 15 days, a feat applauded by industrialists who mentioned that such efficiency is uncommon, even in the United States.

The Minister highlighted the Haritaharam program, which stands as the second-largest afforestation program in human history, dedicated to creating a greener environment for future generations. Telangana's commitment to sustainability has garnered accolades, with its villages receiving 30 national-level awards for rural governance, and towns also being recognized on a national level.
Minister KTR emphasized the happiness and contentment of people, even in the remotest villages of Telangana, where development has brought about positive changes. He also mentioned the disappearance of those who once ridiculed Telangana, a testament to the state's progress and prosperity. Renowned actor Superstar Rajinikanth commended the remarkable growth of Hyderabad. The Minister further drew attention to the power cuts still prevalent in certain states like Gujarat, emphasizing the stark contrast with Telangana's uninterrupted power supply.
The Minister proudly proclaimed Telangana as a synonym for greenery, highlighting that it is the only state with a green budget. He commended Chief Minister KCR for his forward-thinking approach and dedication to the betterment of future generations. Minister KTR acknowledged that the work accomplished in the past nine years under Chief Minister KCR's leadership surpasses the progress made in the previous six decades. The Kaleshwaram project, praised by American engineers, stands as a testament to Telangana's excellence and is an honour for the state.
Furthermore, the Minister celebrated Telangana's increased IT exports and record-breaking grain yields, which demonstrate the state's achievements in various sectors. In line with its commitment to fostering skilled labour, Telangana plans to provide skill training to thousands of youth through the Skill Building Center established at Dandumalkapur Park.
In conclusion, KTR highlighted the tremendous success Telangana has achieved in all fields and stressed the importance of sharing factual information to showcase the state's progress. Telangana remains steadfast in its commitment to advancement and looks forward to a brighter future.