Nizamabad: Speed guns giving good results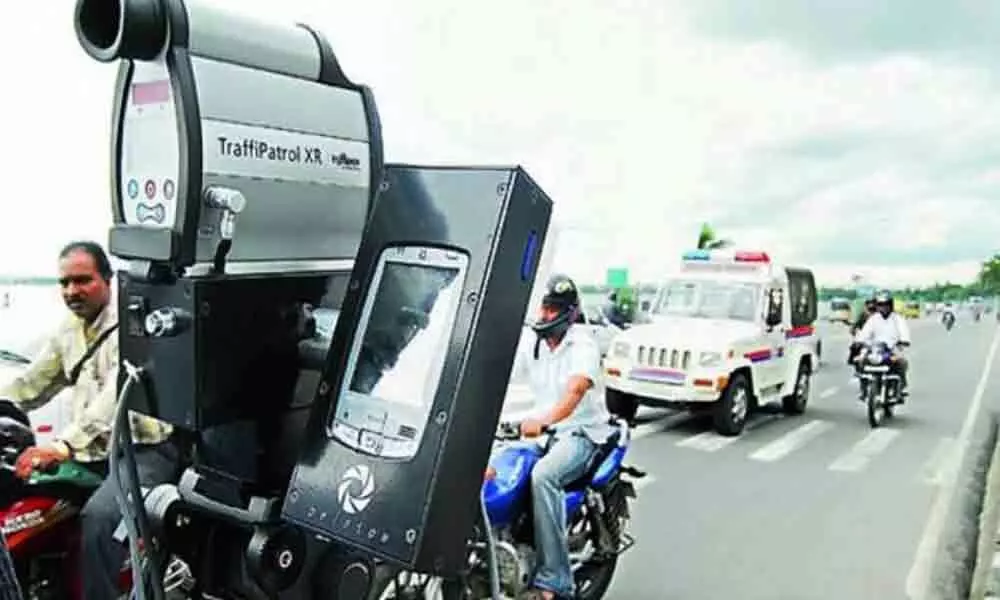 Highlights
Vehicle drivers controlling the speed.

Accidents on the decline.
Nizamabad: The police department had introduced 'speed guns' to put a check to the Overspeed vehicles is yielding good results. They have set up speed guns at several points on national highway 44.

If a vehicle passes through the speed gun with a speed more than the prescribed, immediately a challan will be sent to the vehicle owner. The fine amount ranges from Rs 800 to Rs 1,000 and even more.
This made many people to be afraid to cross the 80 kmph speed. The vehicle owners are keeping an eye on the speed as they do not know where the speed gun camera is hidden.
The police department took the initiation as many are losing lives in road accidents due to over-speeding.
The guns will target speeding vehicles, capture their photos and also record the speed of vehicles by following Dafler formula.
If a vehicle was over-speeding, the guns would capture the photo of the vehicle number and send details to the server. Challan would be generated immediately, and a message will be sent to the vehicle owner.
National highway 44 runs from Bengaluru to Nagpur and the highway starts from Bhiknoor mandal in Kamareddy district and enters in Nirmal district via Mendora mandal in Nizamabad district.
Daily hundreds and thousands of vehicles will go from Armoor, Nizamabad, Kamareddy and other places to Hyderabad. Also, people visit Hyderabad to meet their children, friends, business purpose etc in their own vehicles. They will increase the speed of their vehicles as the road is good.
To control the overspeed, police department had arranged speed guns at various points on national highways near Medchal, Toopran, Ramayampet, Bhiknoor, Kamareddy, Dichpally, Armoor and other places.
The vehicle owners are slowing down their vehicles at these points and later increasing speed. The police observed this trick and they also started changing the location of the speed guns daily.
Unaware of the location of these guns, most of the drivers are driving their vehicles within the speed limit. Police officials felt that the cause for the decline in number of accidents on national highways in recent times is speed guns only.
Subscribed Failed...
Subscribed Successfully...