RTC JAC to hold dharnas in front of Ministers' houses today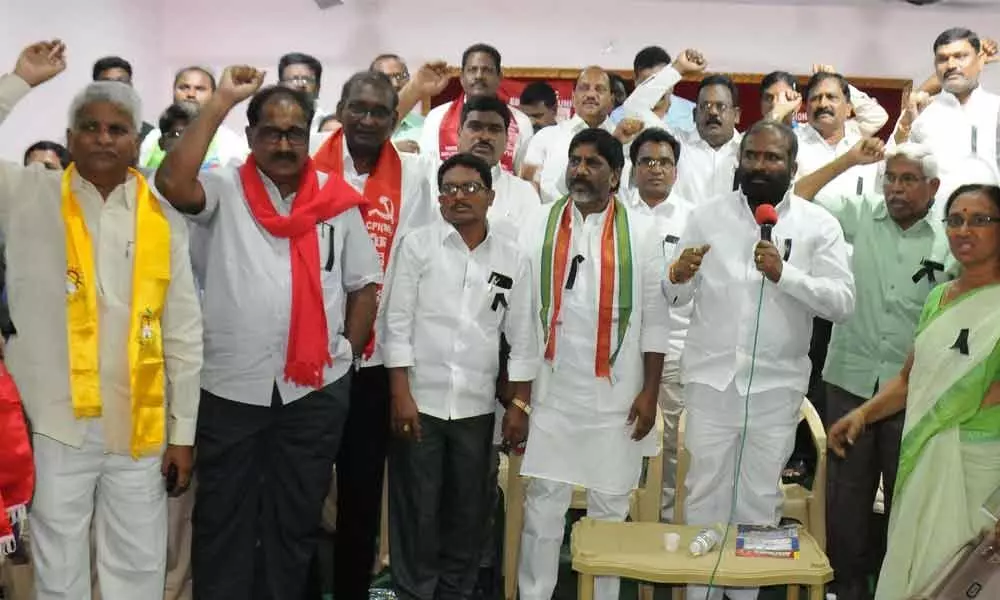 Highlights
In a meeting with senior Congress leaders, it was decided to mount pressure on the government to concede their demands as the strike entered 37th day on Sunday
Hyderabad: RTC JAC to step up pressure on the government to concede its demands in the coming days.
The Telangana Congress Core Committee and the TSRTC employees' unions' JAC met here on Sunday and decided to organise a series of agitationalprogrammes.
It was decided in the meeting to hold dharnas in front of the house of the TRS public representatives'including ministers and MLAs on November 11 and submit representations to them.
The RTC employees would hold protests before all the bus depots on the following day. Four JAC leaders including Ashwathama Reddy and others would sit on a fast on November 12. Theyhave also decided to hold Sadak Bandh (November 18) besides a series of protests.
A committee has been constituted under the leadership of former MLA SA Sampath Kumar to meet the National Human Rights Commission and Women's Commission chairpersons and submit representations to them on the
Congress leaders V Hanumantha Rao, CLP leader Mallu Bhatti Vikramarka, SA Sampath Kumar, Ch Vamshichand Reddy and others were present in the meeting.
Later, the Congress Core Committee met at Gandhi Bhavan and discussed the RTC issue. Senior party leaders K Jana Reddy, Ponnam Prabhakar, Kusuma Kumar also participated in the meeting.
The committee called upon party activists to hold protests in all the districts to highlight the problems being faced by the RTC workers.
Mallu Bhatti Vikramarka said they have decided to organize protests in front of the houses of ministers, MLAs and MPs on November 11.
RTC JAC convener Ashwathama Reddy said as the State government was yet to invite them for talks and respond to their issues, they took a decision to intensify the agitation.
Subscribed Failed...
Subscribed Successfully...