Strike Gathers Greater Steam : Protest rallies erupt across State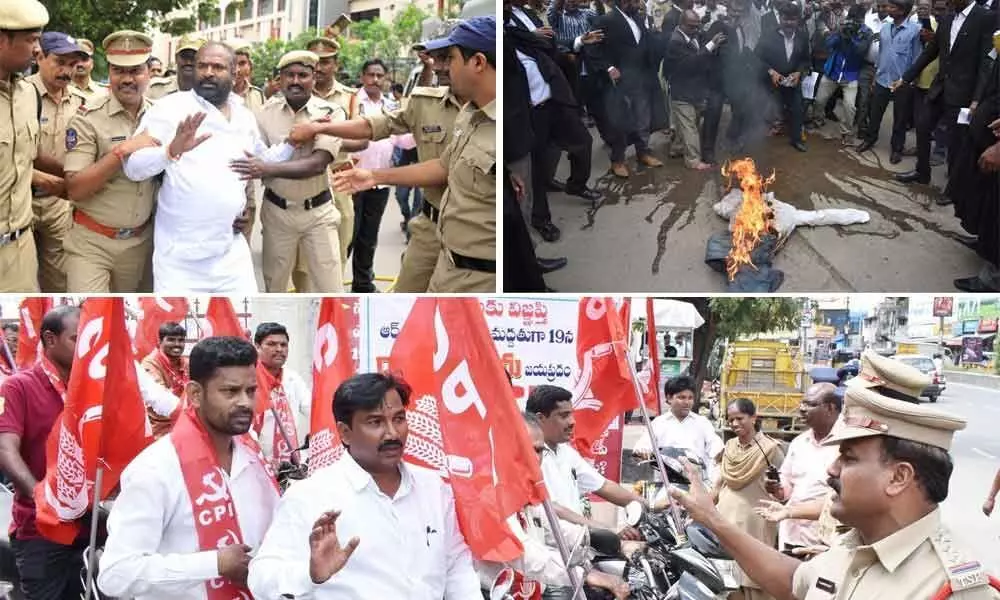 Highlights
Prior to the bandh call today, several organisations including Opposition parties stage several demonstrations across the State in support of the...
Hyderabad: The Telangana JAC and several other organisations including advocates and opposition parties took out big rallies and staged protest demonstrations at different places in the State on Friday.
Several RTC JAC leaders including convener E Ashwathama Reddy, K Raji Reddy, RTC JAC leaders and others were arrested when they tried to lead bike rallies in support of the proposed bandh on October 19.
The State BJP leaders took out a huge rally from Patancheru to Kukatpally. Similarly, the Congress, TJS and CPI took out bike rallies at different places in the city.
The RTC JAC leaders were arrested at Sundarayya Vignana Kendram after they tried to take up a rally from Baghlingampally to Bus Bhavan protesting the government's inaction over their demands.
The leaders arrested include JAC convenor Ashwathama Reddy, co-convenor Raji Reddy and Venkanna. The TSRTC Credit Cooperative Society staff took up 'Vanta Varpu' near Bus Bhavan. The workers later took part in Dhoom Dhaam at Ramnagar depot.
A group of advocates who came to Bus Bhavan in support of the strike by TSRTC workers were taken into custody by the police. The advocates raised slogans against Chief Minister K Chandrashekar Rao for not initiating talks with the striking workers.
The advocates said that they would be supporting the bandh call given by the RTC unions. Advocates JAC leader and Congress legal cell Chairman C Damodar Reddy said the downfall of Chief Minister K Chandrashekar Rao had started.
He said the government cannot call the strike as illegal since the workers gave strike notice a month earlier. He claimed that several other organisations including revenue and Singareni staff would also support the strike.
The Advocates JAC supported Telangana agitation and now they would support RTC worker, said Damodar Reddy. Earlier, the Advocate JAC leaders burnt an effigy of Chief Minister K Chandrashekar Rao at Nampally Courts.
The BJP State unit chief K Laxman said his party would fully support the RTC bandh and all leaders including State, district, mandal and village level would take up bandh in a peaceful manner. He urged all sections to support the RTC workers strike.
"If the Chief Minister does not change his 'Naya Nizam' attitude, people would revolt against him," Laxman said.
Centre of Indian Trade Unions vice president A K Padmanabhan alleged that Chief Minister K Chandrashekar Rao was acting like a British ruler.
The leader asked how the Chief Minister can take action against RTC workers when he himself had led Telangana agitation.
Subscribed Failed...
Subscribed Successfully...