Tension at JNTU-Hyderabad as faculty stage protest for pending salaries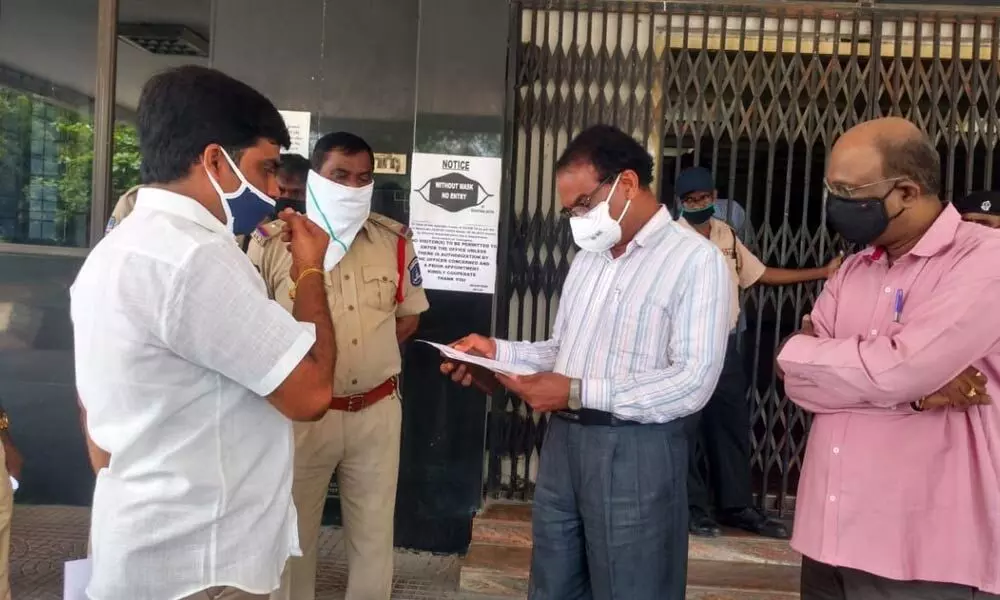 Highlights
Director Dr K Ramamohan Reddy assures the protesting faculty members that the university will take necessary steps to ensure the colleges pay their pending salaries
The university authorities closed the main entrance upon receiving the protest information
Also call the police for the security
Hyderabad: Tension prevailed at Jawaharlal Nehru Technological University, Hyderabad (JNTU-H), when the university authorities called in police following the faculty members from several institutions staged a protest.

The university authorities have closed the gates of the main entrance of the university following the information that faculty members from several private engineering, management and pharmacy colleges have planned to stage a protest.
It may be mentioned here that the faculty members from the private engineering, management and pharmacy colleges have been representing to the State Education Department, All India Council for Technical Education, University Grants Commission, Telangana State Council of Higher Education (TSCHE), State Board of Technical Education and the JNTU-H on non-payment of salaries by the colleges. Feeling aggrieved that the university authorities have been washing away their hands just by issuing repeated notices to the college managements the faculty members under the aegis of the Telangana School's Technical Colleges Employees Association(TSTCEA) has staged a protest before the JNTU-H. And, the faculty members wanted to submit a representation to the registrar of the university briefing their woes.
However, sensing trouble from the faculty members who have not been paid ranging from three to nine months, the authorities have not only shut the doors of the main entry points but closed the doors leading to the office of the registrar, besides, called the police for the security.
The police have tried to diffuse the situation talking to the protestors and the university officials. However, the protestors took exception when the officials reportedly informed the police that they have nothing to do with the payment of salaries in the private engineering, management and pharmacy colleges.
The protesting faculty members handed over the copies of the rules and regulations to the police and told them that they are eligible to teach in the private colleges only when the university ratifies their qualifications, salaries along with other service regulations that the colleges have to follow as part of the affiliation norms.
Following this development, the police have convinced the university authorities to receive the representation from the protesters to diffuse the situation.
TSTCEA president A Santhosh Kumar said that the university Academic Audit Cell, Director Dr K Ramamohan Reddy has assured the protesting faculty members that the university will take necessary steps to ensure the colleges pay their pending salaries.