TRS government weakening Panchayat Raj: Uttam Kumar Reddy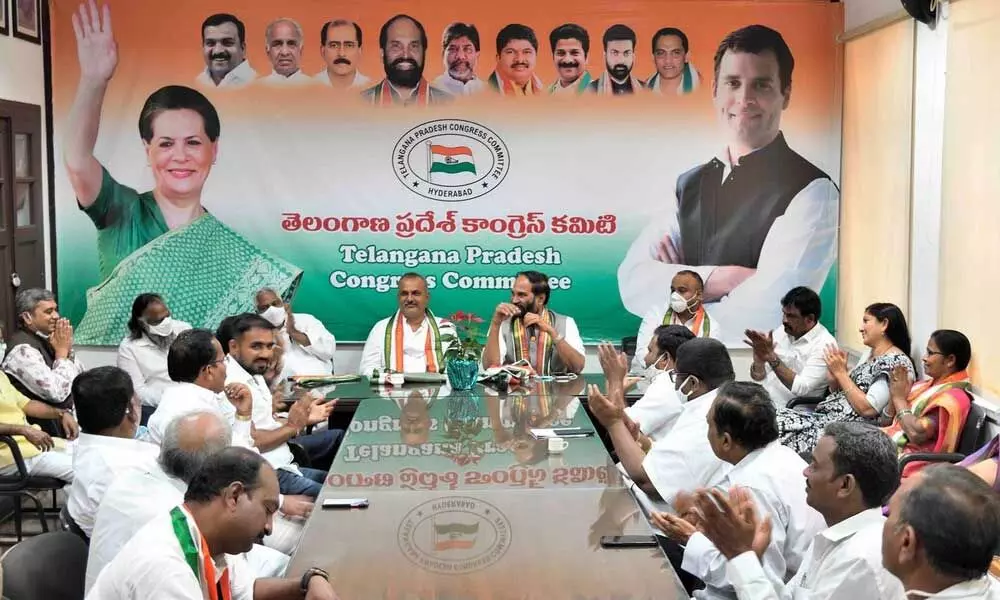 Highlights
A protest on PR issues will be held by AICC PR Sanghatan at Indira Park on Dec 22
Hyderabad: Telangana Pradesh Congress Committee (TPCC) President & MP Capt. N. Uttam Kumar Reddy on Monday accused the TRS government of systematically weakening the Panchayat Raj system in the State.
He was addressing a meeting at Gandhi Bhavan, along with AICC Panchayat Raj Sanghathan Vice-Chairman Harshwardhan, State In-charge Kiran, State Chairman Harish, TPCC Working President Ponnam Prabhakar, MLC T Jeevan Reddy, MLA Jagga Reddy and other leaders. They discussed systematic weakening of local bodies and insulting of Sarpanches, MPTCs, ZPTCs by the TRS government and non-allocation of State government funds to Mandal and Zilla Parishads. It was decided to hold a protest on these issues by the PR Sanghatan on December 22 at Indira Park.
Uttam Kumar Reddy said that the Congress party would organise a day-long protest on December 22 to highlight the problems of Panchayat Raj institutions and a memorandum would be submitted to the Governor. He reminded that former Prime Minister Rajiv Gandhi has empowered the Panchayat Raj institutions across the country by granting them powers and sufficient funds.
The TPCC chief alleged that the KCR government has completely crushed the Panchayat Raj system in the State. He alleged that the TRS leaders were looting the Panchayats and forcing them to buy tractors, LEDs, lights and other material from the agencies of their choice so as to get the commission.
The TPCC Chief said that meetings should be held at least once in a month or two with Sarpanches and other village leaders to discuss their problems. He said that the ideology of the Congress party should be taken to all villages. He said the local problems should be taken up and efforts should be made to resolve them. He stressed on strengthening the Congress party in rural areas to enable it to return to power in next elections. Uttam Kumar Reddy urged the party cadre to stay among the people and make all efforts to resolve their problems.