Vijayashanti fires salvos at CM KCR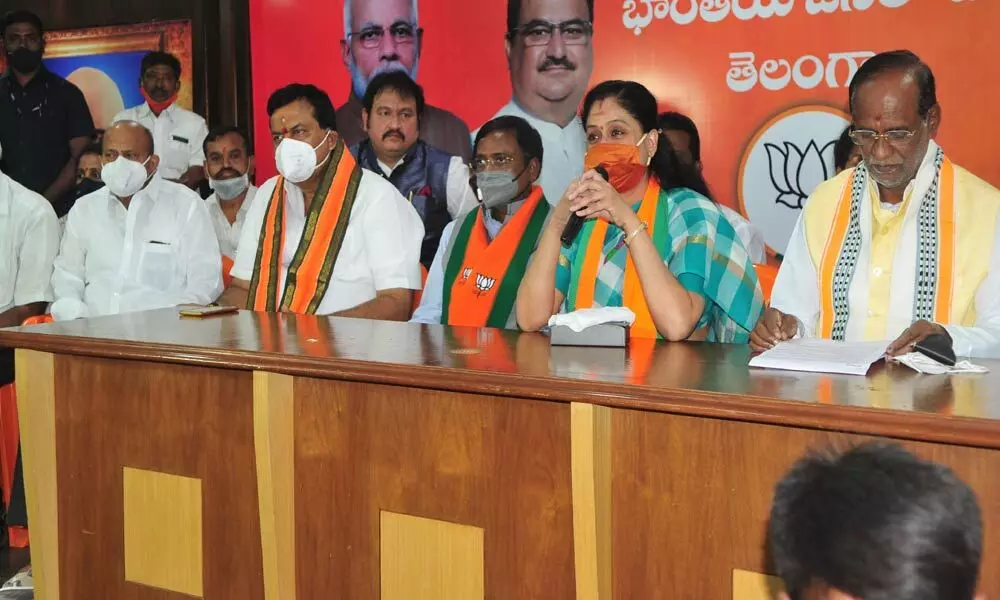 Highlights
Says the pink party chief used the statehood movement only to grab power and amass wealth
Hyderabad: Former MP Vijayashanti mounted a blistering attack on TRS president and Chief Minister K Chandrashekar Rao accusing him of "running the government for his selfish and family interests, raiding on the sacrifices of the martyrs, who laid down their lives for the cause of separate Telangana."
After joining the BJP in Delhi, Vijayashanti, for the first time, visited the Telangana State BJP headquarters here on Thursday and addressed the media.
Recalling her political career which she started with BJP way back in 1998, Vijayashanti said, "I had to leave BJP due to Telugu Desam Party chief N Chandrababu Naidu as he was opposing the formation of separate Telangana. But, he had an alliance with BJP."
Explaining at length her political journey since, she said that TRS chief had meticulously planned to sideline all those fought for the separate statehood cause, including herself. He took the help of employees, students and other organisations fighting for Telangana in ensuring no political opponent for him in the State.
Vijayashanti said that KCR was never interested in the separate Telangana cause and was always interested only in grabbing power and amassing wealth.
She accused TRS chief of playing match-fixing politics with Congress when they were busy fighting among themselves for posts.
The former MP said that people have given two chances to the TRS and they were fed up with the false promises of KCR. "There is no development in Telangana other than pushing it into a debt trap of Rs 4 lakh crore," she said, questioning as to how KCR, who had struggled for a lakh of rupees to gift her on the eve of Raksha Bandhan during Telangana movement could amass massive wealth to the tune of one lakh crore?
Meanwhile, Vivek Venkataswamy explained how the KCR has used those fought for the cause of separate Telangana for his interests and later sidelined them. He appealed to all the individuals and organisations fighting for the Telangana cause to join hands to mount a united fight to unseat KCR who was only working for the welfare of his family.
"Collecting commissions from the contractor, the Chief Minister is not showing any interest while the neighboring AP is taking away the water share of Telangana," he said, reminding that when the separate Telangana Bill was tabled for passing in the Parliament, only Vijayashanti was present and KCR had totally vanished.