Activist up in arms against bid to shift Ramayapatnam port to Nellore district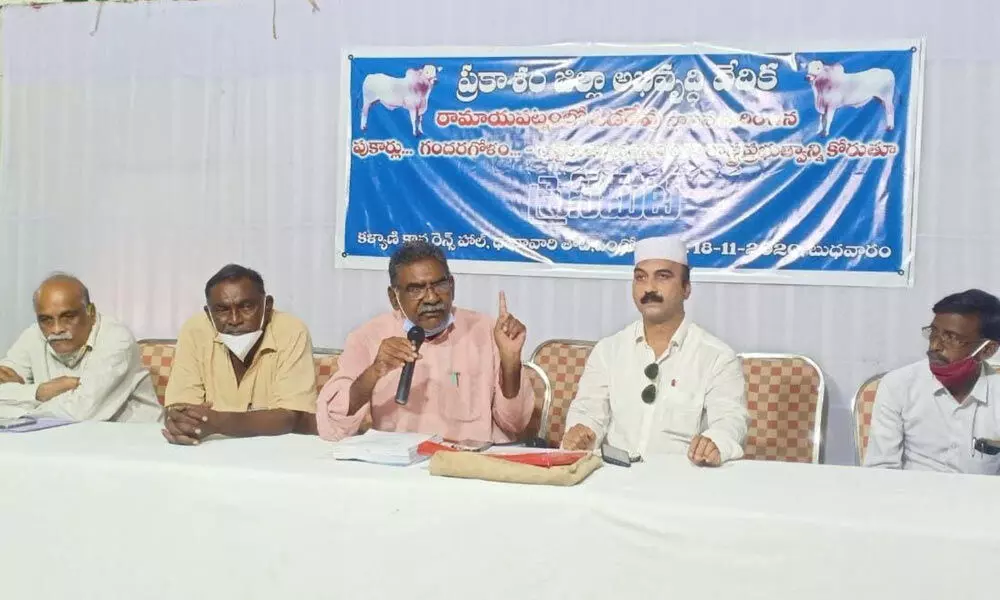 Highlights
It is nothing but a breach of trust and injustice to Prakasam district, says Organisation for Socio Economic Change
ADVERTISEMENT
Ongole: Development Organisation for Socio Economic Change in Prakasam district demanded that the government not betray the local people in the name of Ramayapatnam port.
In a press meet in Ongole, on Wednesday, the organisation members announced that they are going to submit representations to the ministers from the district and TTD chairman for involvement and build agitation to protect the interests of the district.
The organisation president Chunduri Rangarao, secretary Mohammad Rafi Ahmed, members Chunchu Seshaiah, Panguluri Govindaiah, Vadde Hanumareddy, Bhimavarapu Subbarao and others announced that the Union government has taken the decision to construct the port at Ramayapatnam in Prakasam district based on the favourable reports from the Rail India Technical and Economic Services (RITES) Ltd after conducting a scientific study. They said the people in the district were jubilant when the RITES Ltd report is shared in the public domain and expected that the district will develop at least now. They said that ongoing discussions over the reorganisation of the districts in the state, alleged proposals of land acquisition for the port, strategic silence by local politicians and public representatives are giving them chance to suspect that the Ramayapatnam port will be in Prakasam district by name, but the operational area and development will be in the Nellore district.
The members of the organisation said that the plans to shift the port operations to the Nellore district is nothing but a breach of trust and injustice to the Prakasam district. They announced that they will meet the local public representatives including the ministers Balineni Srinivasa Reddy, Dr Audimulapu Suresh, TTD chairman YV Subbareddy and Ongole MP Magunta Srinivasulu Reddy to request them to oppose the shifting of the operations of port to the land outside of the Prakasam district and lead the agitation in the front row along with the Development Organization for Socio Economic Change in Prakasam district. They also invited the interest and participation of the local public, especially the youth whose future in the Prakasam district is also a dependent of the Ramayapatnam port to join the agitation without fail.