Andhra Pradesh: Tomato price crash lands farmers in debts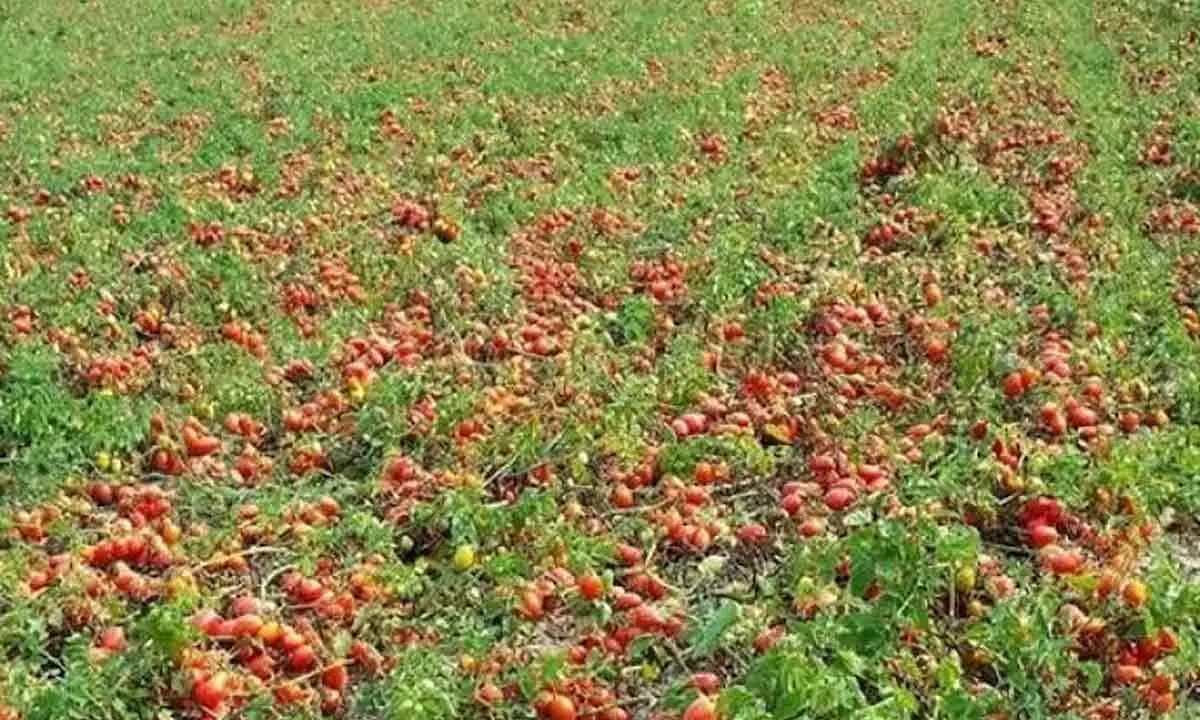 Highlights
Though market price is Rs 10 a kg, the farmers are getting only Rs 3-4
Dejected by the price fall, several farmers are leaving the crop unharvested
They urge the govt to at least compensate them by paying input costs in order to save them from debts
Anantapur-Puttaparthi: Market prices of tomato have once again crashed landing farmers in Rayalaseema in financial doldrums. The farmers are urging the government to pay investment losses as crop compensation. While the market retail price is Rs 10 per kg, in the wholesale market it is Rs 5 per kg. But the farmers are selling it at Rs 3 and 4 per kilogram.

The major tomato markets are at Madanapalle in Chittoor district and Anantapur. The tomato producers have always been at the receiving end due to fluctuations in prices.
Exports to other states from tomato markets including to Chhattisgarh, Madhya Pradesh, Tami Nnadu, Maharashtra and parts within AP state have drastically declined.
This precarious situation was triggered by importing states boosting their own production thus leaving tomato farmers in AP high and dry. With exports falling down and stocks remaining in markets, the prices have plummeted to rock bottom.
A tomato exporter from Garladinne Kulayappa told 'The Hans India' that he invested Rs 1.25 lakh on tomato crop in his 3.5 acre land.. Purchasers from Karnataka are buying between Rs 35 and Rs 38 per box containing 15 kg. The farmers consider this amount a pittance and hence are leaving their crop unharvested.
Same is the case with the farmers from Kalyanàdurgam who have expressed concern at the steep fall in tomato prices. Gangaraju, a tomato producer in Kalyanadurgam mandal, says that he raised tomato crop in 4 acre with an investment of Rs 1.50 lakh.
He harvested 150 boxes, each 30 kg, per acre. He sold each box at Rs100 but the price proved to be disastrous as he could not even realise his investment of Rs 1.50 lakh and got only Rs 60,000 in return. Our family landed in debts, bemoaned Gangaraju.
Tomato is cultivated in around 45,000 acre in both Sathya Sai and Anantapur districts. While the total estimated investment in the twin districts is around Rs 9.10 crore but the farmers incurred a losses of nearly Rs 5 crores with many of them preferring to abandon their crop in field.
The farmers are urging the government to compensate them at least for investment losses so that they could clear their loans from private money lenders and rid themselves of indebtedness.