Bring petrol, diesel under purview of GST in ongole: Left parties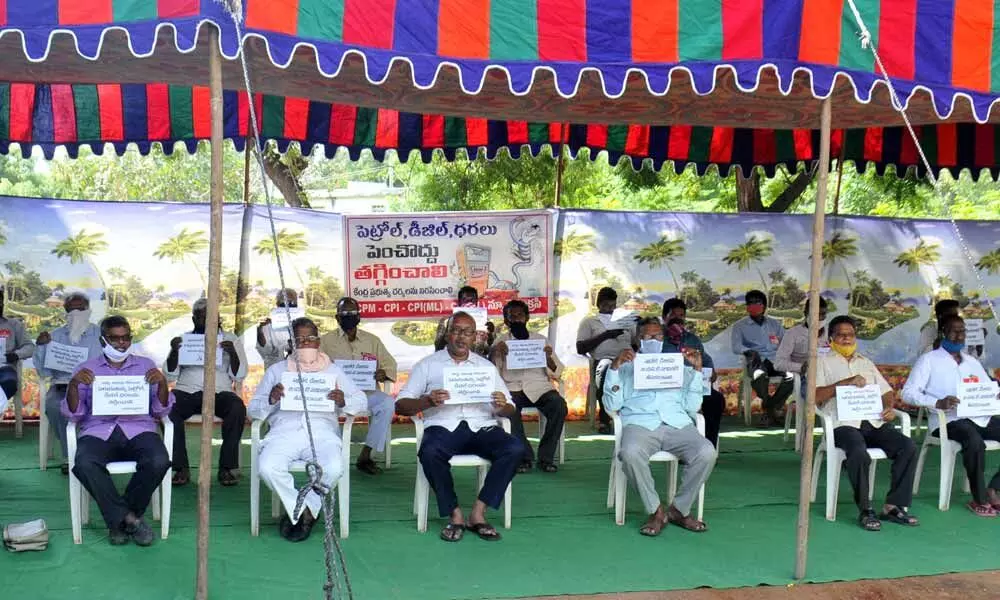 Highlights
The leaders of Left parties from the Prakasam district demanded that the Union government bring petrol and diesel under the purview of the Goods and Services Tax and reduce their prices immediately
Ongole: The leaders of Left parties from the Prakasam district demanded that the Union government bring petrol and diesel under the purview of the Goods and Services Tax and reduce their prices immediately.

In the protest organized by CPM, CPI, CPI ML and others at Sundaraiah Bhavan on Tuesday, the East Prakasam district secretary Punati Anjaneyulu said that about 15 crore people in the country lost their livelihood due to Coronavirus and are suffering for the last three months. He observed that the governments which should support the public in the testing times are imposing more burden on them. He said that though the crude oil price is reducing in the world, the prices of fuel are increasing in the country. The government raised the petrol price by Rs 8.90 and diesel price by Rs 11 during the last 20 days. He explained that the Modi government is purchasing a barrel of crude oil for USD 40, and it gives 160 litres of petrol and diesel after refining in the country at a cost of Rs 18 per litre. He said that though the government imposes taxes and profits, it should be sold at a price of Rs 30 or so per liter or Rs 32 per liter when brought into GST. But the government is selling petrol at Rs 83 per liter, neglecting the woes of the public, he said. Anjaneyulu demanded that the government should bring the fuel under the purview of the GST and reduce the prices immediately.
The CPM state committee member Y Siddaiah, CPI district executive member SD Sardar, CPM district executive member GV Kondareddy, CPI-ML New Democracy district secretary Chittipati Venkateswarlu, CPI-ML district leader S Lalitha Kumari and others also spoke at the protest. Communist leaders Jala Anjaiah, Pentyala Hanumantha Rao, U Prakasa Rao, PVR Chowdary and others also participated in the program.