District officials to take up land acquisition in a big way in Kadapa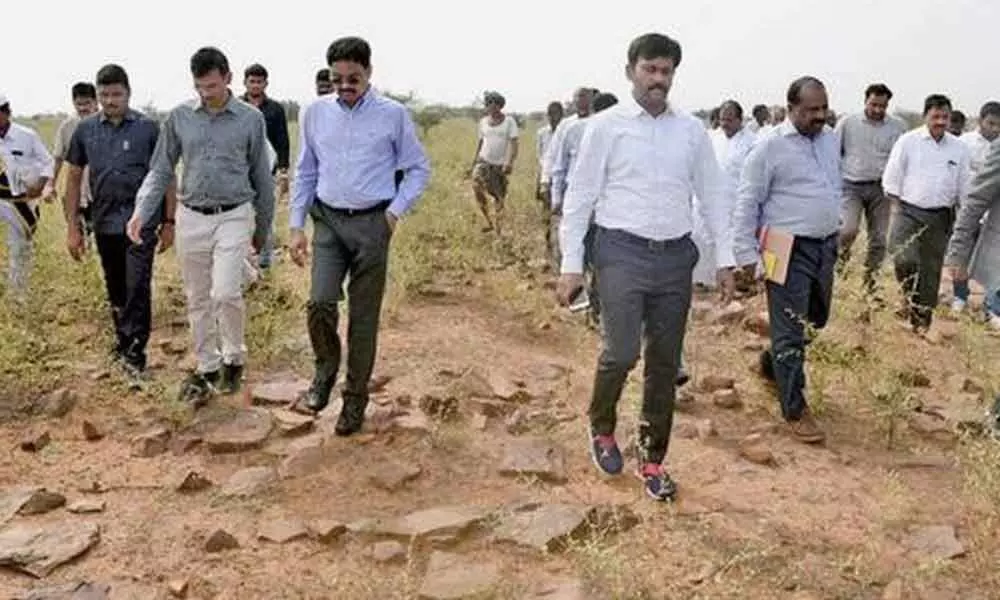 Highlights
It is aimed to take up development works and to set up industries at various places in Kadapa district on massive scale as per the directions of Chief Minister Y S Jagan Mohan Reddy, says District Collector Ch Harikiran
Kadapa: The district administration is going to take up land acquisition in a big way to take up development works and to set up industries at different places.

According to official sources the land acquisition is proposed for expansion of runways to facilitate night landing of aeroplanes at Kadapa airport, extension of 4/6 lane roadway between Rayachoti and Kadapa on national highway, construction of railway line from Kadapa to Vayalpadu (in Chittoor district) via Veeranna Gattupalli, to set up 1000, and 500megawatts capacity Solar Power projects in Mylavaram and Galiveedu mandals, for Ambedkar Skill and Training Academy, construction BC Bhavan, tourism spots, , second phase of Chitravathi Balancing Reservoir, Gandikota Reservoir, Galeru Nagari Sujala Sravanthi, 6,000 acres for establishment of industries at Kopparthi village and about 4,000 acres for house sites and for other ongoing projects.
Sources said that major part of land acquisition for Gandikota Reservoir has been completed and only small areas of land are to be acquired for pending canal works. With regard to Chitravathi Balancing reservoir second phase, land has to be acquired from the farmers. Recently, Andhra Pradesh Industrial Infrastructure Corporation has acquired 6,000 acres at Kopparthi village for establishing industries.
Meanwhile, as per the statistics of District Industries Centre (DIC), there are 25 major industries like ABK Publications ltd, Kadapa Spinning Mills, Rayalaseema Spinning Mills, Balaji Biomass Power Ltd, Pulivendula Polymers Pvt Ltd, Jagathi Publications and Sri Govinda Raja Textiles and another 8 Agro-based, cotton textiles, chemical micro and small enterprises exist in the district. Altogether, about 45,000 people are working in the units.
When contacted by Hans India District Collector Ch Harikiran said that the government is keen on providing employment to the rural youth by establishing more industries in the district. He said in view of having adequate natural resources and as per the directions of Chief Minister YS Jagan Mohan Reddy, the district administration is planning for the development of various tourism spots in the district.