Guntur: Better price expands chilli cultivation to 2.5-lakh acres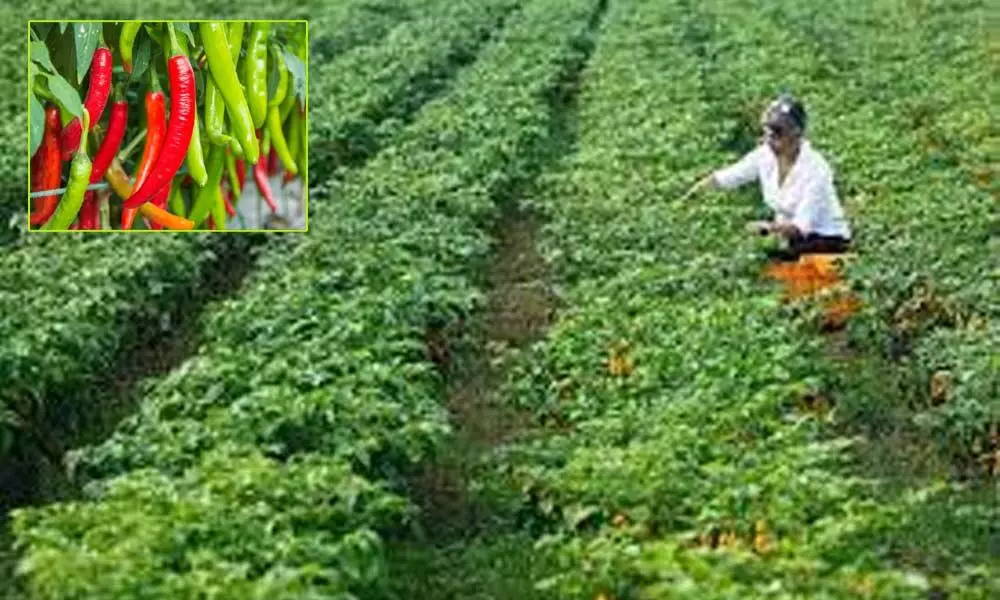 Highlights
Expecting better price this year too, many farmers who had been cultivating cotton, now switch over to chilly
Chilli sowing area was only 1.6-lakh last year
Teja, Devanuru Deluxe, Badigi and export varieties of chilli were sold for up to Rs17,000 per quintal last year
Guntur: Buoyed by good price they got last year, farmers are resorting to extended cultivation of chillies in the district this year.
According to officials, chilli sowing area increased to 2.5-lakh acres in Guntur district from 1.6-lakh acres during the last year due to increase of prices in the open market. Teja, Devanuru Deluxe, Badigi and export varieties of chilli were sold up to Rs17,000 per quintal last year.
Even common varieties of red chillies were sold at Rs12,000 per quintal to Rs 13,000 per quintal during the last season.
Because of getting good prices last year, many farmers who had been cultivating cotton, now switch over to chillies expecting that they will get a better price this year also.
Generally, cotton crop is sown in district in 4.6 lakh acres. This year, cotton sowing area reduced to 2.6-lakh acres. Chilli sowing area increased over 90,000 acres in Guntur district. Similarly, some of the cotton farmers switched over to other crops.
In order to cultivate chillies, the farmers would have to invest upto Rs1.5lakh per acre. In spite of it, the farmers prepared to cultivate chillies. The demand for red chilli is increasing in the domestic and international market.This is one of the reasons for increase of chilli sowing area in the district.
A farmer B Sambasiva Rao cultivating chilli crop said, "This year the farmers are expecting good yield. I am expecting 20 quintals yield per acre. The farmers are bringing their red chilli stock to Guntur Mirchi yard and selling for better price. Traders and exporters are also purchasing the red chilli stock from the farmers."
An official in the Agriculture Marketing Department on the condition of anonymity said, "Due to Covid-19, the exporters did not get export orders for chillies. If the exporters get export orders, the demand for red chillies will increase in the domestic market as well. As a result, farmers will get a better price."