Incessant rains wreak havoc in Kurnool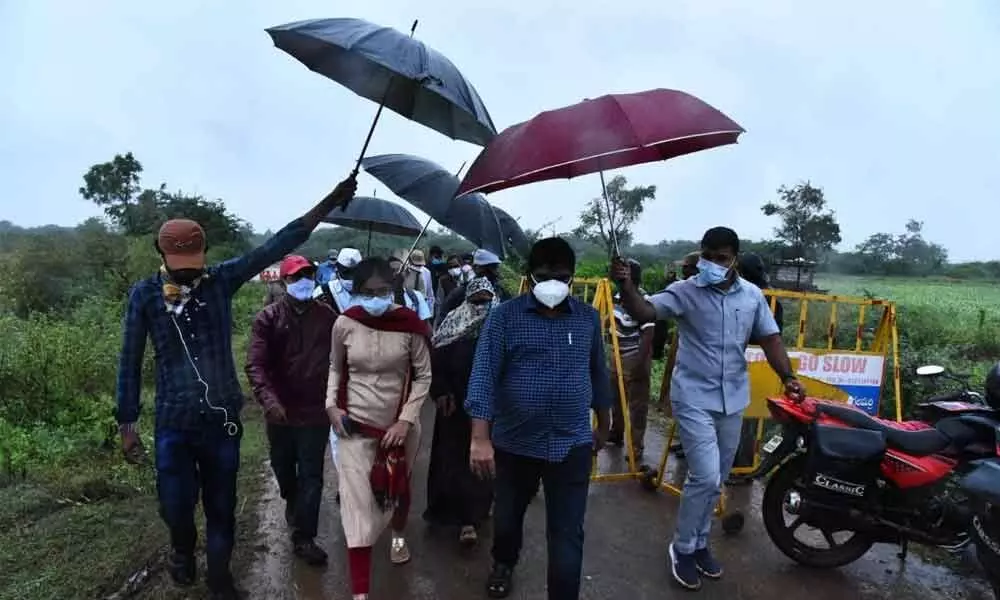 Highlights
Under the influence of severe cyclone Nivar, the district has been witnessing incessant rains since early Friday morning
Kurnool: Under the influence of severe cyclone Nivar, the district has been witnessing incessant rains since early Friday morning. The rains have wreaked havoc in Allagadda, Chagalamarri, Sirivella, Rudravaram, Gospadu, Kovelakuntla, Banaganapalle, Owk and Sanjamala mandals which share borders with Kadapa district. The incessant rains have submerged standing crops in thousands of acres in the district.
The paddy crop, which is at the harvesting stage, was totally submerged in the floodwaters. Besides turmeric, red gram, ground nut and cotton crops, banana plantations were also submerged in the floodwaters. Shiva Reddy, a farmer and resident of Vallampadu village in Sanjamala, said that he has cultivated paddy in an extent of 4 acres.
The yield was good and it was at the harvesting stage but due to the untimely and incessant rains, the entire paddy crop was damaged, he said. "I have invested around Rs 2 lakh for raising the crop. The amount was borrowed from moneylenders on high interest. Now I am at great loss," said Shiva Reddy. He urged the government to compensate for the loss.
Another farmer Gajjala Subba Reddy, a resident of Bijinavemula in Kovelakuntla mandal, has sowed Bengal gram in an extent of 6 acres. The Kundu river water has submerged his entire crop. Subba Reddy said he has invested Rs 4 lakh towards seeds, tilting and labour charges. With the submerging of crop, the entire investment has gone waste. He also appealed to the government to save him from the huge crop loss.
According to primary information, crops in 15,788 hectares were damaged due to the rains. Of the total extent,12,303 hectares were paddy, 150 hectares banana and the remaining extent was planted with groundnuts, turmeric, red gram and cotton.
District Collector G Veera Pandiyan has ordered the joint collectors Ramasunder Reddy and Syed Khaza Mohiuddin to personally visit and inspect the flood situations. Ramsunder Reddy was ordered to visit Nandyal revenue division while Khaza Mohiuddin to Atmakur.
Ramasunder Reddy accompanied with the Nanydal sub-collector Kalpana Kumari visited Allagadda, Chagalamarri, Sirivella, Rudravaram, Gospadu and other areas and reviewed the flood situation. They also spoke with the farmers and enquired about the damages. On the other hand, Syed Khaza Mohiuddin also visited Atmakur and reviewed the situation.
The collector accompanied by Superintendent of Police (SP) Dr Fakkeerappa Kaginelli also visited Nandyal and inspected the situation. He ordered the officials concerned to enumerate the crop damage. The officials are also ordered to ensure none of the residents should cross the rivulets, streams and lakes. He said the rivers Kundu and Vakkileru were flowing above danger mark.