Jagan should oppose CAA, NCR, NPR, demands Yechury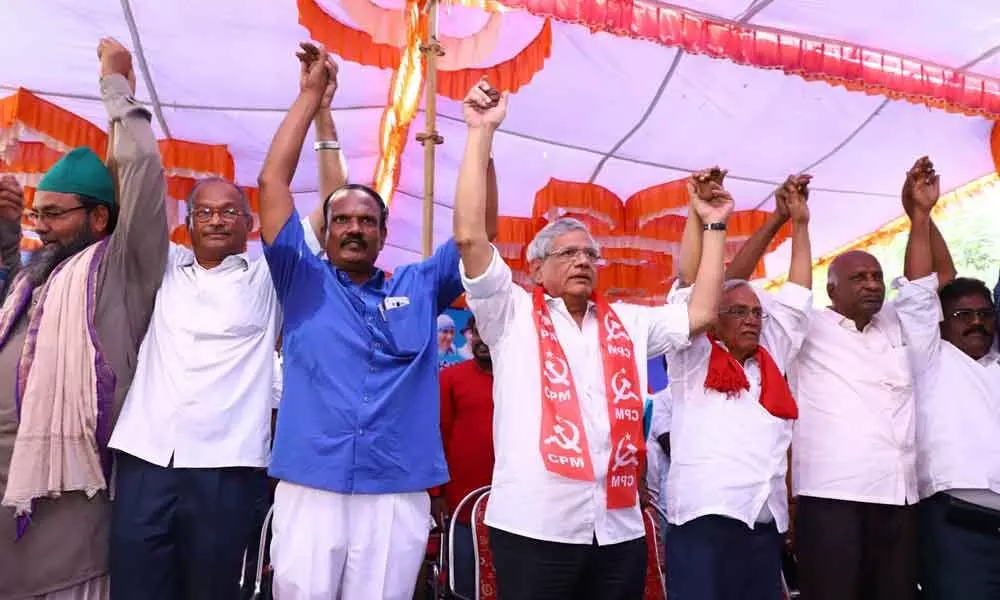 Highlights
Tirupati: Instead of dilly-dallying on CAA, NCR and NPR, Chief Minister Y S Jagan Mohan Reddy should come out openly against these black laws and see...
Tirupati: Instead of dilly-dallying on CAA, NCR and NPR, Chief Minister Y S Jagan Mohan Reddy should come out openly against these black laws and see that a resolution to this effect be adopted in the state Assembly, said CPM general secretary Sitaram Yechury.
Addressing a well-attended protest meeting against CAA at RDO office here on Sunday, the CPM leader not satisfied with Jagan Reddy writing to the Centre to revert to old NPR format, curtly said that it would not suffice and the Andhra Pradesh Chief Minister should follow Kerala where the Chief Minister ensured that the State Assembly passed a resolution against CAA and also directed the officials not to take up NPR works in the State as NPR would lead to NRC.
Strongly objecting to the BJP dubbing those opposing CAA as anti-nationals, as it was passed by Parliament, the CPM leader said that his party fought against many such laws passed in Parliament during emergency trampling the rights of the people as it was against the Constitution.
"Our struggle is to save the Constitution,'' he said criticising the BJP for trying to project the nationwide anti-CAA stir as a fight between Hindus and Muslims.
Reiterating that it is not Muslims alone but every one - Hindus, Sikhs, Christians, Aadivasis, Dalits, atheists and all others joined the fight against CAA, he vowed that the stir would continue till the Centre withdraws CAA, NPR and NRC.
The recent communal riots in North East Delhi was part of BJP sinister move to turn the anti-CAA stir as Muslim versus Hindu but failed with the people of all sectiosn coming together against rioters, he said accusing the BJP of trying to create the 1948 situation in the country leading to Mahatma Gandhi's murder that ultimately led to the then Home Minister banning RSS for creating a vicious environment in the nation.
Citing the pilot study 2010-12 revealing that 57 per cent of population has no documents to prove their citizenship, he said women and poor would be the worst-hit if NRC is implemented as it was revealed in Assam comprising only 3 per cent of country's population, where NRC is taken up resulting in 20 lakh who have no documents declared as non-citizens.
Yechury said a nationwide door-to-door `Save Nation – Save Constitution' campaign will be taken up to intensify the anti-CAA stir beginning from March 23 coinciding with Shaheed Bhagath Singh martyrdom day and sought the youth to involve themselves for saving Constitution.
At the beginning of his speech, Yechury became nostalgic and recalled his trips along with his family during his childhood every year to Tirumala which he said would have continued if he is in Andhra but stopped after he shifted to Delhi to become a rationalist. In the same breath, he said, "I have every respect on those having faith on God."
CPM State secretary P Madhu said it was the revolt of Muslim MLAs and leaders in YSRCP that forced CM Jagan to write to Centre on NPR and termed it a move only with an eye on the local body elections and to prevent loss of Muslim votes.
P Anjaiah, president of Loukika Rajyanga Parirakshna Vedika, a joint forum of political parties and social organisations, who presided over the meeting said that the members of the Vedika and its associates were taking part in a relay hunger strike for the last one month and would intensify the anti-CAA stir.
CPI State secretariat member P Haranadha Reddy, social activist Devi and others also spoke.