Kakinada: Sathi Bhaskar Reddy A farmer who can inspire the young generation of farmers
Highlights
Kakinada: Sathi Bhaskar Reddy is a well known philanthropist, farmer and ideal leader who can inspire the young generation of farmers. He won many...
Kakinada: Sathi Bhaskar Reddy is a well known philanthropist, farmer and ideal leader who can inspire the young generation of farmers. He won many awards and rewards for his philanthropic activities and generous nature. He was born in a family steeped in poverty and illiteracy at Ravulapalem in Kothapeta mandal of East Godavari district. At the tender age of ten, he was compelled to share the burden of family along with his father and hence was deprived of education.
Owing to poverty and little income, he migrated to Dulla village of Kadiyam Mandal age near Rajamahendravaram, where his destiny has been changed from a humble labourer to a dynamic and innovative farmer. By sheer hard work and sterling character, he gained the confidence of the co farmers who leased their lands to him for cultivation. Thus he rose from rags to riches and ceased to be a receiving hand instead became a giving, generous hand.
He abandoned the old, traditional practice of cultivating rice. Instead, he launched commercial crops like maize, plantain, chilli, turmeric, groundnut, ash gourd, ribbed gourd, tapioca and sesame. However his chief crop " Kanda " ( Elephant Yam) made him a model farmer and a model Millionaire too.
He earned the title "Kanda Reddy " owing to the large scale production of elephant yam in the entire state and its export to five other states in India.
Being a farmer, he established himself as a role model to others to emulate and adopt innovative practices. By using organic manures, he adopted micro irrigation to banana and other horticultural crops and achieved higher yields.
As a token of recognition for his achievement in the field of agriculture as well as distinctive social services, he received awards like " Model Farmer ", " Best Farmer", " Rythu Ratna". He also received Doctorate in Social Services from Academy of Universal Global Peace, New York in August 2018. Besides international recognition, he received "Life Time Achievers Award" from Lakshyam Educare and Events in August 2018.
As a token of recognition for social services he received "Mother Theresa Seva" Award, "Mahatma Gandhi" award and "Indira Priyadarsini" award from various social as well as cultural organisations in the State. Thus he received umpteen awards and accolades for his contribution to Agriculture, Rural upliftment and Societal Development.
As an ardent devotee of Sir Arthur Cotton, the modern Bhaghiradha, Reddy installed a huge nine-foot statue of Sir Arthur Cotton abutting his house and regularly performs birth and death anniversaries which fall on May 15 and July 24 respectively.
He has profound gratitude for Sir Arthur Cotton since he brought tears of joy to the grief-stricken people of Godavari districts. As a token of gratitude, Kanda Reddy performs "Palabhishekam and Abhishekam with new grains of paddy" in connection with the birthday of Sir Arthur Cotton every year. The whole village congregates to participate in this significant event. When the great grandson of Sir Arthur Cotton along with his spouse visited this tiny village, both of them stood in awe and reverence looking at the majestic, tall statute of Sir Arthur Cotton.
One may note that Kanda Reddy is not a mere farmer greedily amassing wealth. In fact, he spends more than half of his income to ameliorate the conditions of the poor. He generously donated large amounts to the dilapidated temples for renovation, donated three tractors to three Gram Panchayaths in Kadiyam Mandal under Swachh Bharath scheme, helped schools for providing amenities for school children including books and stationery for them. Besides helping physically challenged people with tricycles.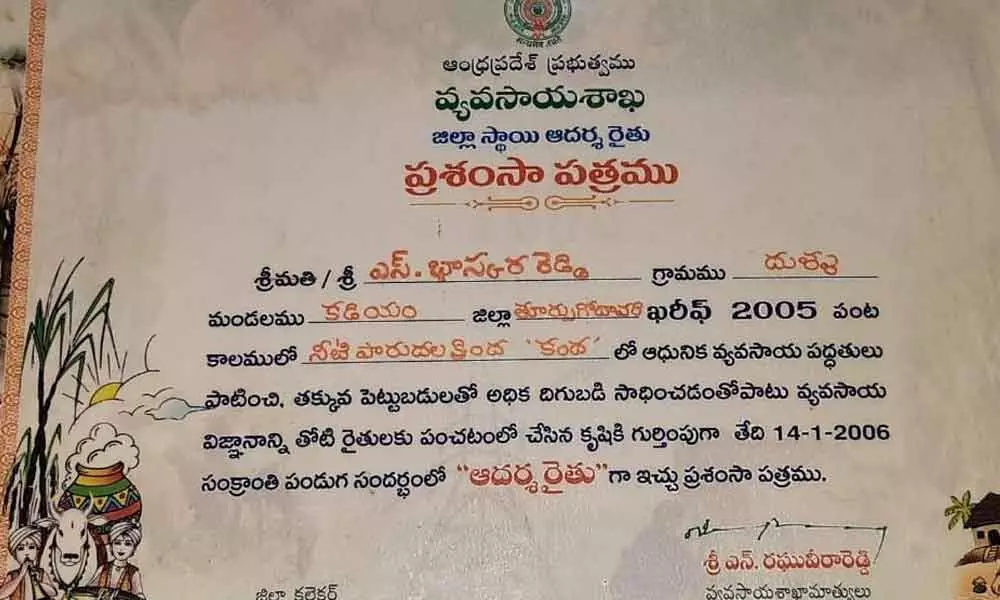 Examples are galore regarding his acts of generosity. In the words of Dr NKV Rao, a retired government college principal "He is a walking Angel of Compassion and a Good Samaritan".

In view of the plight and predicament of farmers who languish in debts and are vulnerable to suicides, Kanda Reddy's struggles and suffering ultimately achieving success should inspire them to emulate him and free themselves from their perpetual debts.
S Ganesh Kumar, executive secretary of Sir Arthur Cotton Social Service Foundation, Rajamahendravaram, fervently appeals to the State as well as Central Governments to unhesitatingly award Padma Sri to Kanda Reddy and all universities particularly Agricultural Universities in our Country should confer "Doctorate of Honoris Causa" upon him and thus bring honour to their institutions.
Interested in blogging for thehansindia.com? We will be happy to have you on board as a blogger.