Rallies, planting saplings mark World Environment Day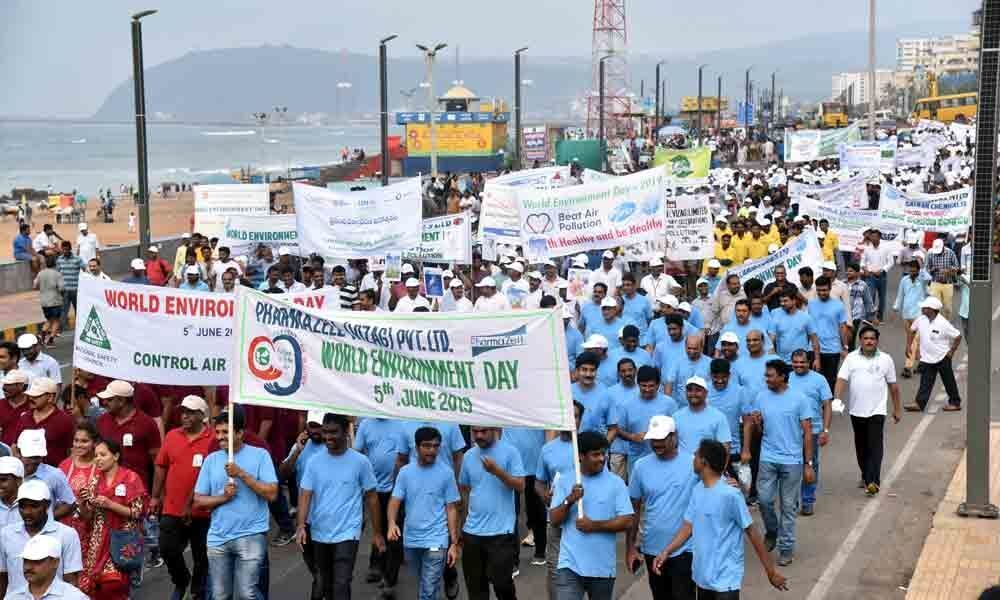 Highlights
1. Divisional Railway Manager Chetan Kumar Shrivastava calls for collective efforts of the stakeholders to improve the quality of air and opting for renewable energy sources.
2. The Railway Division plans to plant around 3.75 lakh saplings this year.
3. VPT plants 3,000 saplings worth Rs 25.50 lakh and agrees to maintain them for two years under the Green Visakha project
Visakhapatnam: Taking out rallies, planting trees and promoting the use of renewable energy to reduce carbon footprints, many organisations and institutions hosted events to mark the World Environment Day celebrated in the City of Destiny on Wednesday.

Emphasising its commitment towards a slew of green initiatives, the Waltair Division of East Coast Railway took out a rally and massive plantation drive at railway colonies. Posters and banners were displayed to convey the green message along with skits, street-plays and drawing contest. Divisional Railway Manager Chetan Kumar Shrivastava called for collective efforts of the stakeholders to improve the quality of air, opting for renewable energy sources.
From1.44 lakh samplings planted in various colonies in last year, the division plans to plant around 3.75 lakh saplings this year. ADRM Akshay Saxena, among others took part in the green drive.
Principal District Judge of District Legal Service Authority B S Bhanumathi on Wednesday planted saplings in the premises of District Court. She was accompanied by Metropolitan sessions judge A V Parthasarathy, secretary of DLSA S Damodar and president of Forum for Legal Professionals Kuppiili Muralidhar among others. They joined hands to spread a green message by planting saplings. The advocates who took part in the initiative emphasised the need to promote clean and safe environment by increasing the green cover.
At Visakhapatnam Steel Plant, the month-long events organised to mark the day concluded on the day. CMD RINL P K Rath elaborated the commitment of VSP towards conservation of environment. Senior environmental engineer P Ravindranath spoke about green initiatives that contribute to keeping the environment healthy.
Visakhapatnam Port Trust organised a plantation programme and planted 3,000 saplings worth Rs 25.50 lakh agreeing to maintain them for two years under the Green Visakha project. Deputy Chairman of VPT P L Haranadh, employees from various wings took part in the drive.
Personnel from a number of units of the Eastern Naval Command joined the celebrations by recommending the use of electric vehicles and implementing eco-friendly measures. On the occasion, the naval staff of several units of the ENC showed commitment towards environmental conservation. At Visakhapatnam naval dockyard, stage plays, contests were held for school children. A yoga session followed by trekking was also organised. The naval staff also observed 'no vehicle day'. Nature, a tribal resource centre, celebrated the day by organising workshop involving NGOs and planting saplings.
Andhra University Vice-Chancellor G Nageswara Rao on Wednesday said hat environmental protection holds the key at a programme organised by the Department of Psychology, AU. He blamed the rapid urbanisation to the growing pollution with the city becoming a concrete jungle.
Balavikas students and members of Sri Sathya Sai Seva Samithi, Ukkunagaram planted saplings at sector-one, in steel plant township.