Road Transport Authority to conduct special drive on school buses in Tirupati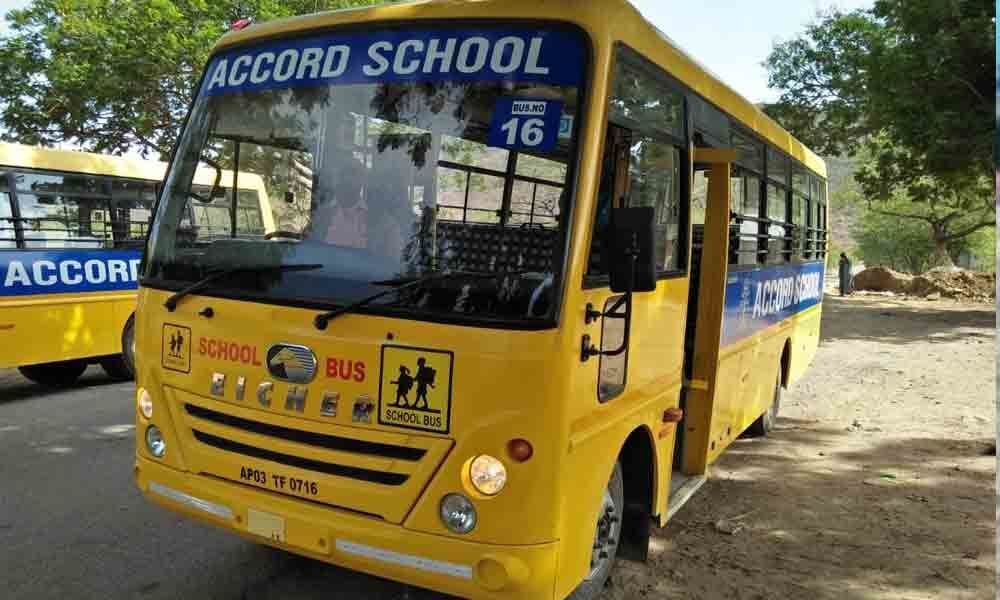 Highlights
1. Still more than 50% of institutions have to renew fitness certificates.

2. No vehicle will be allowed to ply on roads without obtaining FC, says in-charge RTO.

3. Buses should fulfil all requirements before bringing it for the inspections: Suresh Naidu
Tirupati: With just two days left for reopening of schools, the Road Transport Authority (RTA) officials were busy with inspecting school buses and issuing Fitness Certificates (FCs).

Still, out of 610 buses on rolls in Tirupati region, only 216 have renewed their FCs and RTA authorities have rejected FCs for 55 buses as they did not fulfil the requirements. However, the rules are stringent and RTA officials were determined to enforce them. They have been planning to launch special drives along with the Police department, once schools are reopened as no bus should go on to the roads without getting the FC renewed.
Knowing the importance of renewing FC, still, the schools could not book their slot online well in advance to obtain it. For this the reasons might be that basically they did not have proper planning and send all the vehicles at once to the mechanic shed for addressing the requirements and it takes much time to complete the works.
When reopening date is fast approaching, most of them will be in a hurry to get the FC as without that RTA will seize the vehicles along with levying huge penalties and the goodwill of the schools will be eroded.
Speaking to The Hans India, the in-charge RTO B Suresh Naidu has said that they are ready to work in holidays also to renew fitness certificates. But, they have to book slots online to present their vehicles for inspection and utilise the opportunity to avoid the consequences.
The rules insist every vehicle to be fitted with GPS and speed governors limiting the maximum speed to 60 kmph. Not only that, GPS and speed governors must be in working condition. Also, complete details of drivers and vehicle attendants are to be uploaded online. Drivers should have minimum five-year experience and possess heavy vehicle driving
licence.
The vehicles should maintain proper lighting system and indicators, good breaking condition, tiers, emergency exit should be working properly, and they should exhibit logo of school on front and back of the vehicles. School name and phone numbers are to be properly displayed. There are several other conditions like providing fire extinguishers, bag racks under the seats, handrails along the steps and doors should have safe locking system.
All these along with some other parameters will be inspected before renewing fitness certificate, Suresh Naidu has said. He made it clear that no school bus will be allowed to ply on the road without having fitness certificate and they have sent the circulars in this regard to all educational institutions well in advance.