Shun use of plastic covers, go for greenery: SBI DGM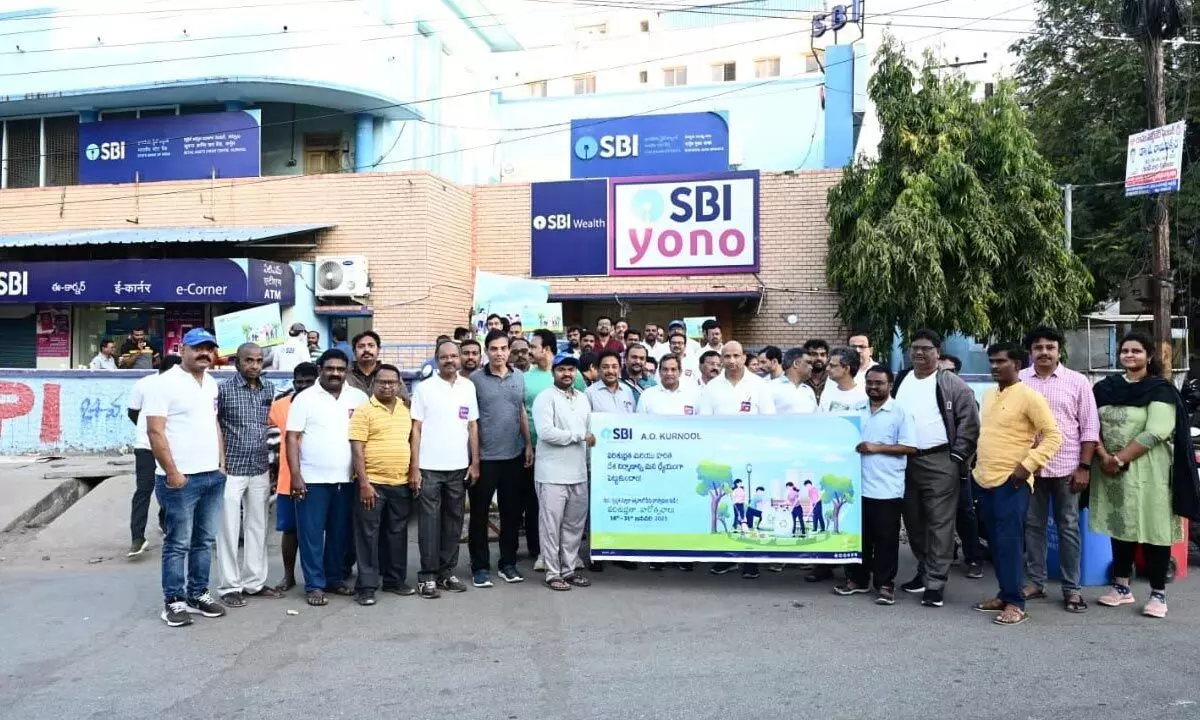 Highlights
The SBI employees conduct an awareness rally on the disadvantages of plastic usage among the people
DGM Lekha Menon says the rally is aimed to educate people about the disastrous disadvantages of plastic usage and using of eco-friendly jute and cloth bags for purchasing groceries and other household materials
Kurnool: State Bank of India (SBI) Deputy General Manager (DGM) Lekha Menon said that an awareness rally on the disadvantages of plastic usage was conducted to create awareness among the people over importance of enhancing greenery.
Speaking to media persons here on Wednesday, the DGM said that following the instructions of Government of India, Ministry of Finance and department of financial services, the awareness rally was conducted under "Swachata Pakhwada-2023" programme. It is a fortnight programme (January 16 to January 31) and during this period the awareness rally would be conducted by various branches.
She said that the rally was aimed to educate people about the disastrous disadvantages of plastic usage. The DGM asked people to strictly stop usage of plastic covers while purchasing groceries and other household materials.
Instead of using plastic covers, she appealed to people to encourage using jute and cloth made covers and bags. The jute and cloth made covers and bags were eco-friendly and there was no harm to the environment. It is in our hands to save the earth so that we can give a healthy and better future to the next generation.
Assistant General Manager (AGM) Srinivas called upon the people to keep the surroundings neat and clean. He said people should not throw the wastage on the roads instead they should dump it in the dustbins.
If the surroundings are kept neat and clean then the people would be less prone to diseases and building a healthy society would be possible, said Srinivas.
AGM KSR Murthy said that during pandemic time, swachata was very well maintained. In due course of time it was totally forgotten.
He urged the people to maintain swachata as was maintained during the pandemic period.
He also said that there is dire need to enhance greenery as it gives a new lease of life and also enhances the life span. If we could plant saplings on a larger scale then greenery would automatically enhance, stated KSR Murthy.
Deputy general secretary TVS Ramana, Chief Managers CVR Prasad, GKNK Chowdhary, Administrative Officer J Suresh and others also appealed to the people to keep their houses, offices and surroundings neat and clean.
The awareness rally was taken up to five road junctions from SBI main branch.