Vijayawada: ULBs to get 516 eco-friendly e-autos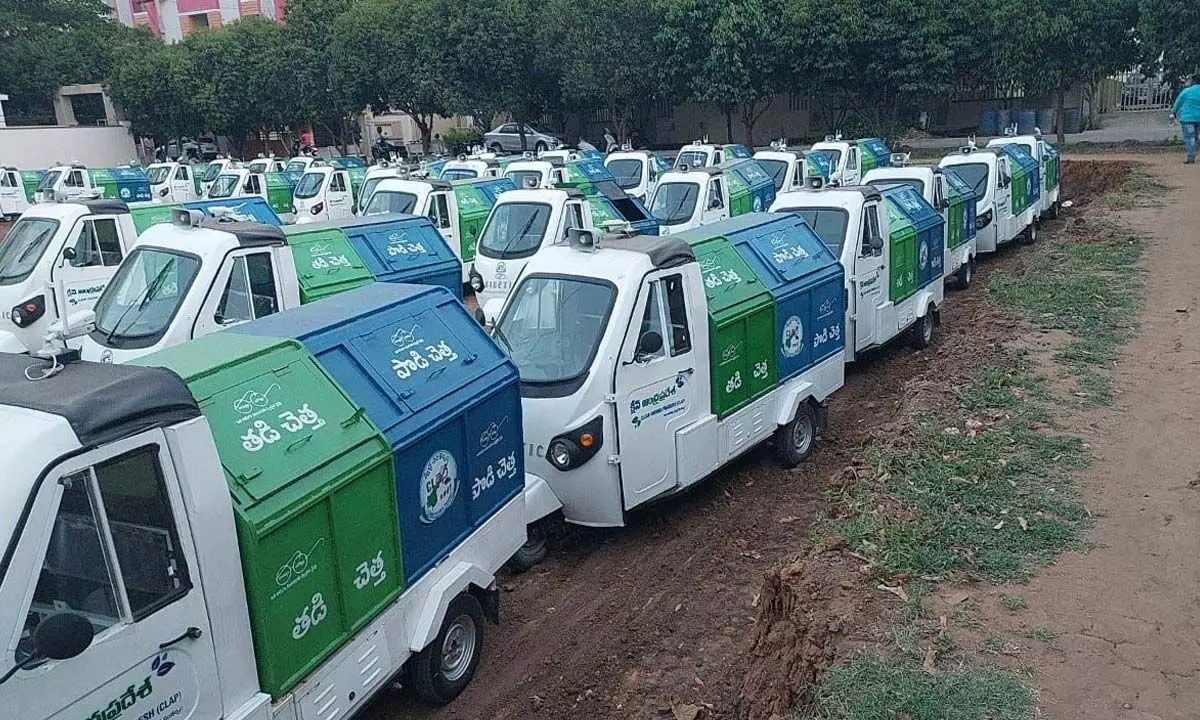 Highlights
CM to flag off the vehicles at his camp office today
They will be utilised by 79 Urban Local Bodies
The launching of e-autos for collecting segregated garbage is intended to promote pollution-free and eco-friendly environment
VIJAYAWADA: As part of Clean Andhra Pradesh Mission, Chief Minister YS Jagan Mohan Reddy will launch 516 e-autos at his camp office in Tadepalli on June 8.
The main objective behind the launch of e-autos in 79 Urban Local Bodies (ULBs) is not only to ensure pollution-free environment but also contribute to women empowerment. The State government has trained women in driving e-autos to provide them economic support.
The State government has proposed to supply e-autos in Grade–II and Below Grade ULBs for segregated waste collection from households in 79 ULBs. According to information, the ULBs which cannot meet operation and maintenance expenses of diesel/CNG autos from the user charges and have weak financial position are proposed to deploy e-autos.
Tenders have been floated and work orders were issued for procurement of e-autos along with annual maintenance contract (AMC) for 5 years.
The implementation of e-autos for collecting segregated garbage is intended to promote pollution-free and eco-friendly environment. E-autos, also known as electric autos or electric vehicles (EVs), are vehicles that are powered by one or more electric motors and use electricity stored in batteries as their primary source of energy.
Unlike conventional vehicles that rely on internal combustion engines and fossil fuels, e-autos are designed to reduce or eliminate emissions, making them more environmentally friendly. E-autos are equipped with rechargeable batteries that store electricity. These batteries are typically lithium-ion and have improved significantly in terms of energy density, allowing for longer driving ranges.
M/s Kinetic Green Energy & Power Solutions Pvt Ltd has supplied 516 vehicles. Each vehicle has the capacity to carry 500 kg waste. Average vehicle cost is about Rs 4.10 lakh.
Average mileage of the vehicle is 85 km and will require 4 hours for full charging. United Nations Industrial Development Organization (UNIDO) has funded procurement of 220 e-autos for the Guntur Municipal Corporation and Swachh Andhra Corporation (SAC) has funded procurement of vehicles for the remaining ULBs.