Water level falls at Prakasam barrage to below 6 ft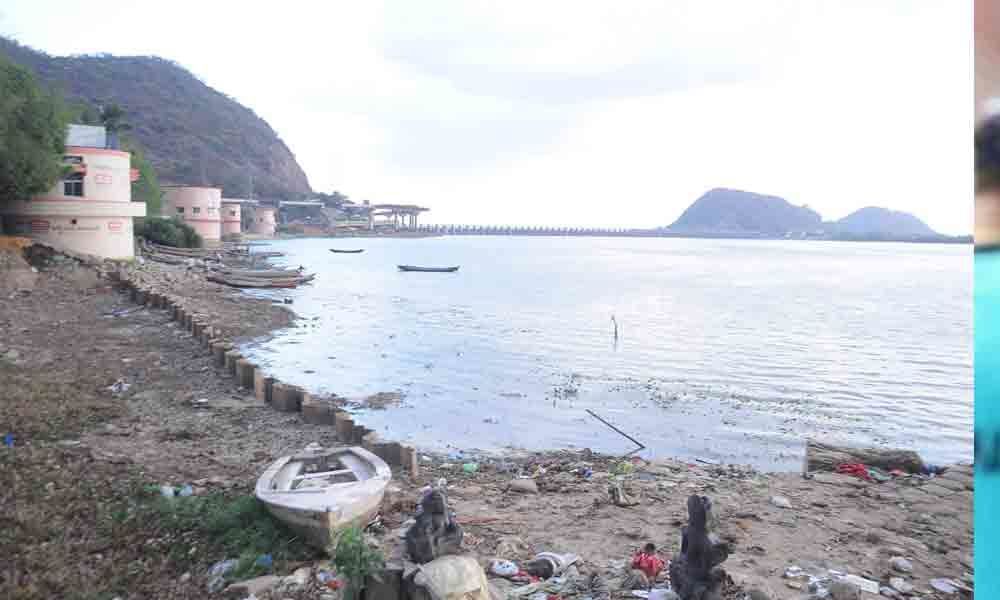 Highlights
Despite fall in water level, the Vijayawada Municipal Corporation officials plan to supply water to denizens by drawing water from intake wells arranged in Krishna river

The officials of irrigation department also plan to get water from Nagarjunasagar project
Vijayawada: For the first time in recent years, water levels depleted to below six feet in Prakasam barrage in Krishna river triggering suspicion that Vijayawada Municipal Corporation may face difficulties in supplying drinking water to the denizens. The VMC supplies 216 million litres of drinking water per day (MLD) to12 lakh population.

The irrigation department maintains 12 feet of water level at the Prakasam barrage reservoir. Due to evaporation in the summer and decline of inflows from Nagarjuna Sagar, the water level fell below six feet at Prakasam barrage reservoir in April.
There is a possibility, the water levels may come down further in the coming days if water is not released from Nagarjuna Sagar. So far, only one TMC of water is available in Prakasam barrage reservoir against its capacity of 3 TMC water. But, the VMC is assuring the people that there will be no problem in supply of drinking water to the denizens if the water levels depleted further.
Superintending Engineer, VMC K S Rama Murthy said the civic body can supply drinking water as usual even the water levels fall to two feet in Prakasam barrage. He said the intake wells arranged in the Krishna river are capable of drawing water from the river bed.
He said the VMC is supplying drinking water through 67 over head tanks located in different parts of the city. He said the civic body will take all measures to ensure supply of purified and chlorinated water to the denizens in spite of falling water levels at the Prakasam barrage.
He said the VMC staff checks quality of water at all water reservoirs and send reports every day to the officials concerned. Keeping in view of summer, the VMC has arranged 48 Chalivendrams in three circles of the city.
On the other hand, the irrigation department is trying to get release of 3 TMC water from Nagarjuna Sagar to meet the drinking water needs of Krishna and Guntur districts.