Delhi limping back to normalcy, but what next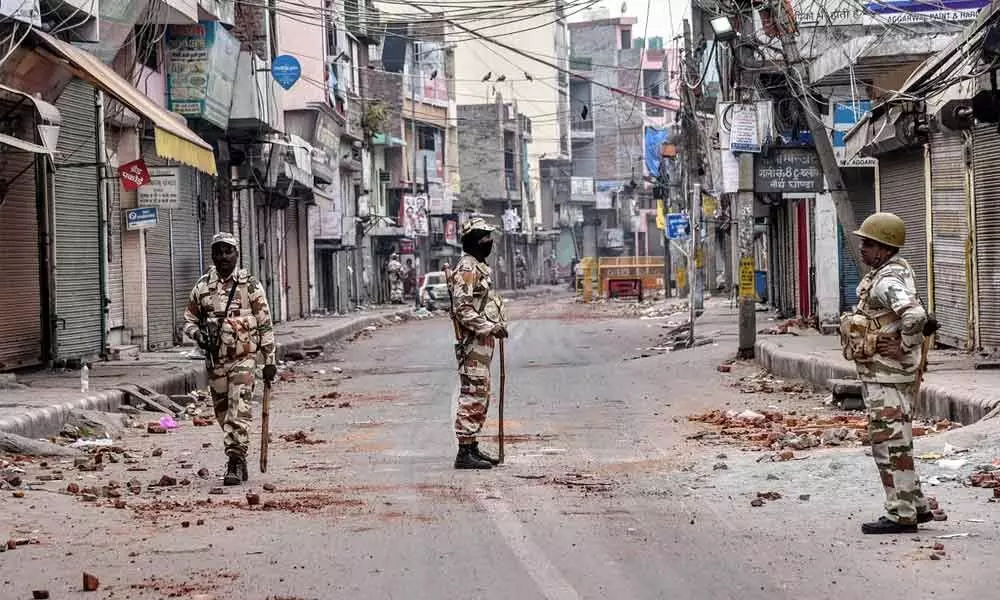 Highlights
Even as hundreds of men and women, some in 'burqas' and many accompanied by children, occupied a nearly one km stretch of a six-lane highway passing...
Even as hundreds of men and women, some in 'burqas' and many accompanied by children, occupied a nearly one km stretch of a six-lane highway passing through Shaheen Bagh to connect Delhi and neighbouring Noida in Uttar Pradesh to protest against the new citizenship law and a proposed citizens' register that have brought hundreds of thousands of people onto the streets across India, an eerie silence prevailed North East Delhi which has been metamorphosed into nothing less than a ghost town.
Yes, the riot-torn North East Delhi is limping back to normalcy. Though people of the country might forget the bloodcurdling days of arson and cold-blooded murders in sometime, for hundreds of victims and kin of those who were killed in the communal riots, it will take years to come into terms with the reality.
More than 42 people lost their lives in the savage bloodbath that rocked the country's most protected city, thus making it the highest Hindu-Muslim riot in the national capital's post partition history. And when communal paroxysms die down, and when normalcy returns to the bloodstained streets, analysts, authorities and those who are sitting high in the corridors of power should think.
And find out the root cause of the violence that left Delhi and the country devastated. Put it on mass dissatisfaction, insurgency or terrorism, but arguments stop when it comes to root cause. Critics can point fingers at a Minister or a lofty leader of the ruling party, social influencers or hatemongers and can term it instigation or sedition or whatever.
And if we stop the blame game and look back to the series of events that led to mindless violence in the national capital, we are sure to stumble upon the poison that is slowing spreading across the country - CAA-NPR-NRC – that comes from the country's highest seat of justice.
Yes, the root cause of all these arsons, hatred, stone pelting, murders and unmistakable feeling of fear come from the most sacred office – the Supreme Court of India. It may be recalled that a bench of Justices Ranjan Gogoi and Rohinton Nariman passed that landmark judgement to begin the National Register of Citizens (NRC) process in Assam, under its direct supervision.
The issue of 'infiltrators' is nothing new, it was debated and discussed vehemently as early as 1980s. The then Prime Minister Rajiv Gandhi managed to ease the situation in 1985 by promising an NRC scrutiny to identify illegal migrants from Bangladesh to Assam and delete their names from the voters' list.
Millions of Hindus from East Pakistan migrated to Assam to escape persecution since 1947 and yes, they deserved India's protection. And now with fresh legislation, the NRC process began, supervised by a Supreme Court bench, with an unusual ardour.
And when it insisted on the NRC chief not to speak to the media, and to construct massive detention centres, it apparently led to fear among people. Suddenly things took and unforeseen turn.
Some sections of people were just angry with the legislation, while some others – the most powerful - found an opportunity. Yes, it all began with CAA. What happened in Delhi was just one riot, but the beginning of a very long, dark phase for India.