The queen of Indian hip hop!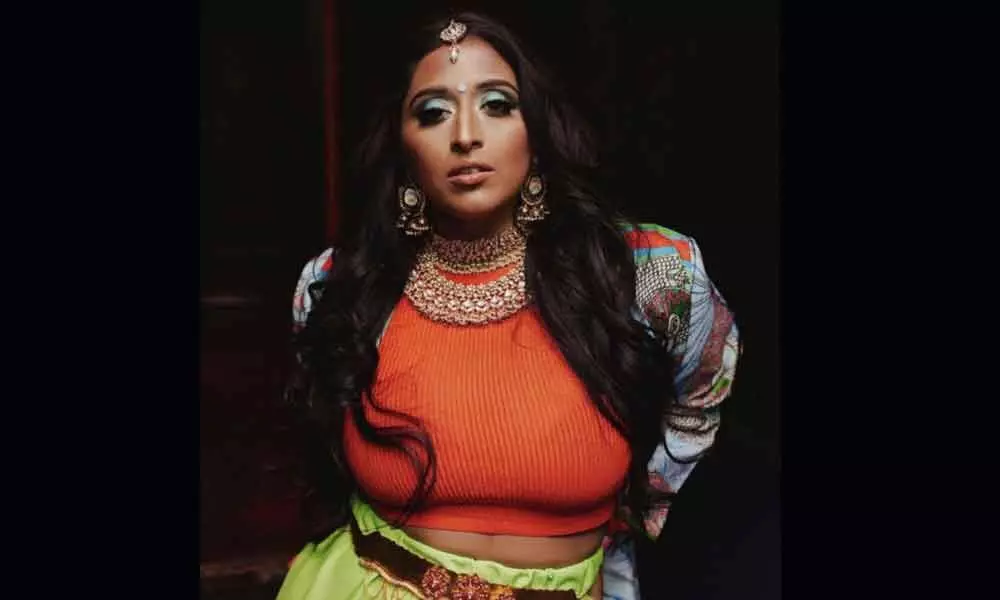 Highlights
Rapper, singer, songwriter, and dancer Svetha Yellapragada Rao popularly known as Raja Kumari says there must be more inclusion of women artistes in music industry…
Indian-American rapper, singer, songwriter, and dancer Svetha Yellapragada Rao popularly known as Raja Kumari has her roots in Hyderabad. She fuses classical Indian music with hip-hop music in rap songs she has already become an important voice of the country's growing hip-hop community. Raja Kumari recently performed for her 'Karma Kills' tour after the huge success of her North American tour across 11 cities plus a few other cities in India. She recently performed in Hyderabad.

She is best known for her collaborations with Gwen Stefani, Tricky Stewart, Fifth Harmony, Timbaland and AR Rahman, and her song written for Australian rapper Iggy Azalea even got a Grammy nomination. In 2018 worked alongside Shah Rukh Khan for 'Husna Parcham' in 'Zero' and Salman Khan for 'Allah Duhai' in 'Race 3' apart from doing a cameo in Zoya Akhtar's 'Gully Boy' this year.
She is currently shooting as one of the mentor/judges on India's first prime time show for rappers titled 'MTV Hustle' alongside Raftaar and Nucleya and is in Mumbai as of now.
Raja also performed for the F1 Singapore Grand Pix on 20th - 22 September alongside artists like Swedish House Mafia, Muse, Gwen Stefani, Hans Zimmer, Red Hot Chilli Peppers amongst others.
She also has written the lyrics of the English song 'Pepeta' sung by Nora Fatehi and Ray Vanny.
Excerpts from the interview:
How was it performing in Hyderabad?
It's always fun to perform in Hyderabad as it's my hometown and also the crowd is very loving.
You are one of the judges on MTV Hustle, so on what criteria do you judge and how is the experience?
On 'Hustle', I am looking for an overall superstar, I pay attention to melody and delivery, breath control and just overall performance. I am just looking for someone who has that 'IT' factor.
What are your fondest musical memories?
Fondest musical memory was touring with my Carnatic orchestra when I was a kid and being able to experience Indian instruments like ghatam, mridangam, flutes, violins and veenas. It just gave me an appreciation for Indian music. I'd never have got if I didn't come to India.
What is your creative process?
My creative process is 'Melody is king'. I always go for melody first because it doesn't matter what language the song is in, they're going to sing it all over the world when you translate it into different languages. Lyrics always come to me after, so for me, I write the melody first.
What are the main inspirations for the lyrics you write?
Sometimes it's from the storytelling approach, sometimes I like to get it out of my own head and my own life and trying to help mould the story so others can relate to.
What are three things you look for when you see an artiste play live?
When I watch an artiste, play live I definitely first care about what they sound like. I love to experience real voices in real-time. I love people that have drama for costume and performance, now in this modern-day and age I like to look at people's visual component.
If you didn't become a musician what would you be doing right now?
I would still be doing something in art, but I don't believe in Plan B, so I'll be doing exactly what I am supposed to be doing.
Which is the best song you have ever released and why?
'Shook', there's a moment of triumph for me and I pushed myself to do something different and I think every time I perform it, it's a challenge and that's exciting for me.
If you could change anything about the industry, what would it be?
More inclusion of women. We need more women in the industry, more personalities, more perspective's and more stories told from the way we see the world, so we can make it a better place.
What are your musical inspirations?
I am inspired by what I see in life, luckily, I am travelling a lot. My musical inspirations are just going through top 100 songs in the world, listening country by country, listening to what people are doing and seeing how I can influence the trends in the world.
What is your dream collaboration?
I really love Hindi and Punjabi music; I'd really love to work with Sidhu Moose Wala or maybe someone like Guru Randhawa.
Your future projects?
I am getting a new stage show ready for the festival season in India, which I am super excited about. I am bringing together an audio-visual production that I haven't seen here yet, so I am pushing myself again. I have new music releasing at the top of the year and much more.
Subscribed Failed...
Subscribed Successfully...