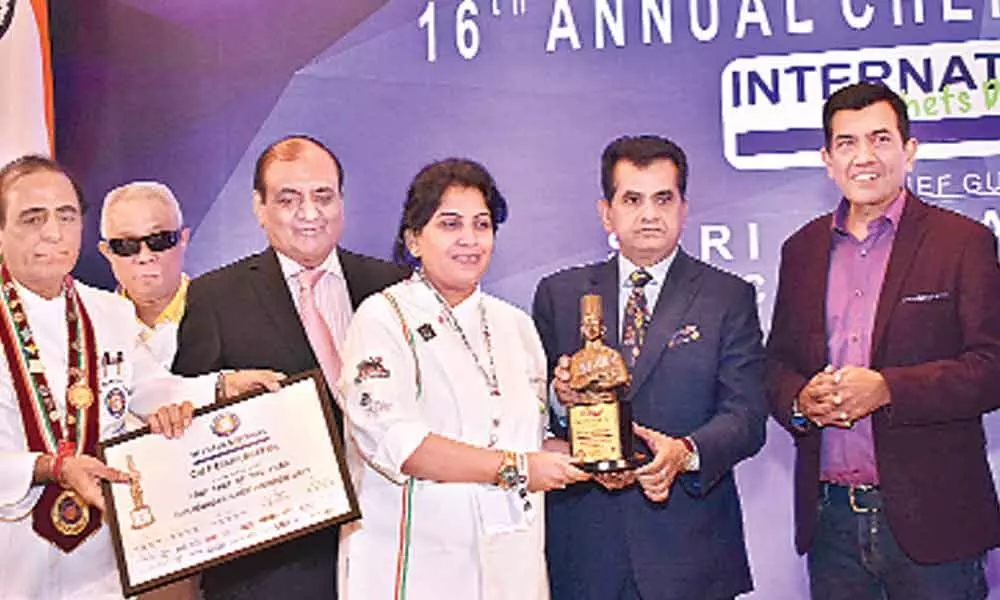 Highlights
Delhi-based woman chef, Rekha Sharma, is soaring high after receiving the title 'Lady Chef of the Year' at the recently held Indian Culinary Forum Chef Award 2019
Rekha Sharma, who is very passionate about cooking, transformed her passion into her profession. Having served in the food industry for nearly 18 years, she continues to give her best.
The recently crowned 'Lady Chef of the Year' awardee Rekha shares her love towards cooking and a lot more in a freewheeling chat.
Excerpts from an interview:
Tell us about yourself
I have over 18 years of enriched experience in the hospitality industry and academics. With almost 8 years in hotel kitchen operations and 11 years in academics, I rediscovered my passion for the science of baking and the art of designing.
I also specialize in Chinese Cuisine as it stresses on the importance of using fresh ingredients in every dish which can enhance the gastronomic values. I have published a research paper on Skill Development through training and have co-authored a research paper on culinary skills as well.
I worked with some of the prestigious hotels and colleges in India, namely Hyatt Regency, ITC Marriot Welcome, Holiday Inn, Jaypee Palace, SRM University, IILM Gurgaon and UEI Global. I currently am an Assistant Professor at Vedatya Institute.
Where does the passion towards cooking stem from?
I've been cooking since I was 10. I used to cook simple dishes for my family members and was very passionate about cooking.
My parents were working, so whenever we were hungry, I cooked for myself and for my siblings. Since, I loved to cook for my family, I realised that it might have been my passion all along and I should pursue it professionally.
How long have you been in the industry?
I started my career as a chef in 2002, and now it has been nearly 18 years.
What is the most challenging thing about your career?
Cooking requires lots of planning, skills, passion and knowledge. If you are good in that you can overcome any kind of challenge. One should look for challenges of new things that make learning (improvement) inevitable.
How do you impress your customers with your food?
By being creative, innovative and most importantly, sustainable. I incorporate farm to fork concept and also use seasonal and fresh produce in my cooking. I also avoid trans-fat to maintain the healthiness index of the food.
What is the mantra behind your success?
The success, which I am enjoying today, wasn't an easy one. It had intensive hard work, dedication and ability to focus. I always give my hundred percent to everything, I do.
A tree depicts the story of a sapling which has seen extreme conditions and challenges and is ready to bear the fruit.
How do you balance personal and professional life?
I don't bring my work home. My family surroundings and my work front are two entirely different things. And I try to do justice to both.
Taking care of yourself is key because when you don't sleep, eat crap, don't exercise, and are living off adrenaline for too long, your performance suffers."
Any words of wisdom for budding chefs?
They should have a passion for cooking, dedication and believe in hard work. Thirst to learn more and follow the latest trends in culinary arts. Remember struggle is a part of life.
Subscribed Failed...
Subscribed Successfully...