From royal kitchens of Thanjavur…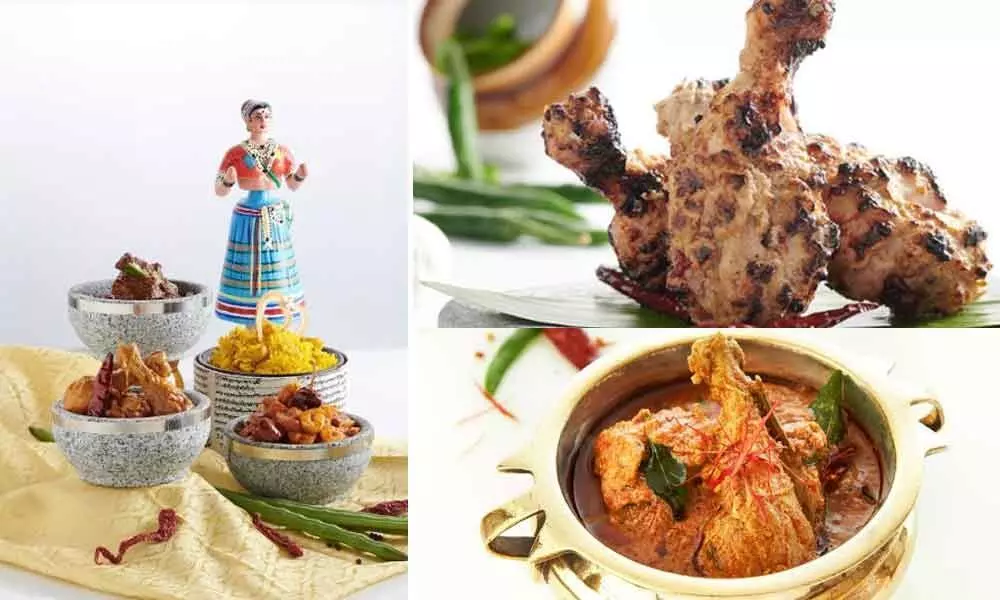 Highlights
At one point in time, we all must have wondered what royals ate? What were the dishes they gorged upon? Now it is time to stop pondering and tasting...
At one point in time, we all must have wondered what royals ate? What were the dishes they gorged upon? Now it is time to stop pondering and tasting the exquisite cuisine from the royal kitchen.

As part of ITC's 'Kitchens of India: Royal Repast', Dakshin is conducting a food promotion 'Thanjavur Royal Kitchen'. Spread over 10 days the food fest offers an array of exclusive, heirloom recipes from the royal kitchen of the palace of Thanjavur.
Prince Abaji Rajah Bhonsle, the younger brother of the present king Babaji Rajah Bhonsle and his wife Dhanashree Raje have worked closely with Chef Praveen Anand, Executive Chef - Southern Cuisine, ITC Hotels to showcase their rich and varied cuisine.
"I have been pursuing Babaji Rajah Bhonsle for 17 years to share the recipes from the royal kitchen and later he asked me to get in touch with Abaji in this regard and it took me two more years to finally make this happen," Chef Praveen shares.
The Maratha kingdom in Thanjavur under the rule of Rajah Serfoji is believed to be the golden period of the Tanjore Marathas. Rajah Serfoji, an erudite scholar and an eye surgeon by training recorded the achievements of the Maratha rule which is housed in the famous 'Saraswathi Mahal' library in Thanjavur. One of the treasures is the ancient heirloom recipes of the palace of those days brought out as a compendium in 'Modi scripts' under the name 'Sarabendra Pakashastra'.
"The kingdom in Thanjavur documented the recipes and food cultures. They recorded more than 1,000 recipes and most of them we do not find in the present times. We dwelled into their texts to understand and try to revive the recipes and food traditions. We noticed that the recipes in the royal kitchen were very distinct and they mostly used freshly pounded spices and used a lot of chillies. And that makes the food rustic in nature. Their cuisine is different from the south Indian cuisine," Chef Praveen adds.
The Royal kitchens were segmented as Maratha (non-vegetarian), Brahminical (vegetarian), Angreji (European), Sherbet Khana (sherbets), Obdhar Khana (water) & Thatti Mahal Khana (milk).
"At that time the palace had separate kitchens for various recipe preparations. Like the Maratha kitchen was for non-vegetarian dishes, Brahminical kitchen for vegetarian and European dishes were prepared in an English kitchen," Abaji Rajah Bhonsle shares.
When asked what is his favourite dishes from the kitchen Abaji says, "Rustom Gola', they are the spiced meatballs containing nuts and 'Kesari Maas'.
The process of cooking Kesari Maas is tedious and it is prepared in such a way that each strand looks like Kesar (saffron)."
Dhanashree Raje says that Laat bhakri and Khendatta are her favourite dishes. "Laat bhakri is rice chapatis and Khendatta is a mixed curry of 10 vegetables with five kinds of pulses.
These dishes are prepared for the royal family during the Pongal festival, using freshly harvested rice."
Dhanashree is also working on a book which will showcase the recipes from the royal kitchen. "The royal recipe book nuanced details of food cultures and dishes.
The measurement of ingredients was in tolas…I am writing a book upon this... I am choosing dishes from the main book and readying it… half work is done so far…and hoping to finish the book soon."
The fest has dishes like Mashyache Kebab (poppy-& green chilli-smeared fish fillets, pan-fried in ghee), Komdiche Kebab (chicken kebab made with coriander, pepper & ginger), Dhanedhar Shunti (parcels of pounded lamb meat and spices), Kesari Maas (mutton mince with saffron and select spices, cooked dry), Komda Pulao (Tanjore special chicken pulao), Kelyachi Bhaji (raw banana tossed with 'karivadagam' & 'hurit'), Khendatta (mixed curry of vegetables with five kind of pulses), Porathi Kozhambu (aromatic curry of brinjal with coconut & chillies), Shakar Biranji (sweetened pulao with almonds, coconut and sultanas), and many more.
The food promotion is on till October 20, for lunch and dinner. The veg thali is priced at Rs 2000 + taxes and the non-veg thali is priced at Rs 2200 + taxes.
Subscribed Failed...
Subscribed Successfully...