Trolls don't bother the teen writer Souhardya De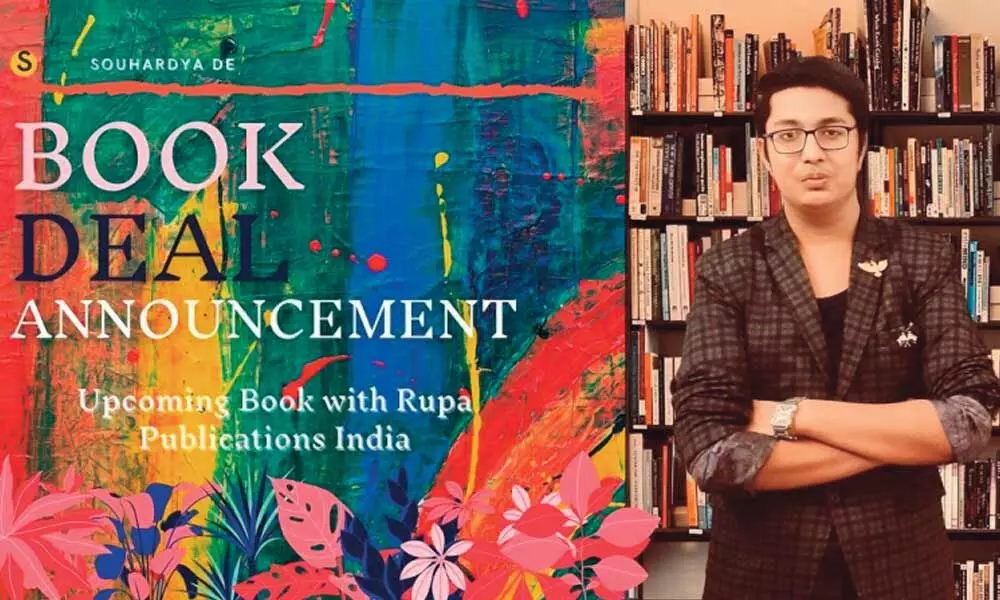 Highlights
Souhardya De is a 16-year-old author and columnist who at the age of 13 had a book published in his name
Souhardya De is a 16-year-old author and columnist who at the age of 13 had a book published in his name. He was chosen the youngest ever Fellow of the prestigious Royal Asiatic Society of Great Britain and Ireland in its 200 years of history; he has made it to the India Book of Records 2019 for his second work 'Chronicles of Suryavansh' which coincidentally became the first drama book written on the ancestors of Rama, the protagonist of the Indian epic the Ramayana. De was presented with the Nabyashrote (UGC recognised journal) Sahitya Samman in 2019.

His next upcoming book is with Rupa Publications India and is on a less widely documented battle from the Mughal history. De shares his journey with The Hans India.
When students don't make up their mind on what they want to do in life, you came out with your first book at the age of 13. Tell about your journey and how you have developed interest in writing?

Honestly, ever since my childhood, I have always had a great inclination for the fictional or what you might call the 'imaginary' world, which gradually developed with the introduction of various story compositions in our curriculum, during the primary stages of school. But yes, the passion to write on art and culture, history, heritage and mythology, was primarily ignited in me when I was in my early teens flipping through the pages of books that retell Indian mythological and historical stories and of course, the cinematic medium that portrays these in the visualised form.
Does it not hamper your academic studies as writing involves spending copious amounts of time and energy?

Not actually! In fact, whenever I have been to an interview, people have kept on asking me this question. Time management is an essential skill that one must learn while growing up. Although it is very true that one finds it difficult to focus on two different things at once, I don't think it is impossible. If you aspire to be a writer (whatever that be, an author, a scriptwriter or even a film director), subjects like history and geography are bound to interest you. I personally feel that a writer achieves perfection when he is able to detail to a reader, every intricate thing the way it is.
If I talk about time, I love studying in the mornings and evenings and write at night, when the atmosphere is all silent and there's absolutely no one to interrupt the happenings of my world!
At 13 you wrote your first book. Your next work is on Mughal history. Writing historical fiction involves extensive research. Could you elaborate on the amount of research that goes into writing historical research?

Writing historical fiction requires meticulous research indeed! The genre of my first book, The Scion of Suryavansh, one that I wrote when I was 13, is 'neo mythology' or something, that in literal terms, denotes 'mythological fiction'.My upcoming novella is in the historical fiction genre, with Rupa Publications India, and I sincerely hope that it'll be hitting stands soon!
Well yes, the plot is on the Mughal history and revolves around the initial days of the third Shahanshah, Akbar on the grounds of Hindustan, a land then, was alien to him but of which, he today, is regarded to be the greatest ever Mughal Emperor.
When one writes in the historical fiction genre, there are two important things to keep in mind. The first, to understand the cultural background of the era you write in (their culture, language, dresses, shoes, opulence of monuments if any and every other unique detail one may notice) and the second, to create a perfect visualisation for the readers to imagine what the penned down events (that sequentially took place), were all about!
Does any author/columnist inspire you or anybody's work you follow religiously?
Yes, of course! Not religiously, but I like going through the books and columns of Devdutt Pattanaik, Amish Tripathi and Shashi Tharoor! When Devdutt sir writes something, it is definitely destined to be a masterpiece. Why I'm opinionating such is because of the extravagant information that he adds at the conclusion of each chapter as footnotes and references. These really help one in understanding the various versions of the same tale that exist. Amish sir is a household name amongst the Indian readers today. His fantastic visualisation is what makes his books seem like a Netflix movie and you love turning the pages with curiosity building up your mind as to what happens next!
Besides them, I admire Shashi sir's sesquipedalian vocabulary and borrow some real dose of inspiration in an attempt to refurbish mine!
In the age of social media an author interpreting mythology and history, sometimes, has to bear the brunt of trolls who might come up with a distorted version of the subjects or will chastise the writer for not conforming to the majoritarian views of the subject.

While writing on these subjects do you also keep in mind that some of these questions might be thrown at you or you could be heavily trolled?
Very true! But, honestly, I don't care what social media has to say! In fact, people have their own opinions and they're free to further that! Why would I want to bother about what they say, even if that means my getting trolled? I mean, when you're talking about interpreting history, even as a historian, you'll end up with different conclusions or separate versions of the apparently same thing. Your viewpoint on the event or the subject might not be similar to someone else's. That doesn't necessarily mean you are wrong or incompetent to interpret or revitalise history. Two months back, while I had an interview at NewsX, there were lots of rubbish posted on the internet. But, one comment in particular, caught my attention. It said, "All these Islamist had only one single agenda- Islamisation of Sanatan Dharam Bharat. It continues even today.."
This came from a YouTube channel called 'The Droid'. People might think that I'm revealing the details here, with an intention to shame him, but honestly, I want to correct a general notion that exists in the minds of these individuals. What he means by the statement he made is crystal clear. He considers me someone who's furthering Islamic propagandas and principles by rewriting Mughal history, thus completely flushing off the Hindu side of the Indian heritage.
A daredevil comment indeed, especially when made to someone whose earlier books (2017, 2019) deal with the Ramayana, something that is being hyped a lot, nowadays and one knows why! I wouldn't like to dive deep into it anymore but what I wanted to express is that social media is a virtual world and one must never take decisions based on what people comment. Everyone has a different take, a different perspective, and it is absolutely okay to be yourself!