The tumultuous tenure of Trump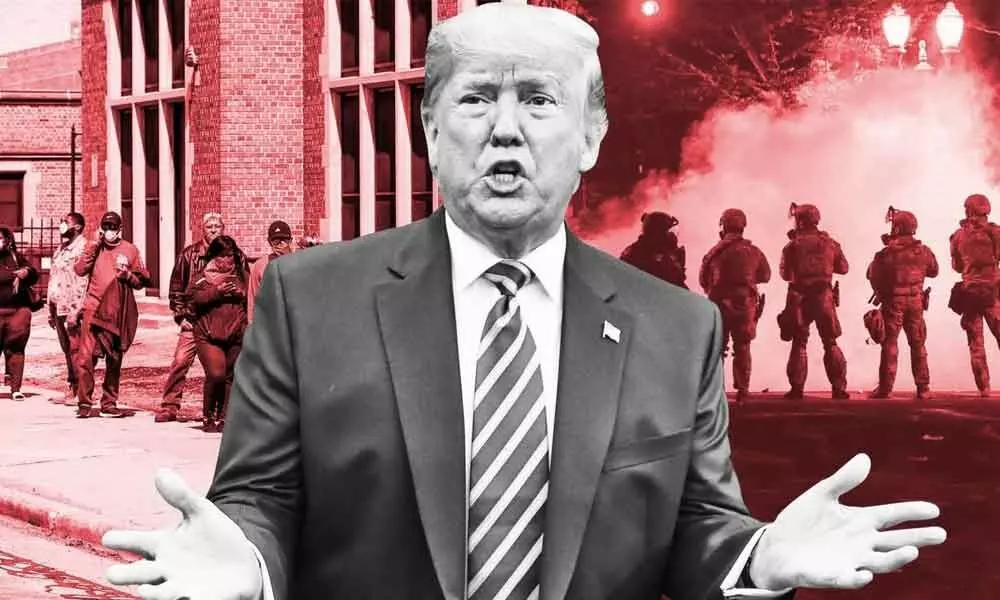 Highlights
What happened at Capitol Hill was capital shame. Citadel of democracy was rocked by ruffians and culprit of clarion call was none other than President himself
ADVERTISEMENT
What happened at Capitol Hill was capital shame. Citadel of democracy was rocked by ruffians and culprit of clarion call was none other than President himself. It has dented democracy badly.
Trump had made his intentions clear long time back but nobody could imagine that his rants may die natural deaths once courts rule it out. Courts did rule it out and all those 60 lawsuits filed failed to win anywhere barring one suit. This should have buried the ghost of voters' fraud but he had gone bit too far even after losing court cases.
Trump who came briefly to pacify protesters was actually comforting them and not condemning them. By doing this he has achieved nothing. He wanted to show that people of America believes in voter fraud and are ready to rock parliament to stall anointing Biden.
He was sadly mistaken, congress though shaken by these wanton acts of violence, congregated again to ratify Biden's election, more as a solidarity and to show the world that mobocracy in America has no place.
Now it is hotly being debated that Trump should be allowed to complete this term or not. His speech before the riots is being scrutinised by AG for possible action against him. He faces the charges of incitement and acts of highly irresponsible actions while sitting in office. Speaker Nancy Pelosi is seriously contemplating that if Cabinet don't sanction his impeachment, then Congress can move it.
With Trump losing Senate in rerun of two seats in Georgia to Democrats, who already have majority in lower house, chances of his impeachment becomes prominent. If it happens, Trump may become the first President to be impeached for inciting violence and for reckless behaviour.
Georgia had been traditionally Republicans stronghold but the way Trump was ranting about voters fraud and told Georgian Republicans that they were complicit in the fraud. He told them that they don't matter. With his senseless tweets he demoralised his party stalwarts and lost the elections.
Trump if impeached and indicted by Congress loses out his only chance at Presidency in 2024. 74 millions People who voted for him have genuine concerns and deserves better than this. All they wanted to fight it out by legal means and not by trampling down the very oath which gives them right to challenge.
Trump's mindless tweets have cost Republicans the Senate thus giving complete control of government, Democrats can get through budget and any tax hikes without Republican nod. Now it's free run for the Democrats. It's bad for democracy in absence of any checks and balances.
Trump who is backed by Supremacists and gun lobby will have tough time to waddle through scores of lawsuits and legal troubles. GOP may have second thoughts supporting him after he exits office. What he had done can't be undone now. His legacy is in shackles and it will be too embarrassing to revisit it for anyone.
With Facebook and Twitter suspending his account, he has already become the first when a sitting President is barred from two important social media sites for incendiary and provocative posts. By exhorting people to Capitol Hill and subsequent violence in which a ex-navy lady and a police officer had died, shall make his bid for re-election in 2024 in tatters.
World has witnessed with awe what happened in DC but Congress decision to hold assembly and ratify Biden's election was a landmark act. It gave a strong message that threat from 'domestic terrorists' is over and they are in control.
Trump is left with no option but to concede defeat gracefully and walk into sunset without provoking Congress to remove him with disgrace and contempt. Speaker Nancy has already threatened to invoke 25th Amendment to impeach him if he doesn't resign on his own.
Trump has already made history of infamy, what more he wants now. America is starting a new chapter on January,20th, hopefully ending Trump's tumultuous tenure.
Ashok Goswami, New York