GHMC Election Results 2020: BJP victory is a lesson against dynastic politics, says Bandi Sanjay Kumar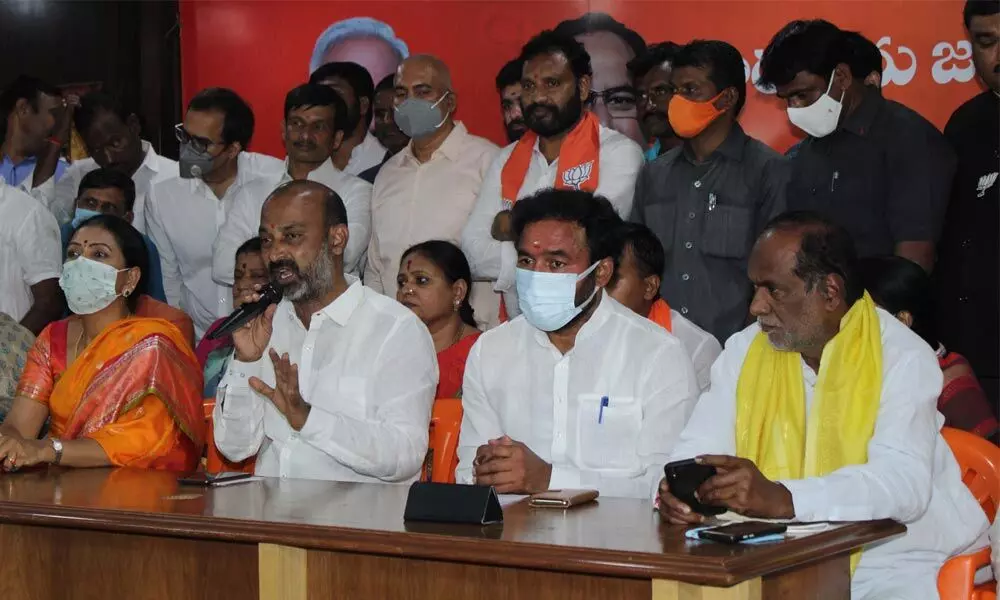 Highlights
Results of GHMC elections has proved that the BJP is the only alternative for the ruling TRS in Telangana
Hyderabad: Results of GHMC elections has proved that the BJP is the only alternative for the ruling TRS in Telangana. Addressing a joint media conference with Union Minister of State for Home Affairs, G Kishan Reddy and other senior leaders here on Friday, he said that people have not given a chance to do surgical strike but allowed only to carryout saffron strike, he added.
The Karimnagar MP said that the results is a verdict against the dynastic politics and a pro-verdict to the BJP's election agenda for the development of the people and to fight for the rights of the majority Hindus in the State.
Adding, he said that we might have changed the name of Hyderabad into Bhagyanagar had people given us a full majority. BJP's victory is only the beginning and from now on every election will give similar results in the State.
He said that he would pay a visit to the Bhagy Lakshmi temple with all the party candidates elected, he said. Taking a dig at the State Election Commission and the police authorities, he said that how the party cadre and leaders have been harassed by the police. Both the SEC and the DGP have worked more than party activists for the victory of TRS. However, the people of the city has shown the TRS its place.
He said that the victory of the BJP candidates is being dedicated to the SEC and DGP of the State. He asked Chief Minister K Chandrasekhara Rao to give appointments to his ministers and MLAs and try to reach out to the people by coming out of his fort. He assured that the BJP would continue to work for the development of the city and trying to bring in funds from the Centre. Union Minister G Kishan Reddy said that people have taught a good lesson to the TRS for making baseless accusations against the centre.
Kishan Reddy said that the TRS is fast losing its traction among people as people are increasingly coming in support of the BJP. He said that the GHMC elections are a platform for the party to come to power in the State in 2023. He also accused the TRS party of grossly misusing the administrative machinery and people have not taken its false propaganda against the BJP seriously.
The Union Minister said that the false cases foisted against the cadre did not deter the BJP activists to work hard for the victory of the party. He found fault with the ruling party for trying to create differences among Seemandra people by creating fear among them through social media posts. BJP election committee convenor and party national OBC Morcha presidnet Dr K Laxman and party national vice-presidnet D K Aruna said that the decline of BJP has started in Telangana.