Hyderabad: Major development made by Congress governments says N Uttam Kumar Reddy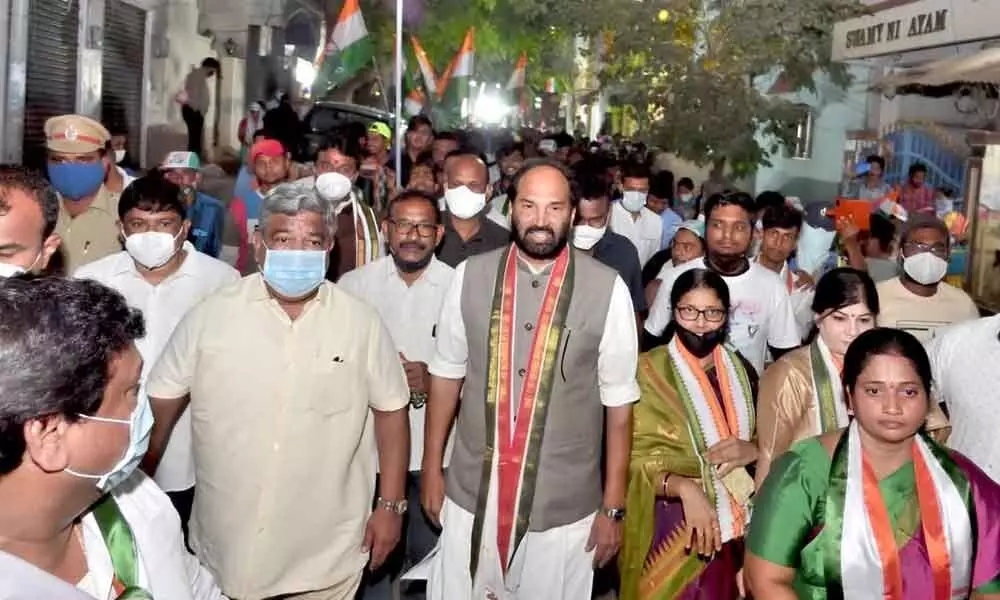 Highlights
TPCC president Uttam Kumar Reddy said that major development works like the construction of Outer Ring Road, International Air Port, PVNR Express Highway and Metro Rail were taken up during the Congress governments
Hyderabad: TPCC president and Nalgonda MP N Uttam Kumar Reddy on Monday stated that most of the development works in Hyderabad was achieved during the previous Congress regimes.
Addressing a public meeting in Bouddha Nagar division, as part of his campaign in GHMC elections, he said that voters should back Congress candidates so that party wins the GHMC polls.
Uttam Kumar Reddy said that major development works like the construction of Outer Ring Road, International Air Port, PVNR Express Highway and Metro Rail were taken up during the Congress governments. He said that the projects for supply of drinking water from Krishna and Godavari rivers have been implemented by the Congress governments.
He said that due to the proactive role of the previous Congress governments Hyderabad has emerged as hub of Pharmacy industry in the world and destination of IT industry. He said that during the regimes of Congress big public sector industries like BHEL, DRDL, HAL and HMT were established in Hyderabad. He said that the Information Technology Invest Region (ITIR) was sanctioned to Hyderabad when Congress was ruling the country.
The TPCC president made it clear that the TRS and BJP governments have done nothing to the state in the past six years. He said that due to negligence of TRS and BJP, the state has lost prestigious ITIR project.