Only 4 of 64 lakes in hyderabad city fit for survival of fish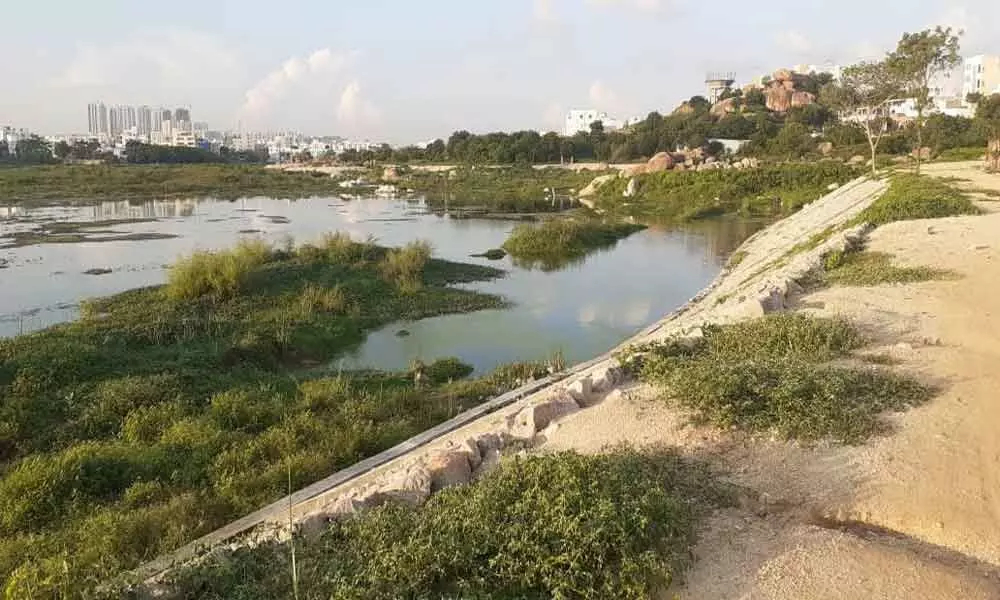 Highlights
Scientists have proved that it was water on earth that triggered formation of life billions of years ago, however, today, the urban water bodies are proving to be death knell for fish and marine life.
Hyderabad: Scientists have proved that it was water on earth that triggered formation of life billions of years ago, however, today, the urban water bodies are proving to be death knell for fish and marine life.

According to the fisheries department, only four out of the 64 lakes in Hyderabad are fit for survival of fish. The rest are either dried up or have turned into cesspools which don't have requisite dissolved oxygen (DO) levels and other parameters for survival of fishes.
Also, the nitrate and ammonia levels are very high due to pollutants and sewage water entering the water bodies. Though Hyderabad received record rainfall this year, however, several reservoirs did not receive inflows from upper regions to increase the water levels in reservoirs.
While some officials claim shortage of rainfall in upper catchment areas for lack of inflows, environmentalists point out to the rampant encroachments and construction works in realty sector as the cause for no inflows into the water bodies. The rivulets that feed the lakes have been converted into storm drain nalas and these are choked with plastic, domestic waste and sewage water.
The lakes which do receive inflows mostly carry sewage water and industrial effluents affecting the quality of water required for survival of fish.
The fisheries department releases fish seedlings just after the monsoon every year into lakes across the state that fall under any of the fishermen's co-operative societies and the exercise is conducted in Greater Hyderabad as well.
Last year, Fisheries Department had identified 12 lakes out of 64 lakes for stocking and releasing fish seedlings as they were deemed fit for fish survival. But this year the number has fallen to just four lakes. The rest have been found to be either dried up or are highly polluted for the seedlings to survive. Last year, around 16 lakh fish seedlings were released into the 12 lakes, this year the number has fallen to less than 2 lakh fish seedlings which are released in four lakes falling within Greater Hyderabad limits.
The lakes identified by the fisheries department are under the control of various fishermen's co-operative societies. The department claims that the fishermen co-operative societies are the ones responsible to approach the department for stocking of fish seedlings which they didn't this year.
Madhan, a resident of fisherman colony near Ibrahimbagh Cheruvu in Shaikpet, shared, "Earlier the fishermen used to release fish seedlings in the lake for cultivation, later in 2016, the Fisheries Department approached us and offered us 100 per cent subsidy on fish cultivation, they also offered fish seedlings."
"This year the Ibrahimbagh lake did not sufficient water due to which the department couldn't release any seedlings. Also, the lake has been polluted by sewerage water coming in from nearby colonies which has affected the marine life as well as our livelihood."
The quantity of dissolved oxygen in lake water plays an important role in determining if a lake is fit for fish survival or not, apart from some other parameters, mainly nitrates and ammonia.
Lakes either unfit or dried up
Out of the 12 lakes which were shortlisted last year the Peddacheruvu in Meerpet along with Mastaicheruvu in Narsingi, and Patelcheruvu in Madinaguda and Ibrahimcheruvu in Rajendranagar dried up this year.
Bhagirathamma-Cheruvu in Puppalguda, Ellamma-Cheruvu in Manikonda, Gopicheruvu in Shaikpet and Chandana-Cheruvu in Karmanghat are the lakes where fisheries department carried out stocking of fish seedlings
Appicheruvu in Gaganpahad and Fox Sagar in Jeedimetla were declared unfit for the stocking of seedlings.
Interested in blogging for thehansindia.com? We will be happy to have you on board as a blogger.