Dams brimming with water in Tirumala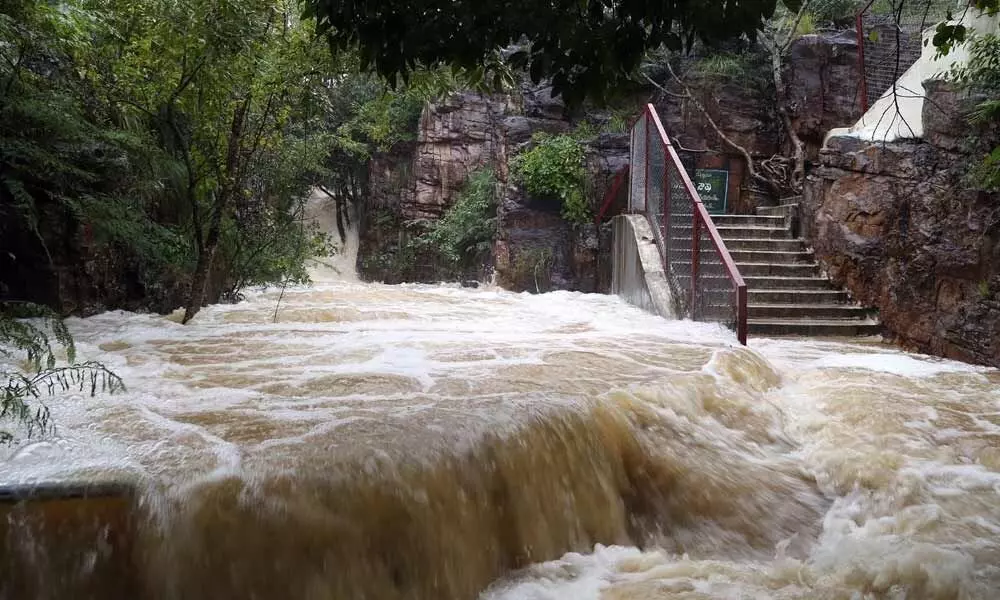 Highlights
All the five dams in Tirumala are full to their capacities and TTD authorities have opened up the gates of Gogarbham and Papavinasanam dams. In the last 24hours, starting from 8 am of Wednesday till 8 am of Thursday
Tirupati: All the five dams in Tirumala are full to their capacities and TTD authorities have opened up the gates of Gogarbham and Papavinasanam dams. In the last 24hours, starting from 8 am of Wednesday till 8 am of Thursday. The rainfall recorded in Papavinasanam is 313mm (697.14FRL as against its capacity of 698.85FRL at Gogarbham - 247mm (2,894 FRL and its full to its capacity), Akasaganga is 176 mm (865 FRL and it is also brimming with full capacity) while at Kumaradhara and Pasupudhara the rainfall recorded is 155 mm each (both dams capacity is 898.24 FRL and both are full).
With the opening of gates of the dams in Tirumala the waters cascading from the hills causing inundation of many areas down the hills in Renigunta, Yerpedu and Srikalahasti mandals and also leading to flash floods due to the streams including Rallakaluva in spate causing damage to standing crops in the mandals. The beauty of the Seven Hills enhanced with the streams flashing out at different points both in up and down ghat roads due to the non-stop downpour in the last two days providing a cynosure to the visiting pilgrims and denizens.
The Malavadi Gundem, Pancha Theerthams, Kapilatheertham are seen gushing out from the top of the mountains due to the non-stop rains in the last two days. Pilgrims were seen relishing and capturing the beauties of nature in their mobile braving the inclement weather at several points on the ghat roads.
Meanwhile due to incessant rains from the past two days, the Chakratheertham is gushing out in full swing. As the Chakratheertha Mukkoti is on Thursday, the team of archakas, temple staffs performed celestial puja to the holy waters by offering turmeric, vermilion, flowers and Harati.