Rallies, pickets mark Bandh in Tirupati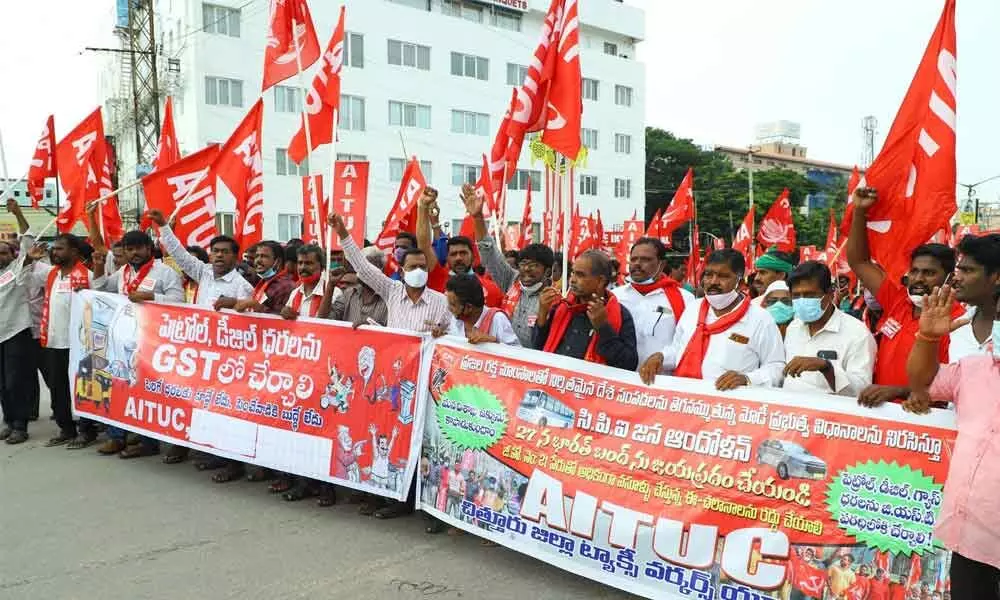 Highlights
The leaders raise slogans against Prime Minister Narendra Modi condemning anti-labour and anti-farmers policies
Tirupati : Bharat Bandh called by more than 300 farmer unions and trade unions supported by Left parties and non-BJP parties including the TDP, Congress and RPI went incident-free in not only in temple town Tirupati but also in the entire district on Monday.
Left parties, TDP, Congress, Trade Unions, people's organisations, women bodies, youth and students unions took out rallies in the city raising slogans against Prime Minister Narendra Modi condemning anti-labour and anti-farmers policies.
The leaders from various parties staged a sit-in on roads and picketed at many places in the city. DYFI activists carrying the five-headed Modi effigy came in a rally blocking the highway near Tiruchanur. When the protesters tried to burn the effigy of five-headed Modi depicting him as demon, police intervened and snatched the effigy preventing them from set it on fire.
A group of CPI leaders marched towards Railway station where they sat on the railway tracks disrupting the movement of trains for sometime. However, police persuaded them to disburse and Railway police registered a case against them for unauthorised entry into the station.
Some trade unions activists stopped the vehicles entering city at entry points on highway. TDP former city MLA Sugunamma along with party activists took out rally enforcing the bandh and Congress leaders while rallying also sought the business points' organisers to co-operate by downing the shutters.
Meanwhile RTC has suspended bus services till 12 pm as a precautionary measure after which the services were resumed. Andhra Pradesh Union of Working Journalists (APUWJ) and Andhra Pradesh Working Journalists Federation(APWJF) leaders and members took out a rally from Press Club extending their support to the bandh.
From noon, the business points in the city were resumed as usual and also the bandh impact on business establishments was not seen much.
All the rallies were converged at Ambedkar statue near RTC bus stand where the leaders lambasted the Modi government and raised slogans against the Centre condemning it's anti-labour and anti-farmer policies and also strongly opposed privatisation of public sector organisations in the country.
Likewise, in rest of the places in the district including Madanapalli, Punganur, Kuppam, Palamaner, Puttur and Srikalahasti the bandh went on peacefully without any untoward incidents.