Poor payment restricting progress of drama: Naidu Gopi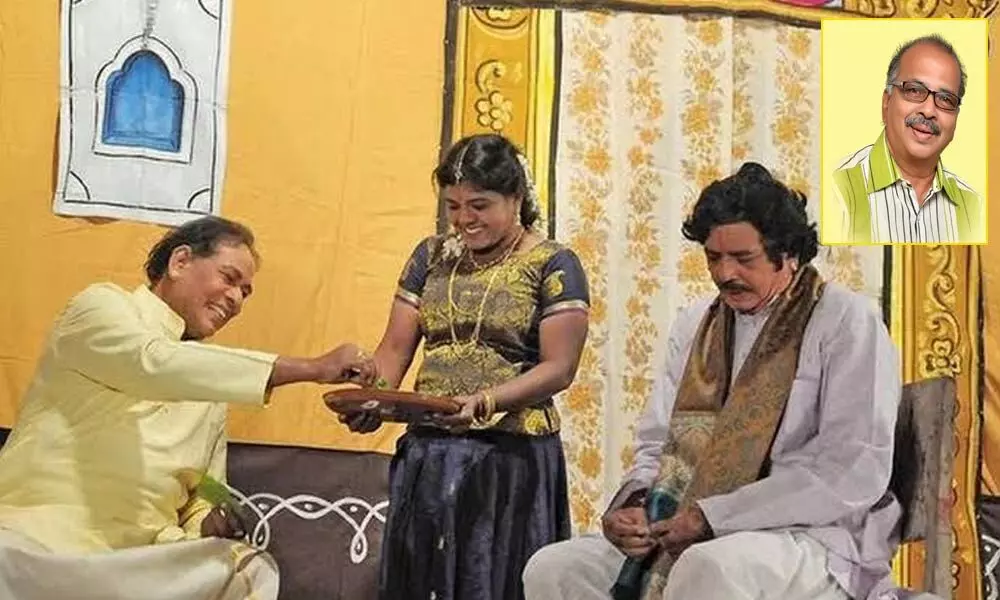 Highlights
The senior actor, director feels if remuneration is enhanced, quality and thought-provoking plays can be staged
Vijayawada: "In this present society, there is no option except drama competitions' stage to showcase the play/playlet. Earlier, there were many audience clubs to promote the drama. Till 1994, we used to stage a full-length play with a duration of 2 hours at least at 20 places like Vijayawada, Visakhapatnam, Rajahmundry, Eluru, Gudivada, Tenali, Ongole, Narasaraopet, Hyderabad, Khammam, and Kondapalli."
"Only in Vijayawada, there are 4 clubs to give opportunity for armatures to perform a qualitive drama with a message. Undoubtedly, all these audience clubs were closed due to various reasons," says Naidu Gopala Rao, popularly known as 'Naidu Gopi', a senior actor and director who rendered contribution to theatre for the last 45 years continuously.
'The Hans India' had a discussion with Naidu Gopi to know his opinion about the relation between drama and society.
Naidu Gopi said that normally presenting a drama depends on the response of the audience. He also agreed that drama should give a message to society. He proudly said that his team 'Gangotri' always staged message-oriented plays. He admitted that present dramas are confined to the drawing room due to various constraints. Gopi said that drama is surviving only because of the platforms of Parishads and the remuneration is not enough to meet the expenses to stage. He continued and added that the troupes are, however, staging dramas within the budget. He felt if the remuneration is increased, quality and thought-provoking plays can be staged.
"I do agree to convert the parishads into festivals. With this conversion, many expenses like productions and individual cash prizes can be reduced and the same amount may be given to the teams who performed during the festival. To get message-oriented dramas, parishads can also invite the teams with message-oriented plays which create awareness among the audience to serve the motive of the drama. I strongly welcome the new young and dedicated blood into theatre to have innovative and creative thoughts," said Naidu.
While concluding the discussion, Naidu Gopi opined that Telugu drama is having a wide canvas and writers are ready to give quality dramas provided there are no limitations. He also hoped that the Telugu theatre will flourish with new aspirations and with new talents after Covid-19.