Kadapa: 2 held in murder case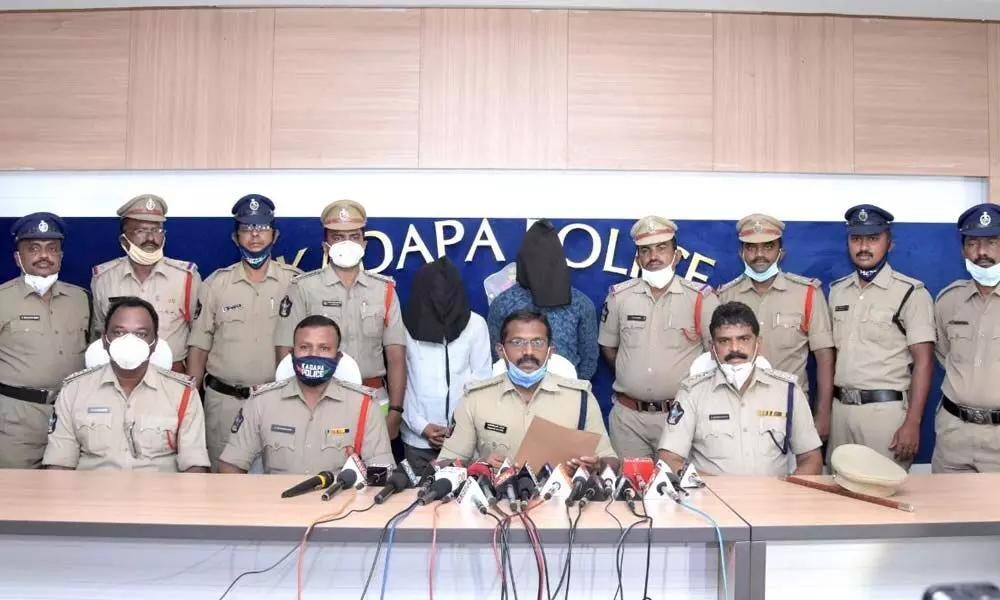 Highlights
Police arrested two persons in connection with sensational murder of Venkataramanaiah at Yerraguntla town in the district which occurred on Wednesday
Kadapa:Police arrested two persons in connection with sensational murder of Venkataramanaiah at Yerraguntla town in the district which occurred on Wednesday.
The accused were identified as former Yerraguntla municipal chairman H Musalaiah and his nephew H Srinath of Yerraguntla. Superintendent of police KNN Anburajan, addressing a press conference on Thursday, stated that the prime accused H Musalaiah had barrowed Rs 20-30 lakh from the deceased Venkataramanaiah by pledging 18 cents of site which he owned in Kadapa town.
The SP said that recently Venkataramanaiah started bringing pressure on the accused to return the money leading to a dispute between them. In this connection, on June 20 at around 12.30 pm, the accused called the victim to his home along with agreement papers. When he reached the house, the accused made him sit in the bedroom.
Later, he brought a pestle and battered Venkataramanaiah to death. Then, he severed the head with butcher's knife and kept it in the bedroom.
After 6 pm, he took a two-wheeler belonging to one K Prathap Reddy of same town and on that vehicle, he went to Ayyappaswamy temple and threw the mobile phone of the deceased in Echo park around 8.pm. The accused returned to his house along with his nephew around 3 am on June 21. They dumped the torso of the body in a pit near the bathroom and covered it with stones and sand.
Later they carried the head and clothes of the deceased in a steel box and threw it in the forest near Guvvalacheruvu ghat road. They also threw away the butcher knife near the toilets at Kadapa RTC Bus Stand. Based on the complaint given by the family members of the deceased, police arrested Musalaiah and he had confessed that he had committed the crime. The SP appreciated the cops for cracking the case within 24 hours.
Subscribed Failed...
Subscribed Successfully...