'Waved Tricolour to show Trump loyalists not racists': Indian-origin man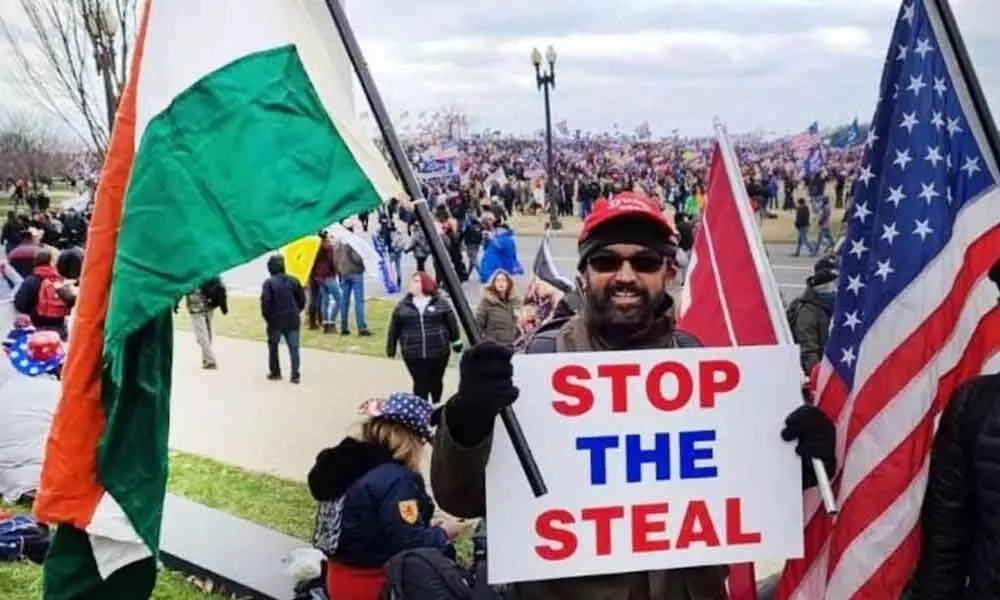 Highlights
Amid a sea of unruly members of a pro-Donald Trump mob waving American confederate flags and flags supporting the US President in the attack on the US Capitol Hill, there was the presence of one that stood out: a man waving the Indian tricolour
Washington/ Los Angeles: Amid a sea of unruly members of a pro-Donald Trump mob waving American confederate flags and flags supporting the US President in the attack on the US Capitol Hill, there was the presence of one that stood out: a man waving the Indian tricolour.
The man has been identified as Vincent Xavier Palathingal, a resident of Virginia, who traces his roots to Kochi, Kerala, and had earlier been picked by Trump to be member President's Export Council, according to News18 report.
The media caught up with the 54-year-old, who said he was not part of the violence that followed when the mob breached the Capitol Hill, leading to the deaths of five persons. He claimed he was there only for a "peaceful protest" against "election fraud" – a claim that Trump has been pushing since his defeat in November, but has been thrown out of US courts over lack of any evidence.
Asked why he was holding the Indian flag during the protests on January 6, Vincent said it was to show that the Trump supporters were not racists, and the protest rally was not a racist movement. "I would not be able to hold an Indian flag and walk around if it was a racist movement," he said.
He said there were about 10 Indians in the group of Trump loyalists, and five of them were from Kerala.
"Whenever I have been at a Trump rally, I've seen people of Vietnamese, Korean, even Pakistani origin, carrying their flags. This is also to show that such rallies are not a racist movement," he added.
According to his official website, Palathingal was born in Kumbalam in Kerala's Ernakulam district. He completed his schooling at St Thomas High School and Sacred Heart High School in Thevara. After his graduation, he worked as Project Engineer at Kerala Industrial and Technical Consultancy Organization in Kochi and another year as a Site Engineer at Ali-Al Sehebani Associates in Al-Hofuf, Kingdom of Saudi Arabia.
The he moved to the United States after securing admission for a Master's in Civil Engineering at the University of Reno.
He went on to work with the Maryland State Highway Administration, Metro Washington Council of Governments and FannieMae. In 1998, Vinson started Amaram Technology, providing IT support to businesses and government bodies.
Palathingal is a committed Republican and Trump supporter. He describes himself as a pro-business conservative.
On Indian politics, though he describes himself as "neutral" on social media, he has been extremely critical of the Left Front in Kerala.