Ajit's Price for backing BJP: Rs 70,000 crore probe dropped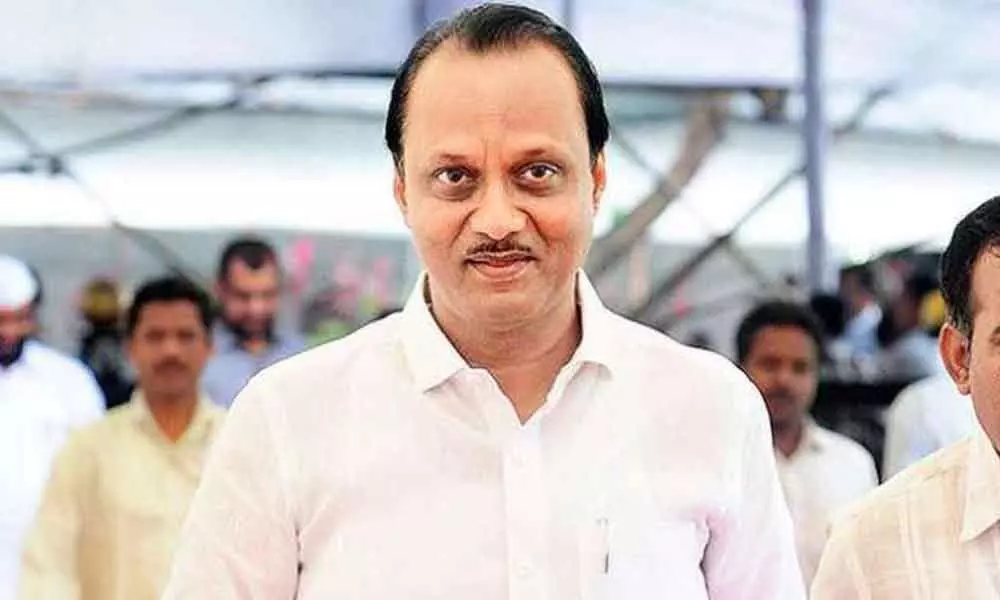 Highlights
ACB closes nine Maharashtra irrigation scam cases
Mumbai : Investigation in nine cases related to the alleged 70,000 crore Maharashtra irrigation scam was closed on Monday, two days after Ajit Pawar broke ties with his uncle Sharad Pawar to join hands with the BJP and was sworn in as the deputy chief minister.
A letter dated November 25 was issued by the state's Anti-Corruption Bureau officially closing the investigation in these cases.
The cases in the scam were first registered in 2014, soon after Devendra Fadnavis became the CM in his first term but had since progressed slowly.
As the Congress and Shiv Sena quickly alleged that this was a case of quid pro quo for Ajit Pawar helping the BJP form the government, sources in the police department claimed it was a "routine matter".
They said the cases were not against Pawar and were closed on the orders of the Bombay High Court, which had ordered certain action before November 28, according to News18 report
Director General Paramvir Singh claimed that the closure of the cases had nothing to do with the political developments in the state and was recommended by his department three months ago.
"There was no role of Ajit Pawar in these nine cases… the probe is on in other cases. We are probing more than 3,000 irregularities in this scam," he said.
The curious timing of the government action, however, has raised questions over why it was hurried as the ACB letter has a date scribbled with a pen.
The BJP had repeatedly targeted the Pawar clan over the corruption allegations as it claimed that Maharashtra's irrigation potential increased by just 0.1% in those years despite an expenditure of Rs 70,000 crore on such projects.
Twitterati get creative with memes, jokes
As the political see-saw in Maharashtra continues, members of Twitterati have flooded the social media platform with hilarious memes and jokes. MaharashtraCrisis had garnered 33.1K tweets at the last count on Monday.
"Parking spots during #MaharashtraCrisis -- Congress: JW Marriott hotel in Juhu area. NCP: The Renaissance hotel in Powai. Shiv Sena: The Lalit hotel, Mumbai," one user tweeted.
Another person tweeted, "Since everyone is floating theories about #MaharashtraCrisis, I want to float one too.
Ajit Pawar was sent by Sharad Pawar to trick BJP. That way, Ajit does a deal with BJP to get ED off his back & BJP doesn''t get gormint (sic) too. If this comes true, I''m Nostradamus, OK?"
Members of Twitterati were also critical of the Supreme Court. One user wrote, "Why is the Supreme Court dragging its feet on asking for a floor test immediately? One more day to pass order, hence floor test most likely a day after... ample time for #BJP MLA buying machine!"
"Just hold a composite floor test TODAY and get it over and done with. Let the majority side govern," commented another.
One user posted a meme of Sharad Pawar and his nephew Ajit Pawar with the caption: "Child, it is above you."
One post had a photograph of a horses in a stable along with the comment: "They promised a stable government. And thus horse-trading picture of horses in a stable".
One user posted a meme of Shah Rukh Khan and Amrish Puri feeding pigeons. he wrote: "Aao...aao... aao. Mumbai hotel owners to all political parties."
There was also a picture of Delhi Chief Minister Arvind Kejriwal along with the caption: "All are in cahoots". One picture of a woman had the caption: "This government is sold out".
NCP youth leaders 'rescue' 4 missing MLAs from Haryana
In a huge relief to the Nationalist Congress Party, four of its "missing" legislators were rescued from a hotel they were confined in Haryana''s Gurugram, a party office-bearer said here on Monday.
The legislators are: Narhari Zirwal (Dindori), Anil Patil (Amalner), Daulat Daroda (Shahapur) and Babasaheb Patil (Ahmadpur), whose identity is not yet available.
"The daring rescue operation was carried out by our local NCP leaders Dhiraj Sharma and Sonia Duhana They found that our legislators had been trapped in a hotel there, and got into the act.
They have been brought back to Mumbai before the trust vote in the legislature," NCP National Spokesperson Nawab Malik told IANS. Sharma said that the four wanted to stay with Sharad Pawar and take part in the Maharashtra assembly proceedings due to begin this week in Mumbai after the sensational political developments since Saturday.
Meanwhile, in a major step to pre-empt the Centre's move that could involve imposition of President's rule again or dissolution of the Maharashtra Legislative Assembly, in case the Devendra Fadnavis government fails to prove its majority in the house, a delegation of Congress, Shiv Sena and NCP has submitted letters of support of 160 MLAs to Raj Bhavan, as Governor Bhagat Singh Koshyari was not available.
What is the irrigation scam?
The Vidarbha Irrigation scam, pegged at around Rs 70,000 crore, relates to alleged corruption and irregularities in approval and execution of various irrigation projects in Maharashtra during the Congress-Nationalist Congress Party (NCP) rule.
Pawar was among the NCP ministers who were in-charge of the irrigation department at different times between 1999 and 2014 during the Congress-NCP coalition rule in Maharashtra.
The Maharashtra Anti-Corruption Bureau (ACB) had said that as the minister of Water Resource Department (WRD), scams like the multi-crore Vidarbha Irrigation Development Corporation scam come under the responsibility of Ajit Pawar.
NCP's plan A was to ally with BJP
A Marathi news channel, citing sources close to Ajit Pawar, has claimed that the estranged NCP leader's original plan was to go with the BJP to form government in Maharashtra.
Interestingly, senior BJP leader Madhav Bhandari, when asked to respond to these sensational claims made by TV9 Marathi citing associates of Ajit Pawar, said, "We don't trust TV9 Marathi's brand of journalism and Sanjay Raut's statements."
Rubbishing Pawar's claims, NCP leader Nawab Malik said, "He must know about it (the NCP's meeting with the BJP to discuss government formation). Only he will know what he's been up to. He must have been the only one involved in those discussions."
Subscribed Failed...
Subscribed Successfully...