Death of 38 Safai Karamcharis in 2 yearsWar of words erupts between Delhi minister and NCSK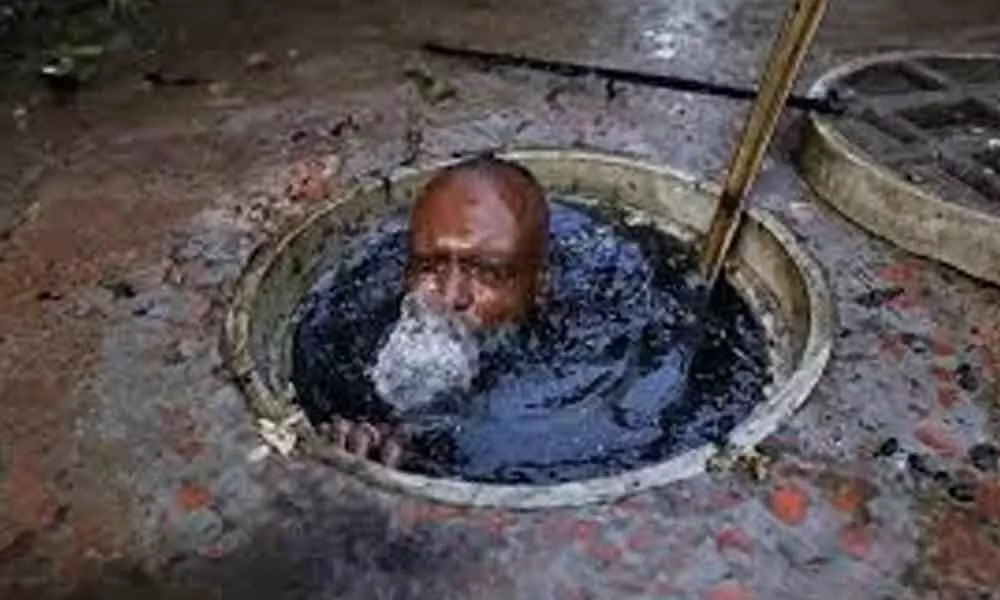 Highlights
A war of words erupted between Delhi Social Welfare minister Rajendra Pal Gautam and the National Commission for Safai Karamcharis (NCSK) on Tuesday
New Delhi : A war of words erupted between Delhi Social Welfare minister Rajendra Pal Gautam and the National Commission for Safai Karamcharis (NCSK) on Tuesday on various issues, including implementation of anti-manual scavenging law, Ayushman Bharat and issuance of health cards to sanitation workers.
The NCSKsaid 64 people have died while cleaning sewers in Delhi since 1993 with 38 such deaths taking place in the last two years. NCSK chairman Manhar Valjibhai Zala claimed that the Delhi government has not been implementing the Prohibition of Employment as Manual Scavengers and their Rehabilitation Act, 2013 and is sending out a wrong message to the rest of the country.
Delhi's Social Welfare Minister Rajendra Pal Gautam, however, said the Delhi government has ensured effective implementation of the Act and the deaths which have taken place occurred in septic tanks of malls and high rises where sewer cleaning machines of Delhi Jal Board cannot reach.
The minister said his government has put an end to manual scavenging and exploring alternatives for cleaning septic tanks in malls and buildings. He said, "The issue should not be politicised and everyone should join hands to put an end to the abominable practice. We have developed 'mangalyaan', we should also explore new technologies for sewer cleaning."
GangaramGhosre, member, NCSK, claimed that the Delhi government had promised to employ manual scavengers on all 200 sewer cleaning machines procured last year, but only 38 people have got jobs.
Ghosre also alleged that Chief Minister Arvind Kejriwal had promised health cards for sanitation workers and funds to the municipal corporations for it. Replying to the allegations, Gautam said, "The member is trying to politicise the issue. We have got a better health scheme, Arogya Nidhi, and sanitation workers are covered under it."
On sewer cleaning machines, he said, "The government had formulated the scheme, floated tenders and helped families of those who died while cleaning sewers get loans. DICCI helped them register their companies and fill the tenders. It takes some time to process the first salary as a verification process in involved. After that, it becomes smooth", the Delhi's Social Welfare minister said.
Subscribed Failed...
Subscribed Successfully...