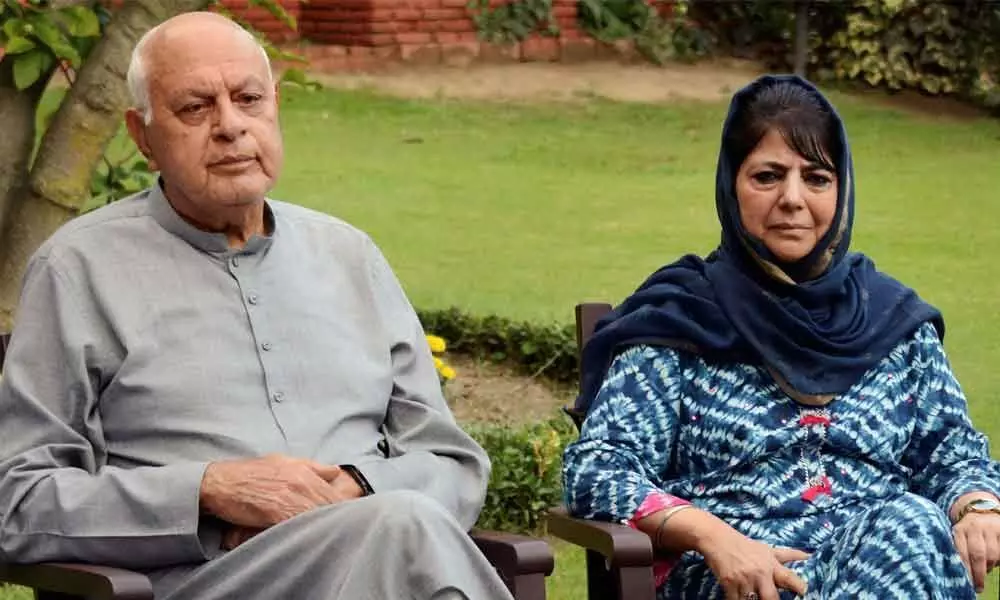 Highlights
Govt invokes tough Public Safety Act
Srinagar/New Delhi: Former Jammu and Kashmir chief minister Farooq Abdullah was on Monday charged under the Public Safety Act (PSA) -- a stringent law that enables detention without trial for up to two years -- on a day the Supreme Court took up a petition against his "illegal detention".
The National Conference leader, 83, been charged with "disturbing public order" under the law, which means shorter detention of three months. He has been under house arrest at his home in Srinagar, which will now be designated his "jail".
Hundreds of politicians, including former chief ministers Omar Abdullah (Abdullah's son) and Mehbooba Mufti, were detained or arrested last month as part of the Centre's massive clampdown after its decision to end special status to Jammu and Kashmir under Article 370 and split it into two Union Territories. Abdullah's detention has been made official over a month later.
On August 6, when NCP leader Supriya Sule had pointed to Abdullah's absence in the Lok Sabha, Union Home Minister Amit Shah had said, "He has neither been detained nor arrested. He is at home by his own will."
This is the first time that the PSA law has been used on a mainstream politician, especially an MP and a three-time chief minister. Usually, it has been used to arrest terrorists, separatists or stone-throwers. It was Abdullah's father Sheikh Abdullah who brought the law in 1978 to prevent timber smuggling.
To questions on the timing of the move, sources said there may have been worries about Abdullah going to the media with his criticism, which could be awkward for the government ahead of the UN General Assembly meet later this month.
News of the tough charges emerged as the Supreme Court sent notice to the centre and Jammu and Kashmir on a petition seeking Abdullah's release so he could attend an event in Chennai. The petitioner is Tamil Nadu's MDMK leader Vaiko, a close friend of Abdullah for four decades.
Meanwhile, Congress leader Ghulam Nabi Azad, another former chief minister, strongly condemned the PSA law being used against Abdullah, a diabetic and a heart patient who has a pacemaker.
Days after the security crackdown in Jammu and Kashmir, Abdullah had hit out at the government and also accused Amit Shah of lying about him not being detained. "How do you think one would feel when your body is being carved, the body that stood together in all odds, fought every evil unitedly...
They divided regions, will they divide hearts too? Will they divide Hindus and Muslims? I thought my India was for all, everyone who believes in secular, unity," the National Conference leader had said, breaking down while speaking a TV channel on August 6.
Subscribed Failed...
Subscribed Successfully...