Facebook relation leads to gangrape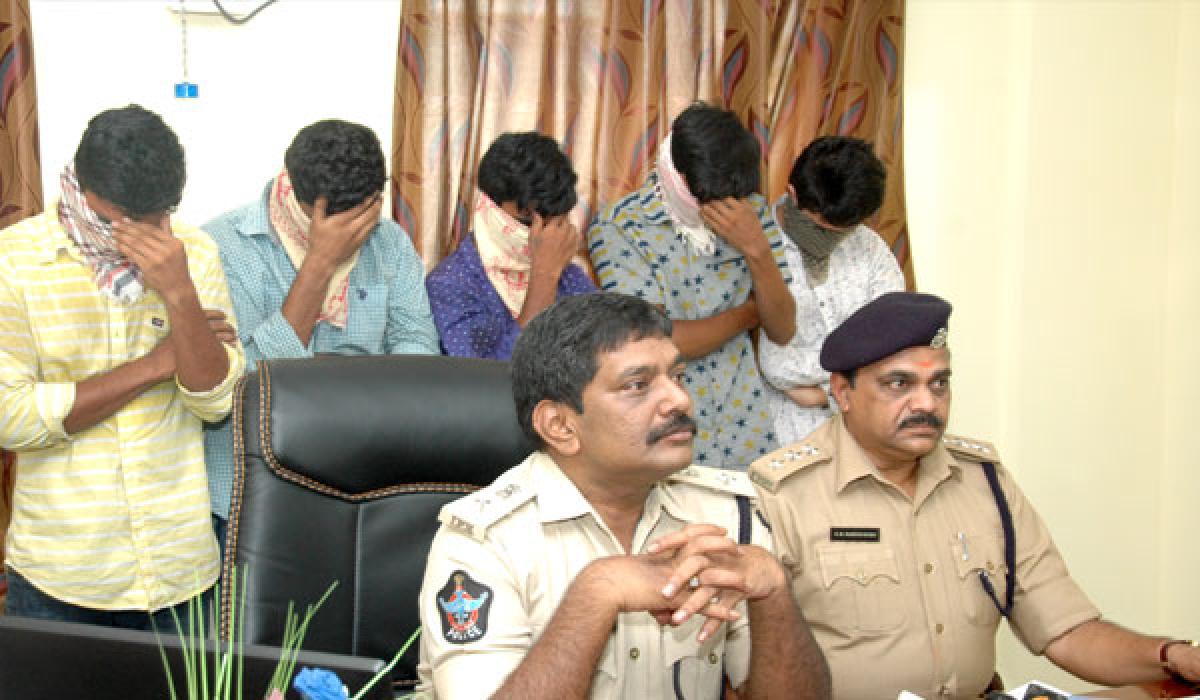 Highlights
Facebook friendship led to a gangrape of a minor girl in the city. Though the incident occurred on May 16, it came to light on Sunday with police producing five accused before the media.Giving details of the crime at his chamber Deputy Commissioner of Police (Law and Order) G Pala Raju said a minor girl was gangraped by Srikant, Abhishek, Pawan and Sunil who found her at BRTS road and promised her
Police arrest 5 youth for gangrape of a minor girl​
Vijayawada: Facebook friendship led to a gangrape of a minor girl in the city. Though the incident occurred on May 16, it came to light on Sunday with police producing five accused before the media.Giving details of the crime at his chamber Deputy Commissioner of Police (Law and Order) G Pala Raju said a minor girl was gangraped by Srikant, Abhishek, Pawan and Sunil who found her at BRTS road and promised her to take to home.
Earlier, her Facebook friend Akhil, with whom she had been having a relationship for a year, and his friend Ajay Samuel, left her at BRTS road after a trip to Mustabad. According the DCP, the girl left home in Machavaram on May 16 telling her parents she was going to meet a friend. She met Akhil and Samuel and the three went to Mustabad on a Honda Activa. In Mustabad, they consumed beers and returned to city in the evening. The duo left the girl on BRTS road at 8.30 pm and left.
Noticing the lone girl, four youth, Srikant, Abhishek, Pawan and Sunil promised her to take safely to her home. But the quartet took her to the home of one among them, Abhishek's, at Madhuranagar where they consumed beers. Then the four friends raped the girl and later, left her at SRR College on Eluru road on the next day morning. DCP Pala Raju said that the minor girl had gone to her grandmother's home from there and narrated the incident to her.
"One learning of the incident, the girl's father immediately alerted us through the Dial 100. We could arrest the five accused persons, the four involved in the gangrape and her Facebook friend Akhil, within a hour based on the bike number which was recorded by CC cameras. The victim also noted the bike number when they left her at SRR College," he added. He said Satyanarayanapuram police registered a case and are investigating.