Utakallu emerges as model village in water conservation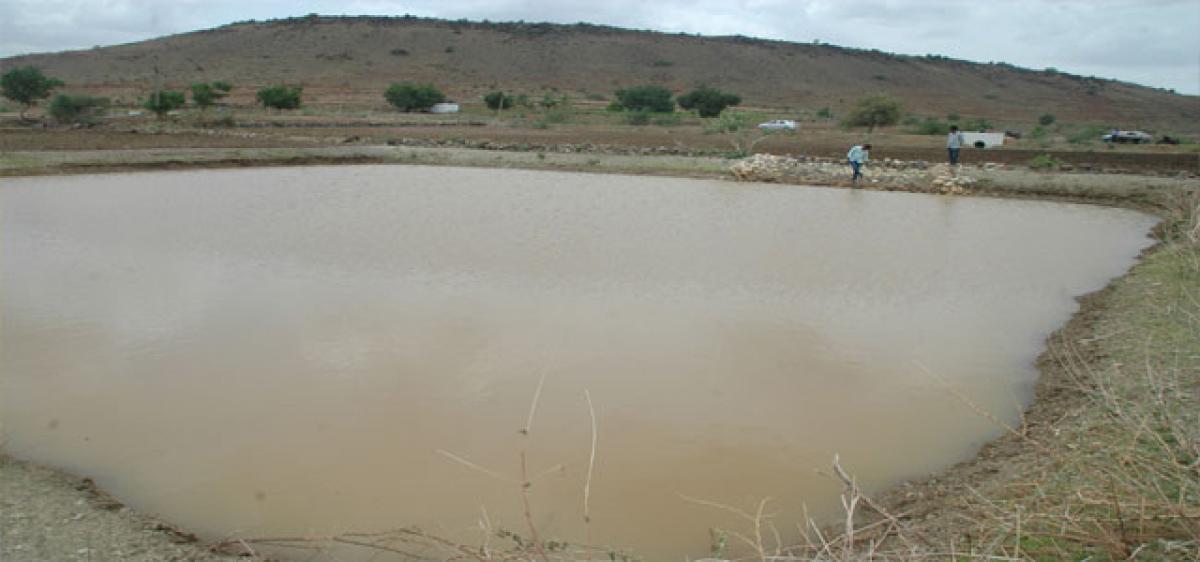 Highlights
They include 40 SC families; 140 BC families and 90 families belonging to Other Communities. While most of the people have small land holdings...
Utakallu (Anantapur): The Utakallu village in Kalyandurgam mandal which was reeling under severe drought conditions achieved a turn around with the District Water Management Agency (DWMA) intervention and farmers coming forward to dig farm ponds as part of water conservation measure. The village has 270 families, belonging to different castes and religions.
They include 40 SC families; 140 BC families and 90 families belonging to Other Communities. While most of the people have small land holdings dependent on rain-fed agriculture, a few cultivate under bores and tube-wells.
Constant and continuous droughts led to depletion of groundwater levels, which in-turn lead to either failure of bores or inadequate yield of water insufficient for the full period of cultivation. About 1,500 acres of cultivable land is available in the village. Major commercial crops include groundnut, cotton and castor.
However due to scanty and erratic rainfall and depletion of groundwater they inclined toward drilling of borewells. Due to indiscriminate use of groundwater, through bore wells, the farmers suffered failure of crops. Under these circumstances, several SC, ST small and marginal farmers resorted to distress migration to eke out their livelihood and the situation turned so pathetic that there was a time when the people have to walk several kilometres to fetch a pot of water.
The twist in their fortunes came with the intervention of PMKSY-Watershed approach and MGNREGS convergence under which a massive execution of farm ponds was taken up. Initially, the response to government was lukewarm but education of the farmers by the DWMA team resulted in a positive impact which was visible in a short time.
Due to digging of farm ponds in rainfed agricultural lands, the groundwater level has significantly increased in the bore wells, thereby increasing the area under cultivation. There is a sigh of relief among the villagers as these developments resulted not only in reduction of distress migration but also in improving their standards of living.
Many farmers of the village have come forward voluntarily to take up farm ponds in their farms and started using the harvested water to provide water to the horticulture and other crops. The importance of farm ponds and their impact in increasing the groundwater was explained to farmers of the village through exposure visits, trainings and grama sabhas.
As many as 129 farm ponds were taken up under MGNREGS and PMKSY-Watershed funds which helped to boost groundwater levels by 15-16 feet. The rain water harvested in the farm ponds is being utilised for watering the rainfed horticulture in an extent of 1,020 acres besides cultivable crops like tomato, chillies, lady fingers etc.
Farmers income substantially increased. The impounded water is also useful to quench the thirst of the small ruminants like sheep and goats. The village has become a learning centre for several visitors from other districts thus achieving the status of a 'model village'.
Thus, permanent land based assets are created in the village thereby providing assured livelihoods to the farmers. The farmers are now motivating farmers of other villages to go for digging farm ponds in a big way.
By Ravi P Benjamin
Subscribed Failed...
Subscribed Successfully...