CITU rebuts Amit Shah's claim on VSP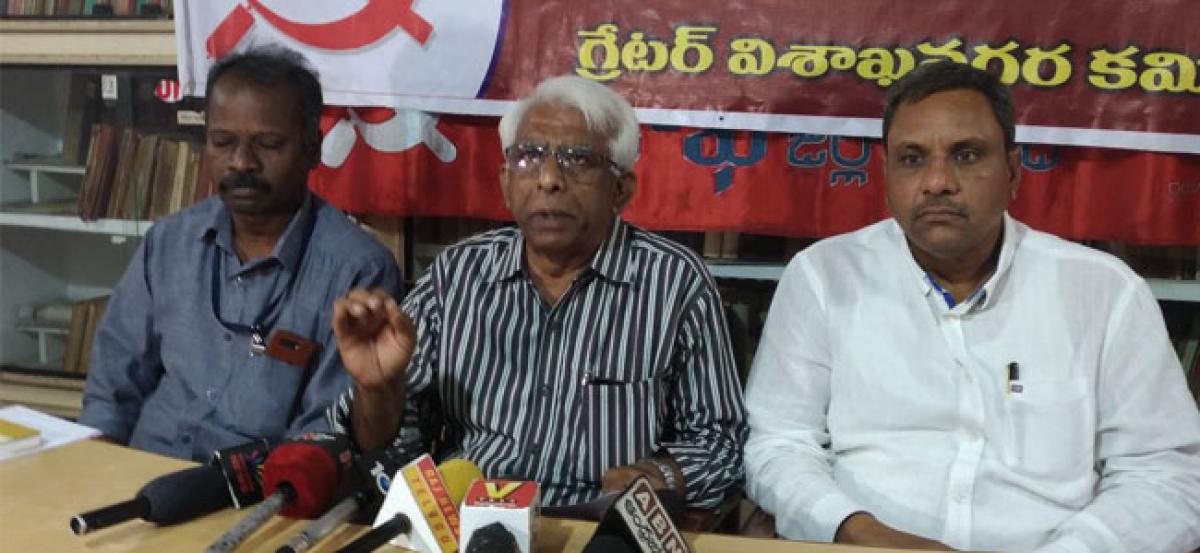 Highlights
Honorary President of Visakhapatnam Steel Plant recognised trade union and CITU state president Ch Narasinga Rao
- Centre allocated Rs 3,600 crore to VSP
- VSP paid Rs 35,850 crore to Centre as dividend and taxes
- No captive iron ore mines to VSP
Visakhapatnam: Honorary President of Visakhapatnam Steel Plant recognised trade union and CITU state president Ch Narasinga Rao objected BJP President Amit Shah's claim that the Central government had funded to the tune of Rs 35,000 crore so far to Visakhapatnam Steel Plant. Amit Shah in his nine pages letter to the Chief Minister N Chandrababu Naidu claimed that the Central government spent a huge funds on Visakhapatnam Steel Plant is a lie and the fact is that Centre allocated Rs 3,600 crore only, Narasinga Rao pointed out.
Addressing a press conference here on Wednesday, along with VSP trade union president J Ayodhyaramu and general secretary YT Das, Narasinga Rao, said that the VSP borrowed Rs 2,950 crore loans from banks and financial institutions during 1997-98 and cleared all loans in 2015 from the plant's profits. Meanwhile, the plant's capacity was expanded from 3.2 MT to 6.3 Mt by spending Rs 12,500 crore funds from plant's own exchequer only. The Central government has given only approvals for expansion and not given any financial assistance to the Visakhapatnam Steel Plant, Narasinga Rao clarified.
In fact, the Visakhapatnam Steel Plant paid Rs 35,850 crore to the Central government in the name of dividend and taxes so far. Leaving aside all the facts, the Centre is planning to privatise the Visakhapatnam Steel Plant, Narasinga Rao alleged.
All the steel plants in the country having own iron ore mines, except the Visakhapatnam Steel Plant. With this the VSP is spending a huge percentage (55) to buy the raw material. The VSP purchased the OMDC at a cost of Rs 360 crore, but due to delay in renewal of the licences to the mines in Odisha, the steel plant is not getting the raw material.
The Centre should allot captive iron ore mines to the VSP immediately, Narasinga Rao demanded.
Demanding the Centre for allotment of captive iron ore mines to Visakhapatnam Steel Plant, the CITU is staging Vizag Steel March on April 5 in which thousands of workers would present. The march would start at VSP and conclude at Visakhapatnam Collectorate Junction, Narasinga Rao said.